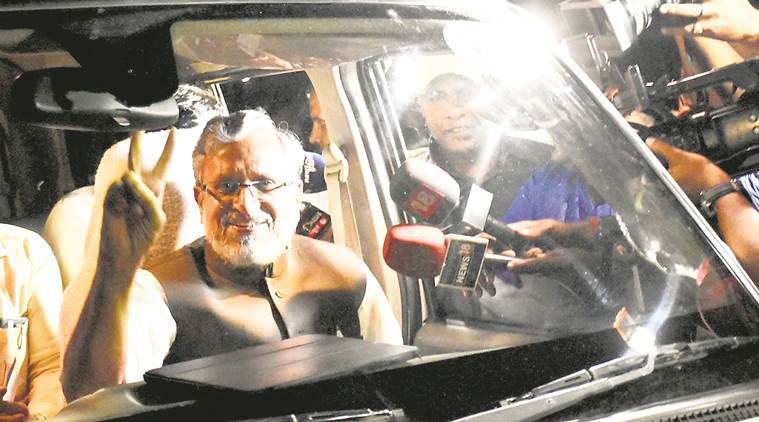 BJP leader Sushil Kumar Modi arrives at Nitish Kumar's residence in Patna on Wednesday. (PTI )
The BJP on Wednesday lost no time to swing into action and seize the moment on a day Nitish Kumar resigned as the Bihar chief minister. Minutes after Nitish came out of Patna's Raj Bhavan after submitting his resignation, the BJP Parliamentary Board, which was scheduled to meet to pick its nominees for the August 8 Rajya Sabha elections, met in New Delhi.
By 8.15 pm, Union minister and senior BJP leader J P Nadda came out of the meeting and declared that the party was "not in favour of a midterm poll in Bihar". It took only a few moments after Nitish's resignation for Prime Minister Narendra Modi to come out in his support. He tweeted: "Congratulations to Nitish Kumarji for joining the fight against corruption. One twenty five crore people welcome and support the honesty… The need of the hour is for a joint fight against corruption, rising above the political differences for the bright future of the country, especially Bihar."
More was in store in Patna. West Bengal Governor Keshari Nath Tripathi, who has the additional charge of Bihar, was in the state capital on Wednesday, making it convenient for Nitish to move fast. By 9 pm, the BJP legislators met in Patna and announced unconditional support to Nitish Kumar.
Led by BJP legislature party leader Sushil Kumar Modi, most top NDA legislators went to 1, Anne Marg in Patna —- the chief minister's official residence. Going in or emerging from Nitish's residence, the smile on their faces put to rest all speculation.
Sushil Modi, who held nearly 60 press conferences in the last four months to present what he called evidence of corruption against the Lalu Prasad family, let out a broad smile when asked whether he will become the Deputy CM under Nitish again. Similar was the reaction of Opposition leader in Assembly Prem Kumar and his predecessor, Nand Kishore Yadav, when asked by the media about their chances of becoming ministers again. Young MLAs such as Neeraj Kumar Singh and Nitin Navin also could not hide their emotion.
Sources said Nitish Kumar could get most BJP veterans in his new NDA team, and that the BJP will press for sharing portfolio, as was done when Nitish was part of the NDA until 2013. The CM, sources indicated, could retain Home, General Administration and Vigilance portfolios, and the JD(U) is likely to keep Education and Water Resources. The NDA, sources said, can get Health, Road Construction, Finance and Tourism.  Former CM Jitan Ram Manjhi, sources said, is likely to be accommodated in some other position — most probably as a Governor — after some time.
A JD(U) leader said: "There was a lot of pressure in RJD's company. One classic case of stalemate is the delay in constitution of several boards and commissions. Now we see hope. The BJP is a party whose central leadership will think twice before taking potshots at Nitish, but in RJD any ordinary leader down the rank could flay him at will."
For all the latest India News, download Indian Express App