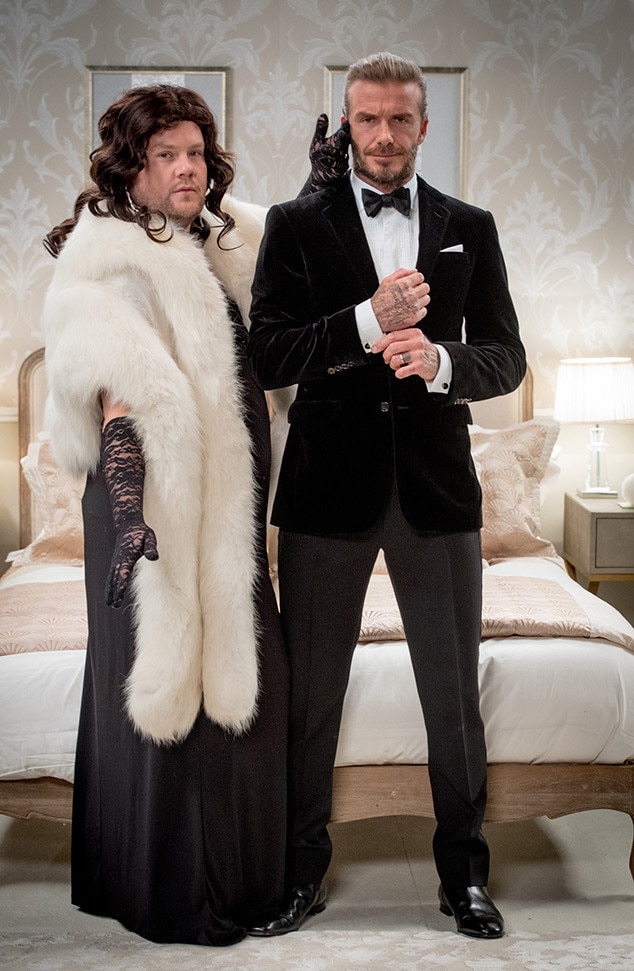 Craig Sugden/CBS
There's a new James Bond in town—or two. 
It wouldn't be a visit to The Late Late Show without a little competition and there was a bit in store for David Beckham when he visited Thursday. He and host James Corden were put to the test in an audition for the newest installment of the classic franchise, though it seemed the soccer player had the upper hand from the start. 
"You know this is an audition for James Bond right?" Corden asked his competitor. "It's not like an underwear commercial or something like that."
"I'd say that's pretty obvious," Beckham quipped while looking at the host. Game on!
[youtube https://www.youtube.com/watch?v=Z1VEG7Ku2Ys?wmode=transparent&w=600&h=315]
However, it wouldn't be a fair fight for the role. First, they were tasked with shooting a sequence in a Bond-style suit. However, while Beckham looked like a classic silver screen gent in a black velvet tuxedo, Corden came out in a periwinkle ruffled ensemble. Hmmm, it seems like someone must have switched out his suit—but who?
Soon, they were acting alongside a love interest and had to be suave in traditional Bond fashion. However, Beckham stole Corden's thunder when he interrupted at the wrong time and the actress liked him better. 
So, the host took matters into his own hands. When it was Beckham's turn to romance the lady, he found a disguised Corden in a dress and wig and the sight totally threw him. "I can't do this," the athlete told the director. "Bond would," Corden retorted. 
Ultimately, they realized they should not be enemies, but allies. "We shouldn't be fighting like this. We're a team and we should be working together," the host pointed out. 
"I love you, man," Beckham admitted. Instead of becoming James Bond, the two morphed into one of the most famous comic book duos. Check out the video above to see who.