The 2017 Creative Arts Emmys are here!
The annual ceremony—which honors outstanding artistic and technical achievement in a variety of television program genres—was split into two nights for the second year in a row. The two-night event held at the Microsoft Theater in L.A. (the same place that the 2017 Primetime Emmy Awards will take place on Sept. 17) and features a whopping 92 awards, split into 46 awards per night. The Creative Arts Emmys will be televised on Saturday, Sept. 16 at 8 p.m. on FXX.
These precursor awards often illuminate who may take home the big awards at the Primetime Emmys.
Last year, Game of Thrones nabbed nine Creative Arts trophies.
Keep checking back for the continuously updating list of winners…
Outstanding Casting – Limited Series
Outstanding Casting – Comedy
Outstanding Casting – Reality:
Born This Way (A&E)
Outstanding Casting – Drama
Outstanding Hairstyling – Limited Series
Outstanding Hairstyling – Single-Camera
Outstanding Multiplatform Storytelling
Outstanding Creative Achievement In Interactive Media Within An Unscripted Program:
The Oscars: All Access (ABC)
Outstanding Social TV Experience
Outstanding User Experience and Visual Design
Lucy Hood Digerati Award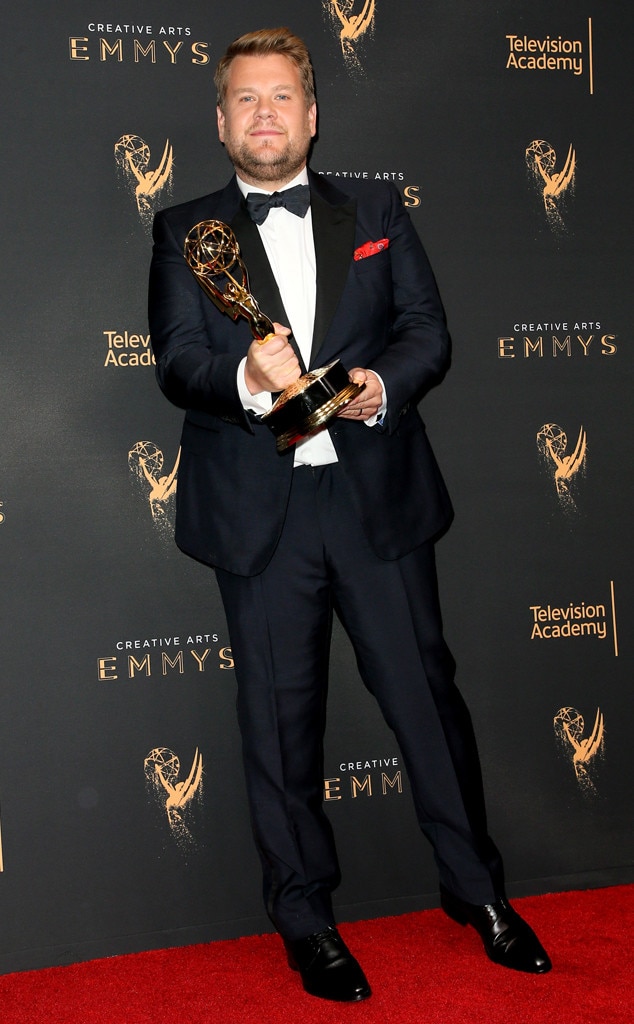 Getty Images
Outstanding Non-Prosthetic Makeup – Limited Series
Outstanding Non-Prosthetic Makeup – Single-Camera
Outstanding Prosthetic Makeup
Outstanding Comedy Guest Actress
Outstanding Costumes – Contemporary
Outstanding Costumes – Period/Fantasy
Outstanding Production Design – Half-Hour
Outstanding Production Design – Hour-Long
Outstanding Production Design – Period
Outstanding Production Design – Contemporary/Fantasy
Outstanding Main Title Theme Music
Outstanding Main Title Design
Outstanding Cinematography – Multi-Camera
Outstanding Cinematography – Limited Series
Outstanding Cinematography – Single Camera
Outstanding Music Direction
Taking The Stage: African American Music And Stories That Changed America  (ABC)
Outstanding Music Composition – Limited Series
Outstanding Music Composition – Series
Outstanding Music and Lyrics
Outstanding Stunt Coordination – Comedy/Variety
Outstanding Stunt Coordination – Drama/Limited
Outstanding Special Visual Effects
Outstanding Special Visual Effects, Supporting
Outstanding Comedy Guest Actor
Outstanding Picture Editing – Comedy (Single-Camera)
Outstanding Picture Editing – Drama
Outstanding Picture Editing – Limited Series
Outstanding Picture Editing – Comedy (Multi-Camera)
Outstanding Sound Editing – Series
Outstanding Sound Editing – Limited Series
Outstanding Drama Guest Actor
Outstanding Sound Mixing – One-Hour
Outstanding Sound Mixing – Half-Hour
Outstanding Sound Mixing – Limited Series
Outstanding Commercial
Outstanding Interactive Program
Outstanding Narrator
Outstanding Children's Program
Outstanding Drama Guest Actress
Outstanding Host – Reality or Reality Competition Program
Outstanding Documentary Series
Outstanding Documentary or Nonfiction Special
Planet Earth II (BBC America)
Exceptional Merit in Documentary Filmmaking
Outstanding Writing – Variety Series: 
Full Frontal With Samantha Bee Presents Not The White House Correspondents' Dinner (TBS)
Outstanding Directing – Variety Series
Outstanding Variety Special
Outstanding Writing – Nonfiction Program
Outstanding Directing – Nonfiction Program
O.J.: Made In America, Ezra Edelman (ESPN)
Outstanding Editing – Nonfiction Program
Outstanding Character Voice-Over Performance
Outstanding Short Form Animated Program
Adventure Time (Cartoon Network)
Outstanding Animated Program
Bob's Burgers, "Bob, Actually" (FOX)
Outstanding Lighting Design/Lighting Direction – Variety Special: 
Outstanding Lighting Design/Lighting Direction – Variety Series: 
Super Bowl LI Halftime Show Starring Lady Gaga  (FOX)
Outstanding Picture Editing – Variety Programming
Last Week Tonight With John Oliver (HBO)
Outstanding Sound Mixing – Variety Series or Special
Outstanding Short Form Comedy or Drama Series
Outstanding Short Form Variety Series
The Daily Show (Comedy Central)
Outstanding Short Form Nonfiction or Reality Series
Viceland At The Women's March (Viceland)
Governors Award
Outstanding Picture Editing – Unstructured Reality Program
Outstanding Picture Editing for a Structured or Competition Reality Program
Outstanding Costumes – Variety, Nonfiction or Reality Programming
Outstanding Actor – Short Form Comedy or Drama
Outstanding Production Design – Variety, Nonfiction, Event or Award Special
Hairspray Live! (NBC)
Outstanding Production Design – Variety, Nonfiction, Reality or Reality-Competition Series
Outstanding Cinematography – Nonfiction Program
Planet Earth II (BBC America)
Outstanding Sound Editing – Nonfiction Program (Single or Multi-Camera):
Outstanding Sound Mixing – Nonfiction Program (Single or Multi-Camera)
The Beatles: Eight Days A Week (Hulu)
Outstanding Hairstyling – Multi-Camera Series or Special
Outstanding Makeup – Multi-Camera Series or Special
Saturday Night Live, Host: Alec Baldwin (NBC)
Outstanding Actress – Short Form Comedy or Drama Series
Outstanding Technical Direction, Camerawork, Video Control – Limited Series, Movie or Special
Outstanding Technical Direction, Camerawork, Video Control – Series
Outstanding Unstructured Reality Program
Outstanding Cinematography for a Reality Program
Born This Way (A&E)
Outstanding Structured Reality Program
Outstanding Choreography
Outstanding Special Class Program
Outstanding Information Series or Special
Leah Remini: Scientology And The Aftermath (A&E)