It's Lip Sync Battle meets Carpool Karaoke meets Cops.

Three officers from the Port Huron Police Department in Michigan filmed a dash cam video of themselves lip syncing the Backstreet Boys' 1999 hit ballad "I Want It That Way" while on a night shift. The clip was recently posted on the department's Facebook page.

"I'm trying to think of a song that would get me in the mood to being back to work," Officer Brian Daly says. "What do you think?"

"Oh, I got a song," replies Officer Sam Baker.

"No," Daly says. "No, don't even try it."

"Don't act like you don't know," Baker says.

Officer Derek Paret later popped in to join the fun.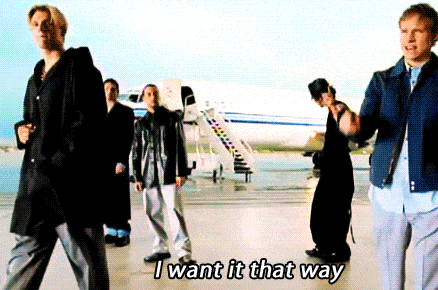 Sony Legacy
Sony Legacy
The video, posted in response to a viral challenge started by paramedics at Tri-Hospital EMS, caught the attention of the Backstreet Boys themselves.

"Port Huron Police going above and beyond the call of duty!" the group said on their Instagram page on Saturday.
This is not the first time cops and emergency service workers have filmed themselves lip-syncing on a dash cam. In 2015, a video of a police officer in Delaware lip-syncing toTaylor Swift 's song "Shake It Off" while driving a squad car went viral.