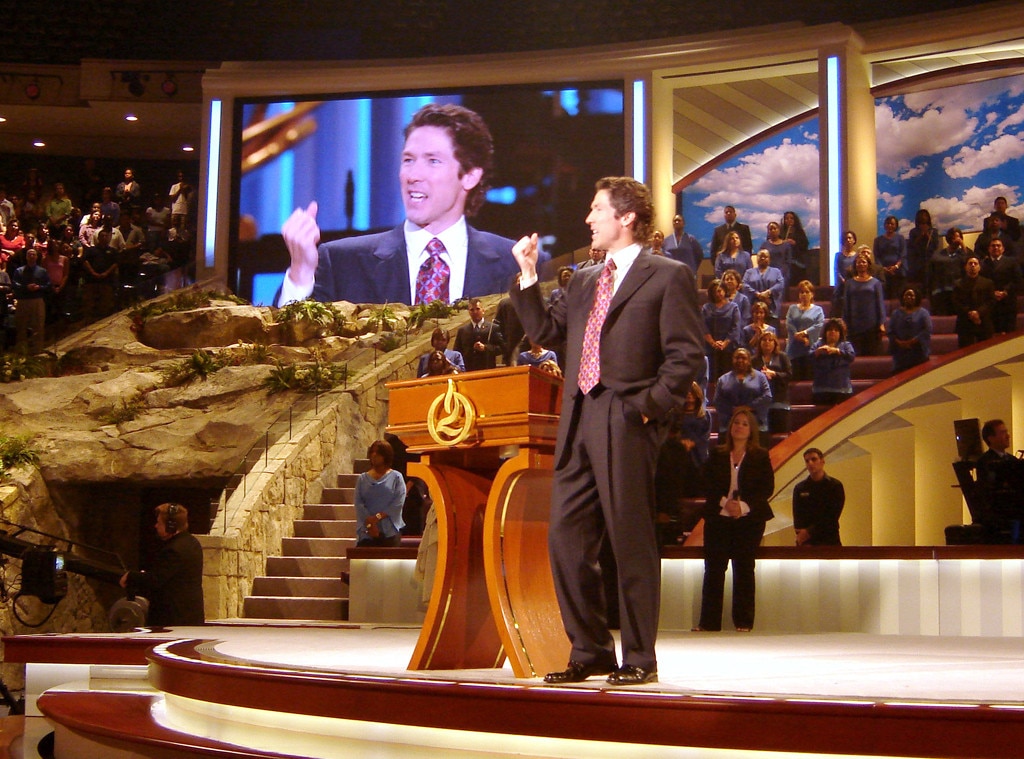 Frank E. Lockwood/Lexington Herald-Leader/MCT via Getty Images
Religion remains one of the most controversial topics of conversation in the entire world, the question of who or what, if anything, to worship serving to both unite and, perhaps even more frequently, divide.
So when you combine religion and money—and not just some money, but tens of millions of dollars, at least—you've got a simmering pot that's going to boil over the second that flame is cranked up a notch.
For the better part of two decades, Joel Osteen, televangelist and senior pastor of the Houston-based Lakewood Church, has seen his following grow exponentially, and his personal celebrity as a Word of Faith practitioner has transcended the religious-star set. Whether you've ever tuned into one of his sermons or not (he's preached to stadiums around the world, streams online and has his own 24/7 channel on Sirius/XM), you've likely heard of the telegenic Texan: He served as guest chaplain for both houses of Congress in 2012 at the behest of politicians from both sides of the political aisle, and during that trip to Washington, D.C., he threw out the first pitch at the Nationals-Astros game. He's been a guest on Oprah's Next Chapter, The Steve Harvey Show and Late Night With Jimmy Fallon, and last year he talked faith with the famously Catholic Stephen Colbert on The Late Show.
And if you hadn't heard of the man who has written seven New York Times bestsellers and leads the largest congregation in the U.S., with an estimated 52,000 parishioners filling Lakewood's arena-style sanctuary on a weekly basis…
Chances are, you heard his name this week.
Osteen was widely criticized when word spread like wildfire on social media that he had not opened his 16,800-person-capacity Lakewood Church to flood victims in the wake of Hurricane Harvey (since downgraded to Tropical Storm Harvey), which has bombarded southern Texas with record rainfall, displaced tens of thousands from their homes and caused billions of dollars worth of damage. Authorities have attributed 20 deaths to Harvey so far. A video of people gathered outside the seemingly locked doors of the church, on which there was a sign announcing that regularly scheduled services had been canceled, went viral.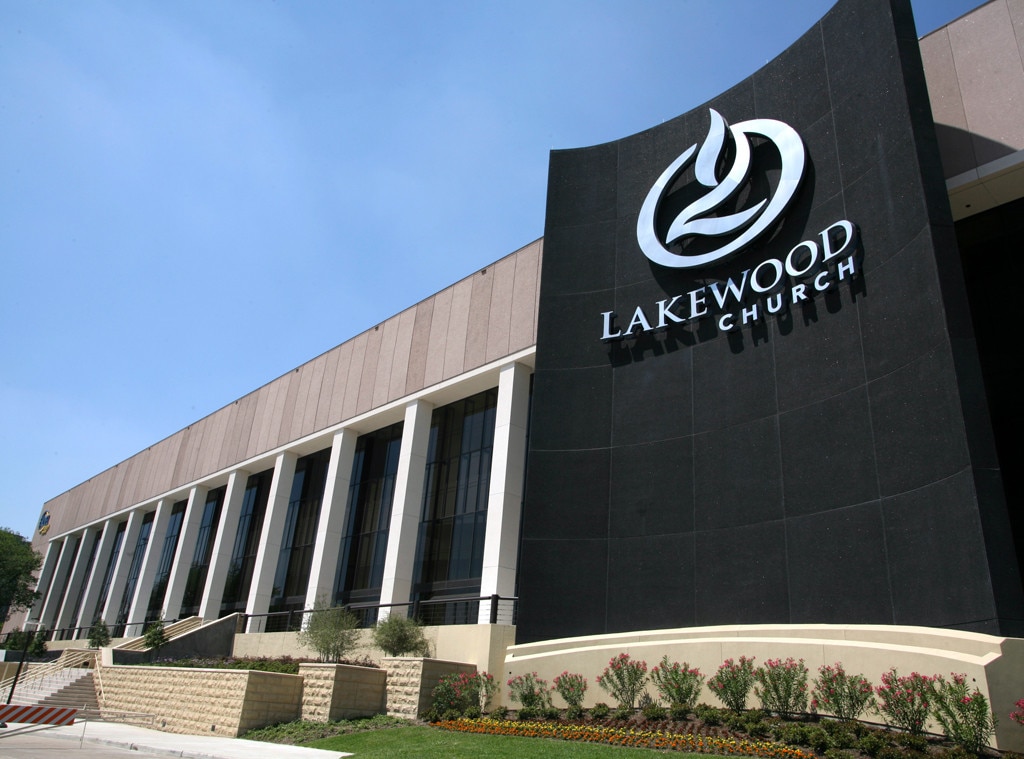 Timothy Fadek/Corbis via Getty Images
Less than 48 hours after becoming the butt of jokes and the target of scathing jibes in which Osteen—who lives in a $10 million house in one of Houston's nicest neighborhoods and whose personal fortune is said to be worth as much as $60 million—was accused of not giving an actual damn about the suffering of others, Lakewood's Twitter account announced that flood victims were welcome to seek shelter there. Osteen insisted on Today this morning that Lakewood's doors had "always been open" but that the city hadn't specifically designated them as a necessary shelter beforehand and the property itself had experienced potentially hazardous flooding.
"But I think this notion that somehow we would turn people away or weren't here for the city, is about as false as can be," the 54-year-old father of two said. "We're all about helping people. This is what the churches and our church is all about. I think if people were here, they would realize, there were safety issues. This building had flooded before and so we were just being precautious but the main thing is that the city didn't ask us to become a shelter then."
When the displaced started to pour in Tuesday, they were met with food, dry clothing, towels and toys for the kids.
"Thank you Houston. Your response has been overwhelming. We cannot thank enough the hundreds upon hundreds of volunteers who came out today!" Lakewood tweeted yesterday afternoon.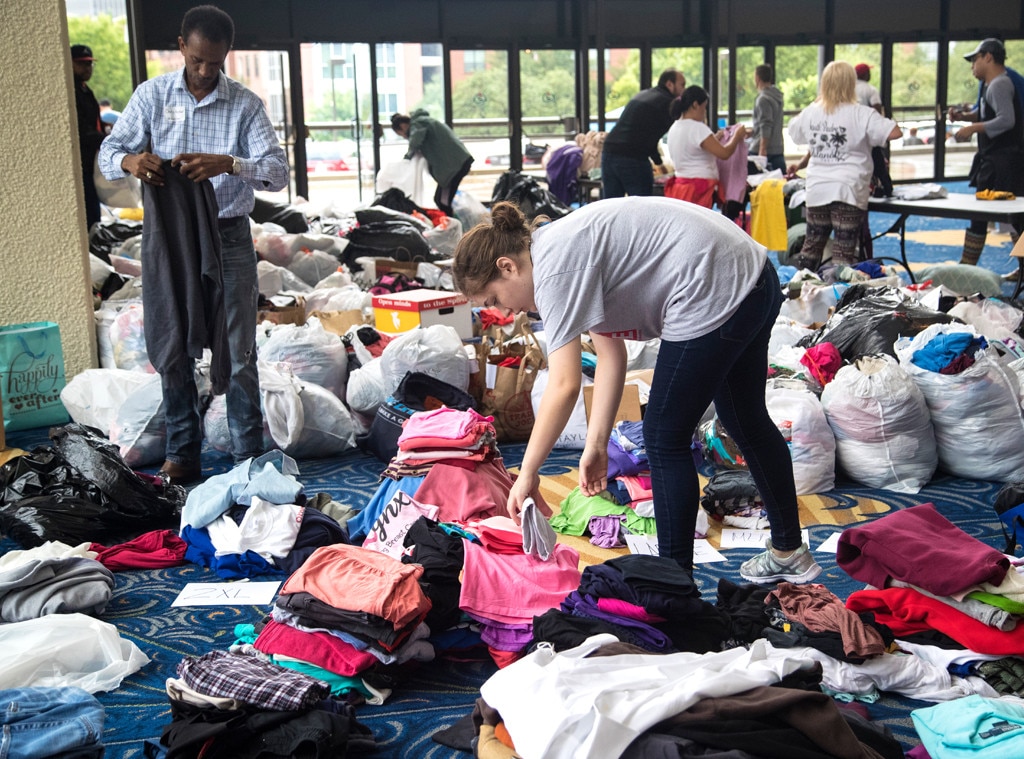 Marie D. De Jesus/Houston Chronicle via AP
But while the tens of thousands of local faithful and millions more around the world aren't going to be abandoning Osteen anytime soon over this perceived hiccup in his benevolence, it's another unwelcome moment of controversy for the famed pastor, who has god knows how many critics in addition to his myriad supporters.
Jimmy Fallon professed himself a "big fan" of Osteen when he appeared on Late Night in 2013. "I felt so good—I feel so good—every time I watch you," Fallon gushed. "You put me in a good mood." (Asked what other shows he was a fan of besides Jimmy's, Osteen said Duck Dynasty and Wipeout.)
Osteen inherited Lakewood from his father, pastor John Osteen, a onetime Baptist who founded the eventually nondenominational church with his second wife, Doreen, in 1959, setting up his congregation in an abandoned feed store. It was Joel who opened the church up to television in the early 1980s, the Osteens' youngest son preferring to work behind the scenes, but he tried his hand at sermonizing at his father's urging and he became senior pastor when John died in 1999.
The congregation grew tenfold after he took over and Lakewood's annual operating budget grew to $90 million, according to the Houston Chronicle, and Osteen's first book, 2004's Your Best Life Now: 7 Steps to Living Your Full Potential, has since sold more than 10 million copies.
In 2005 Lakewood moved to the Compaq Center, where the Houston Rockets played until 2003 (and where, Osteen says, he and wife Victoria had their first date in 1986), with the church handing over an advance of $11.8 million to cover the city lease for 30 years—and overseeing a 15-month, nearly $100 million renovation of the arena and surrounding office property, now the Lakewood International Center.
"This is nothing short of amazing," then Texas Gov. Rick Perry said at the packed-to-capacity opening service in August 2005. "It is so great to look across this crowd and see the wonderful diversity of this great state we call Texas…As lawmakers we do a lot of things, but only the church can teach people to love"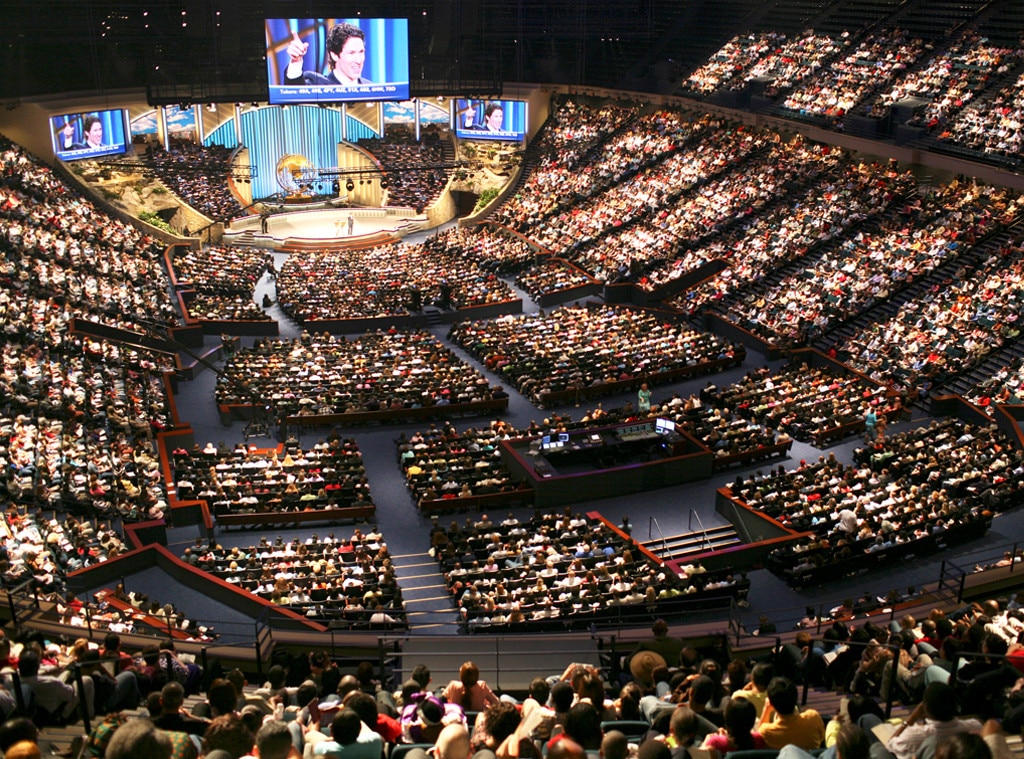 Timothy Fadek/Corbis via Getty Images
Lakewood purchased the property from the city for $7.5 million in 2010.
Osteen, who attended but did not graduate from Oral Roberts University in Oklahoma, met his wife of now 30 years, Victoria Osteen, in her parents' jewelry store when he stopped by to get a watch battery. She a co-senior pastor at the church and together they have two children, Jonathan and Alexandra.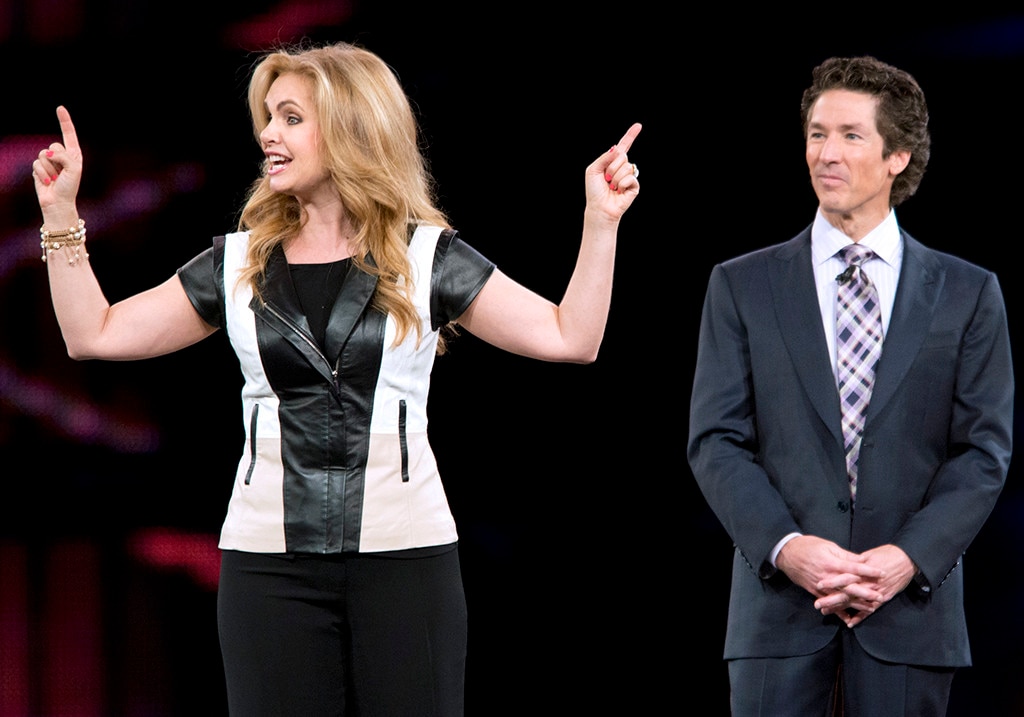 Cooper Neill/Getty Images
Known for optimistic sermons that highlight the importance of both giving and accepting second chances, the notion that everyone's entitled to a do-over, has made him popular with parishioners of all ages, particularly younger people who aren't much for the constant threat of fire and brimstone preached by some.
Ironically, Osteen's overwhelmingly uplifting vibe has proved controversial in and of itself, with other pastors criticizing him for preaching the "Prosperity Gospel," suggesting that God is there to help you prosper and is also all for you living in luxury as opposed to more humble surroundings—and donating to the church helps achieve that prosperity (as it historically has always helped to achieve something depending on which denomination or religion you favor).
"Well, we need people to support us, or we can't stay on," Osteen said in 60 Minutes in 2007 in response to critics who don't approve of what one reverend called his "cotton candy gospel." "But we don't get on the air and ask for it. And it's amazing how people can see that you—when you're genuine. They send money."
Osteen's "core message is 'God is nice, you're nice, be nice.' It's sort of a, if it were a form of music, I think it would be easy listening," theology professor Rev. Michael Horton of Escondido, Calif., told CBS News for the 60 Minutes profile. "He uses the Bible like a fortune cookie. 'This is what's gonna happen for you. There's gonna be a windfall in your life tomorrow.' The Bible's not meant to be read that way."
Or as Vice put it in a 2015 profile, "…if you were GOD, and you were running GOD CORP., this is what you'd want your salesmen to do. He is the VP of Faith and Healing, Earth Bureau."
"When my dad died, I hoped to maintain what they had built, never dreaming of how it would grow," Osteen told the Houston Chronicle last year. "I was very accustomed to being behind the scenes. I liked being behind the scenes. I'm not a big extrovert, but I learned, looking back, that God gives you grace. I was very nervous for years. I had to remind myself that I wasn't a performer, not an entertainer. I was a minister. I was a person. I didn't have to be perfect."
But you've got to be pretty darn engaging to command an arena full of people, not to mention millions more with just the sound of your voice or via a teeny-tiny screen. And Osteen is nothing if not the slickest of salesmen, the word of God as his product.
Osteen told Steve Harvey in 2013 that he did think God has a sense of humor. "Just from the Scriptures point of view it says that God sits in the heavens and laughs," he said, flashing his megawatt grin.
The very nature of Osteen's work, however, no matter how much joy he brings to his faithful or how much money the church recycles back into the community, makes him a target of, not just religious skeptics, but also the many who don't think that churches and big business should not mix.
"What more do you have to add to the word of God?" Colbert, who hasn't refrained from going toe-to-toe on religious topics with certain guests, asked Osteen when the pastor was on The Late Show last year promoting his latest book, The Power of 'I Am': Two Words That Will Change Your Life Today.
"Mine is a different take on it, it is, what follows the word 'I am,' I believe you're inviting into your life," Osteen explained. "So I think a lot of people don't realize it, but playing in their mind and even sometimes we say it. You know, 'I am slow,' 'I am unlucky,' 'I am not attractive'—and I think we're inviting negative things in. I think we're supposed to say, 'you know what, I am blessed.' 'I am strong,' 'I am healthy,' 'I am talented.' I think you have to invite the right things into your life."
"Do you have to believe in Jesus to read this book?" Colbert asked. The answer was, of course, no. "I try to always get outside the church walls," he said.
Focusing on Lakewood's official status as a nondenominational congregation (though it's often referred to as Protestant), Colbert asked, "Are you in yourself a way a denomination?…Are there such a thing as Osteenians, people who follow Osteen?"
"I hope not," the pastor replied, laughing. "I hope they get inspired by our messages, but I turn everything back to the Lord—but I have no desire to become a denomination."
But with an eight-figure operating budget, Lakewood Church is unarguably a business, one with tax-exempt status in the United States.
In a 2015 segment about megachurches on Last Week Tonight, John Oliver revealed he had registered his own "church" in Texas—"Our Lady of Perpetual Exemption"—as a nonprofit corporation as a way to demonstrate just how relatively easy it was to pass the IRS' 14-point test for tax-exempt status for churches (and you don't have to meet all of them). His studio in New York for "weekly meetings" with his flock counted as a regular place of worship; having a "recognized creed and form of worship" is another point, and Oliver's tax lawyer described their practice as "some specific ritual, such as having congregants silently meditate on the nature of fraudulent churches."
"Do you profess your belief tonight, brothers and sisters?!" Oliver prompted cheers from the crowd.
Oliver called out several televangelists by name and Osteen was not one of them. But his luxurious lifestyle has attracted plenty of attention and charges of hypocrisy, showboating and inappropriateness among adherents of those who subscribe to a different brand of religious worship.
"Joel Osteen Sails Luxury Yacht Through Flooded Houston To Pass Out Copies Of 'Your Best Life Now,'" read a headline posted Tuesday on the Christian satire site Babylon Bee.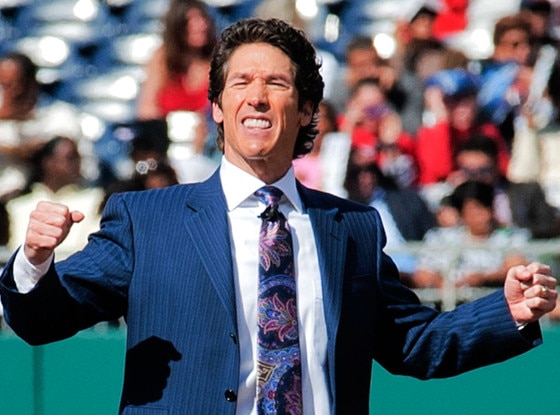 Bill O'Leary/The Washington Post via Getty Images
Osteen has said that his livelihood relies on book sales, touring and related merchandise, such as inspirational calendars, and he derives no personal income from the church—which reportedly receives roughly $30 million a year in donations—since foregoing a six-figure salary in 2005. In 2006 The New York Times reported that he stood to make $13 million from his second book, Become a Better You, after Your Best Life Now stayed on the Times' Best Seller List for two years. As of 2014, his five books at the time, plus other published works had grossed $55 million in sales. 
He says he pays out of pocket for travel expenses 
"I don't believe I ever preached a message on money," Osteen told the paper. "But I do believe…God can want you to have a better house. God wants you to be able to send your kids to college."
He and his family live in a $10.5 million, 17,000-square-foot home in River Oaks, named the most expensive neighborhood in Houston by the Chronicle in 2013. Per the Houston CultureMap, the house boasts six bedrooms, six bathrooms, three elevators and five wood-burning fireplaces, and there's a guest house and pool house on the 1.86-acre property.
Osteen was subject to scrutiny last year when a report circulated that he had endorsed Donald Trump for president—which he's not supposed to do as a church leader anyway, regardless of which candidate he might favor personally. In a 2015 interview he had called Trump a "friend" to his ministry, and Trump called into Joel and Victoria Osteen's first SiriusXM broadcast in 2014.
"A lot of people don't know, but I'm Presbyterian," Trump told the couple on the air, prompting laughter. "I'm a Protestant, and a lot of people don't think that, but I don't know what they do think…but actually Presbyterian, that's right down the middle of the road, don't you think?" 
"What a lot of people don't know about Mr. Trump," Osteen said, "is he's a giver…He helps all kinds of causes that I know. You can't find a more giving, gracious person than Mr. Trump, so we feel very blessed to have him as a friend." Victoria called him "one of the kindest people I've ever met."
"You know you're going to ruin my reputation when you say that, OK?" Trump cracked. Osteen's camp later attributed past laudatory statements like those for the misguided assumption he had actually endorsed Trump.
"Contrary to the misinformation currently making the rounds on social media, Pastor Joel Osteen has not endorsed any candidate for President of the United States," Lakewood said in a statement in March 2016.
In December, after the election, Osteen reiterated to Bishop Jakes (they're both affiliated with Trinity Broadcasting Network) on the T.D. Jakes Show that he didn't endorse anybody. "Just sometimes, word gets out and it takes off, I think. You know, eight months before the election even began, somebody asked me about Donald Trump, who I've known for a long time—and you know me, I don't say anything bad about anybody. Sometimes social media takes it and turns it into something.
"But my dad never has [endorsed a presidential candidate] and I never have, and to me, in my position… I want to reach everybody. The nation's so divided but we're for everybody."