By Simon Ormiston
Last Updated: 25/05/17 1:02pm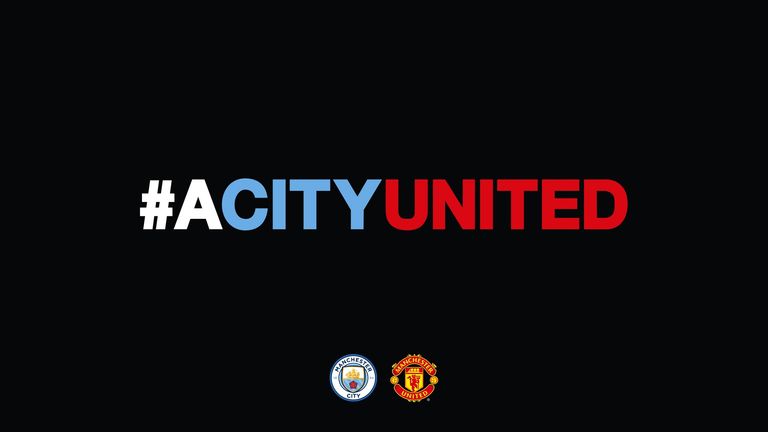 Both clubs adopted this logo as they combined their efforts to support victims of the Manchester attack
Manchester City & Manchester United have pledged £1m to the We Love Manchester Emergency Fund following the attack that killed 22 people on Monday.
The Premier League rivals have joined forces to help the fund raise over £3m since it was launched and have said they will continue to "explore opportunities to support the city at this testing time."
The fund, in partnership with the British Red Cross, was set up in the wake of the suicide bomb detonated at the Manchester Arena and is designed to assist the families and dependants of the 22 people who died that night and those who were injured.
Manchester United observed a minute's silence and wore black armbands during the Europa League victory over Ajax in Stockholm as a mark of respect, and Manchester City Women's team will do the same when they play Chelsea Ladies at the City Football Academy tonight.
Manchester City Chairman Khaldoon Al Mubarak said in a statement released by the clubs: "We have all been humbled by the strength and solidarity shown by the people of Manchester in the days since the attack.
"The hope of both our clubs is that our donation will go some small way to alleviate the daunting challenges faced by those directly affected and that our acting together will serve as a symbol to the world of the unbreakable strength of the spirit of Manchester."
Manchester United echoed those sentiments through Executive Vice-Chairman Ed Woodward who said: "The barbarism of Monday evening's attack has shocked everyone. Our clubs are right at the heart of our local communities in Manchester and it is right that we present a unified response to this tragedy.
"The money will help, of course but the work of the two clubs and their respective foundation and community scheme can build on the fantastic spirit that Mancunians have shown in the immediate aftermath."
For anyone who wishes to donate to the fund, please:
Visit www.justgiving.com/campaigns/charity/redcross/ManchesterEmergencyFund
Call 0300 456 4999
Go to a British Red Cross shop