Written by Saurabh Parashar | Chandigarh |
Published:August 7, 2017 2:57 pm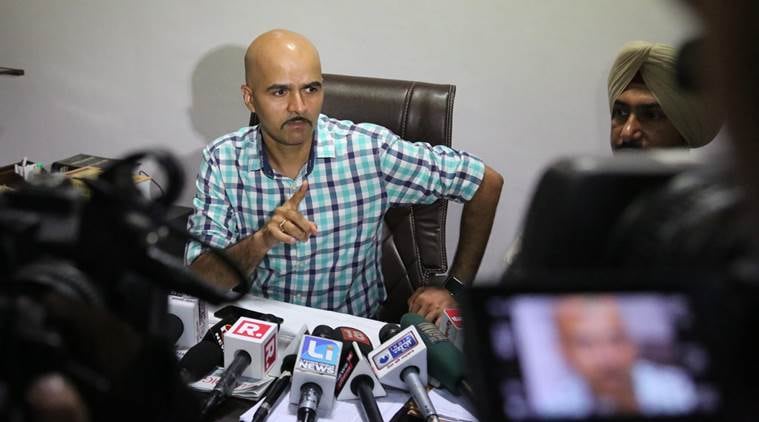 DSP Satish Kumar speaking during a press conference on arrested of Haryana BJP president's son Vikas Barala and his friend in sector-26 police station in Chandigarh on Saturday, August 05 2017. Express photo by Jaipal Singh
Chandigarh police on Monday was left red when it emerged that CCTV cameras installed at least on seven locations were found dysfunctional after the police was asked to collect evidences against Vikas Barala, son of Haryana BJP chief, Subhash Barala and his friend Ashish Kumar.
Vikas Barala and his friend had allegedly stalked and restrained the victim, who was in her car. She was stalked for nearly six kilometers for 30 minutes around midnight on August 4.
DSP (traffic) Rajeev Ambasta, who supervises the functioning of CCTV cameras said, "The CCTV cameras are not capable to record the movements of vehicles since August 1. There is technical fault in the cameras and the responsible company was asked to correct the default. "
Meanwhile, a meeting on this issue involving SSP Eish Singhal, DSP Satish Kumar and DSP traffic Rajeev Ambasta was held at Sector 26 police station.
After the meeting, SSP Singhal refused to make any comment and maintained that media queries will be answered at the appropriate time.
According to the medical examination report, both the accused were allegedly under the influence of alcohol. Police said that the victim was in her car when she observed that two youths in a white color Safari were chasing her and she made a call at police control room at 12.35am. The Safari was intercepted at Housing Board Light point by a PCR gypsy.
For all the latest India News, download Indian Express App