Busy Philipps is not Deputy White House press secretary Sarah Huckabee Sanders. The actress very much wants to be excluded from that narrative.
On Thursday, Jon Cooper, Chairman of The Democratic Coalition Against [Donald] Trump, tweeted a photo of the actress looking sullen in a scene from the short-lived '90s cult series Freaks and Geeks, joking, "Sarah Huckabee Sanders even looked habitually pissed when she was a teenager! I guess having @GovMikeHuckabee as your dad does that to you."
He later deleted the tweet and signaled he had made a mistake thinking the picture was really of a teen Sarah, adding that he never watched Freaks and Geeks. But not before sparking Busy's wrath.
"ARE YOU F–KING KIDDING ME?" she tweeted. "IS THIS A JOKE? THIS IS ME FROM FREAKS AND GEEKS. FAKE NEWS."
"ALSO I LOOK NOTHING LIKE SARAH HUCKABEE SANDERS. WHAT IN THE ACTUAL -?!?????!!!!!" she added. "I AM NEVER GETTING OVER THIS. I AM ACTUALLY DEAD NOW…ALSO. Pick on a woman for the insane lies she tells. Not cause she looks pissed off while telling them. I love women who look pissed off."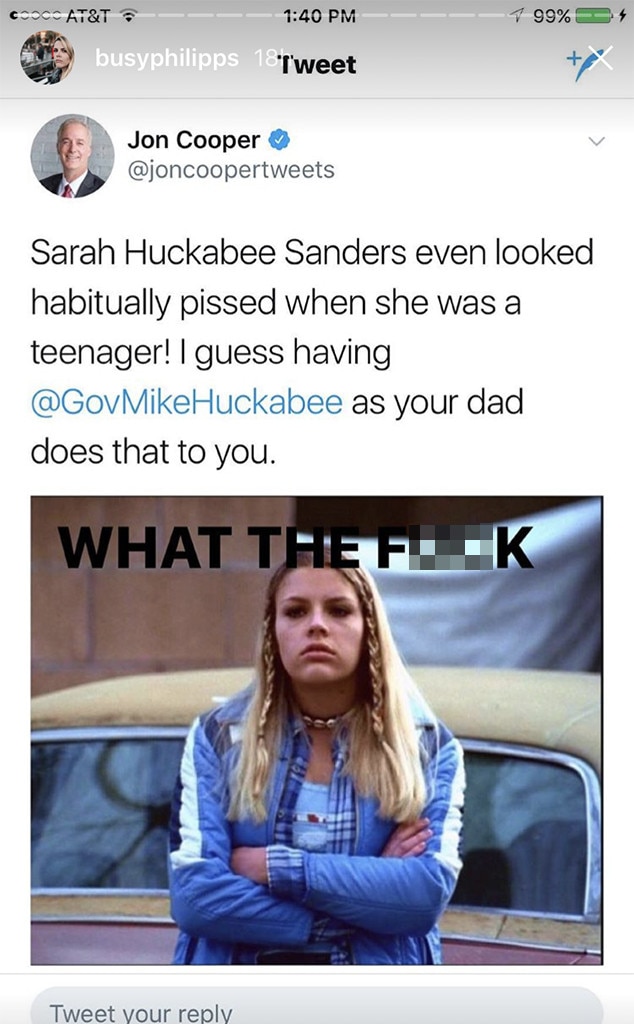 Instagram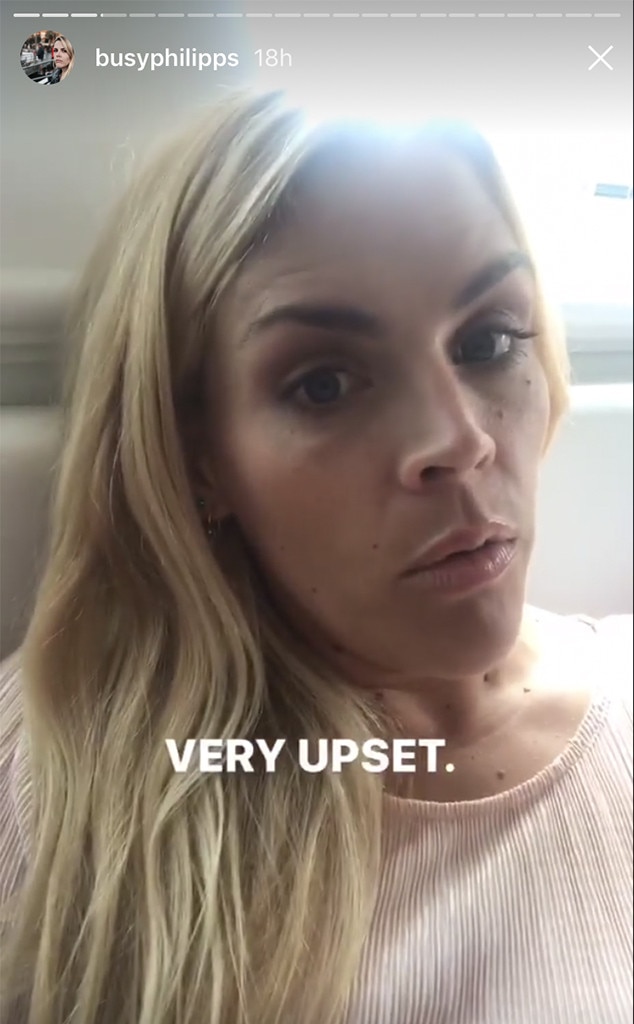 Instagram
Busy also took to Instagram Stories, where she often posts short selfie videos, to voice her displeasure at the comparison.

She posted a screenshot of Jon's tweet, writing, "WHAT THE F–K."

"Guys, I don't know who that guy is, Jon Cooper, who just tweeted that picture of me, but if I look like Sarah f–king Huckabee, you've got to be f–king kidding me. I'm sorry. Very upset about this. It's not okay," she said. "You guys, I am beside myself. What in God's name…who, what is happening in this world that, what…you guys, I'm so annoyed, I don't want to be…"
She then got sidetracked, saying she recently suffered a minor head injury on a commercial shoot and recalling a 2000 news story about Britney Spears getting hit in the head by a piece of camera equipment while filming her "Oops!…I Did It Again" video in 2000.

"Okay, but my point is, I don't want to be, like, involved in this Sarah Huckabee Sanders narrative," Busy said.
"The thought that this guy googled Sarah Huckabee Sanders or whatever and my picture was there, and then…you guys, I'm dying. That guy deleted the tweet, which means he wasn't just trying to make a s–tty joke. He legitimately thought that I was Sarah Huckabee Sanders as a kid," she later said.

Jon later confirmed the Google blunder and apologized publicly to Busy.

"I missed watching Freaks and Geeks (although my kids loved it!). I found that pic online & it was identified as being Sarah Sanders. My bad!" he tweeted. "I'm indeed a HUGE fan of Busy! She was my favorite character on Cougar Town (tho I did miss watching Freaks and Geeks). Anyway, I APOLOGIZE!"