Clearly, BN Beauty can't get enough of Marco Louis! This fine young man is the Senior Artist for MAC Cosmetics in Sub-Saharan Africa and he's been in the beauty industry for 10 years, making admirable strides in his career.
From fashion design to makeup artistry, Marco gives us an insight into his career, his experience at the recently concluded NYFW and of course, makeup tips for you reading this! Read the interview below for all the juice on Marco.
***
What inspired you to become a makeup artist and can you remember your first job?
My career in the industry started in fashion design. After completing my training I worked in the fashion industry as an illustrator and design assistant. My interest in makeup started with my need to understand the story telling. The way makeup, hair and fashion tell a vision that is the designer's work. Naturally, my first experience in a MAC Store lead to an ongoing love affair – not only with the craft, but with the MAC brand as well.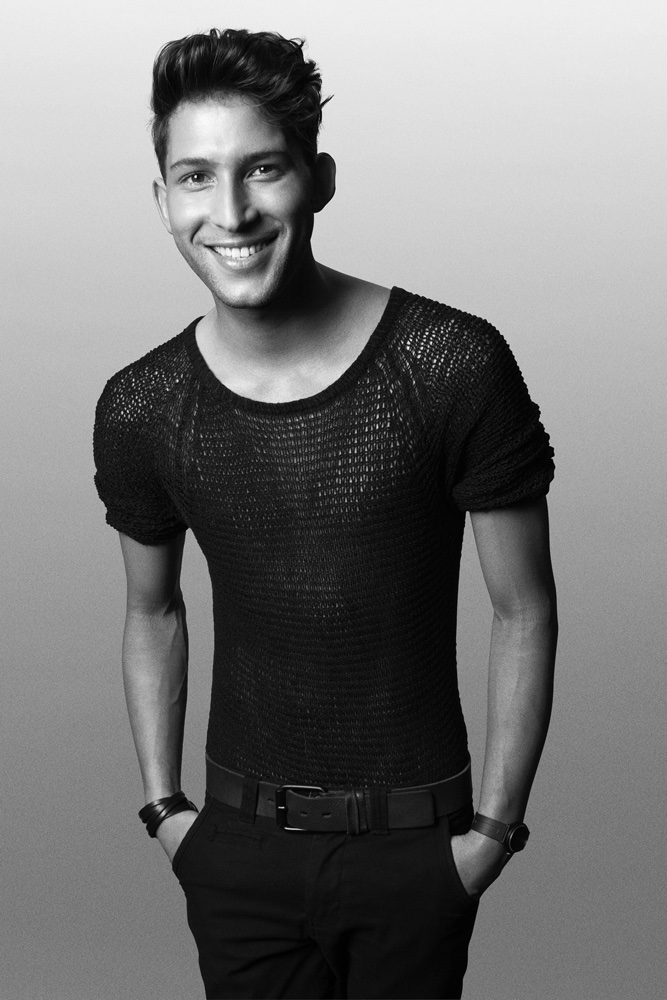 How long have you been in the beauty industry?
My career in fashion and beauty started 10 years ago.
Why did you choose MAC and not any other brand?
MAC as a brand lives by the credo: ALL AGES, ALL RACES, ALL SEXES. This for me is something that sets the brand apart from any other. The fact that you are invited in to celebrate individuality, is what has kept me so enticed. Other than that, the product is unrivalled. As a professional makeup artist, I honestly have not experienced another brand that caters to every one of my professional needs; this includes everything from editorial to fashion and even special effects. To further that, the brand focuses on technique and teaching. This focus on artistry is a strength that has been honed over many years of experience and the sharing of that knowledge.
What inspired the "No-makeup" look for NYFW?
Like many trends. The inspiration starts on the streets. Moving forward, beauty is to take on a very effortless approach. And backstage this is evident in all the briefs from designers. The modern woman wants to look effortless, healthy and naturally defined. This played a massive role in creating looks this season.
What was it really like to be a makeup artist at NYFW? Any favourite moments?
The charm of the fashion culture is absolutely surreal. In all its art forms, the industry is truly so magnetic in its essence. It's more than selling dreams of the ideal world, we all crave. It is an opportunity to make this dream tangible to our consumer. To give him or her the opportunity to be whomever they choose to be and in so doing, empower them to live the best possible life they can. The psychology behind this is incredible to me. I have always said, " when you look good, you feel good. And when you feel good, the quality of your engagement is elevated." With makeup, just like in fashion, I believe this is our most powerful catalyst to bring about positive change.
Video of Marco at NYFW talking about the makeup trends on the runway for the season
How can makeup on the runway be recreated for an everyday look?
With regards to this season, the makeup was so minimal. Skincare played a bigger role than foundation did. That said, it will almost have to be taken up a notch in reality. The key tip is creating perfect naturally flawless skin. Studio Fix Fluid Foundation is ideal for this. Real woman do need some coverage. This foundation will cover the imperfections and still look as natural and skin-like as ever. Take the time out to sit down with one of our professional artists in store to match your perfect shade.
What are your favourite beauty products to work with whilst doing makeup?
A great foundation, as I have said, is the game changer. A luxe dose of great skincare is also essential for me in creating a healthy natural glow. One of my new favourites would have to be lathering MAC Care Blend Essential Oils into the skin before applying foundation and concealer.
What are your top 3 beauty trends of the moment?
FLAWLESS SKIN – Great skin will set the stage for every makeup look. Focus on natural textures and great coverage.
KILLER LINER – Graphic liner had some great cameo roles this season. Anything from coloured liner, to Feline Black. The liner made for the perfect accessory this time around.
AERODYNAMIC HIGHLIGHTS – Contouring and highlighting has been all the rage for the longest time. A more natural approach without losing the effect of this technique is a great modern twist to this trend. MAC cream colour base in "SHELL" is a touch of godliness to create just that.
Do you mind sharing some tips on how to achieve a 'no-makeup" look?
Focus on your skincare. Start with moisture (MAC FIX +), seal the deal with a great primer (MAC Natural Radiance) and work with a perfect match of flawless, full coverage foundation ( MAC Studio Fix Fluid Foundation.) The key is to create a flawless effect without all the "bells and whistles". Pair this with a groomed brow, a devilish dose of mascara (MAC In Extreme Dimension Mascara.) and some MAC Lip Conditioner and your good to go.
What products will you recommend for a make-up newbie?
I can't say it enough. Start with the perfect foundation. And again, with coverage worth believing and a range of shades to cover the entire spectrum of skin tones, STUDIO FIX FLUID FOUNDATION is my go to product for this, and I am sure, many seasons to come.
***
Thanks for speaking to us, Marco!
Follow him on Instagram with @marco_louis