Happy one-month birthday to Rumi Carter and Sir Carter!
Yup, it's been one whole month since Beyoncé and Jay-Z welcomed their twins into the world, which may be a little hard to believe considering the mass amount of headlines and events that have transpired for the family ever since.
While we still haven't seen any photos of the little ones and no sign of Queen B since giving birth, we do know quite a few details about the family of five.
Here's everything we've learned since Rumi and Sir made their way into the world:
It's a Boy & a Girl: Bey gave birth to a son, who they named Sir, and a daughter named Rumi. Multiple sources confirmed to E! News that the singer welcomed both a boy and a girl, and an unidentified woman was seen delivering a "Baby Boy" and a "Baby Girl" balloon to Bey's hospital with a card that read "B + J" shortly after Bey gave birth. We found out the names of the twins on June 30 (and even revealed what they could mean).
They Were Born in Los Angeles: Bey gave birth to her twins at an L.A.-based hospital where a source told us she had "some of the best doctors taking care of her." She gave birth through a planned C-section.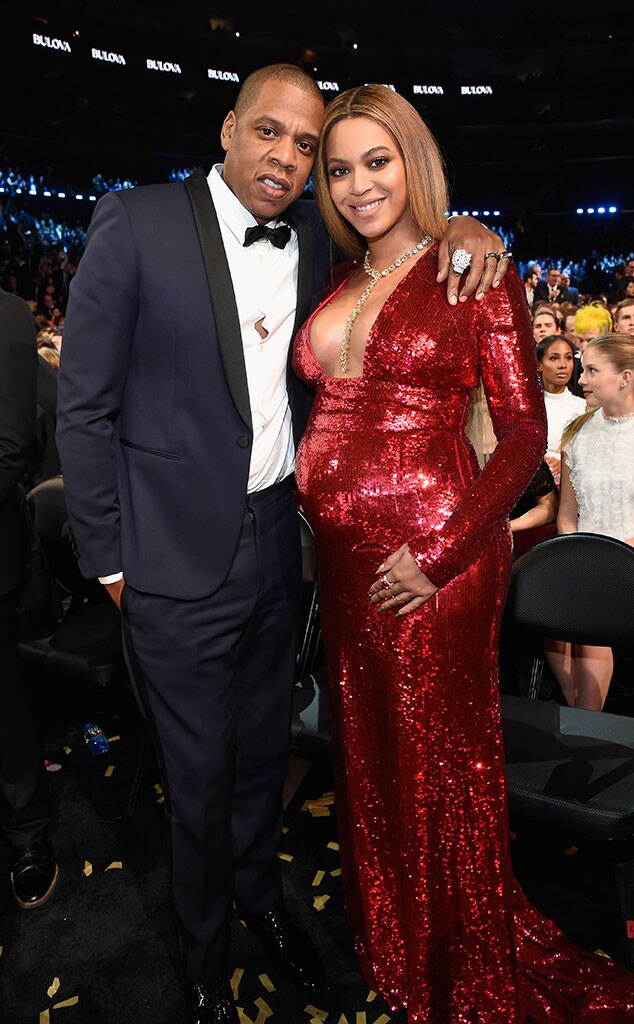 Kevin Mazur/Getty Images for NARAS
They're Happy & Healthy: Despite the fact that Bey and the twins spent an extended period of time at the hospital following their birth, another source told us the babies are "happy and healthy," and everyone is "doing great." The source added that Beyoncé also "looked amazing and was glowing" after giving birth.
They're Residing in Malibu: Queen B and the twins left the hospital a little over a week after they were born. They are currently living in a $400,000/month Malibu mansion Bey and Jay are renting throughout the remainder of the summer. The property—known as La Villa Contenta—is fitting for the family as it features 6.3 acre grounds, a rose garden, a tennis court, a pool house and a viewing deck.
Daddy Shows Them Lots of Love: Although Jay-Z dropped his 4:44 album less than three weeks after bringing home his babies, sources tell us he's been by Bey's side and has kept his family his "top priority." He even took a bit of advice from Sean "Diddy" Combs, who also has twins.
"The thing that I [told Jay] is that you really have to be prepared for double the love," Diddy said during an appearance on Late Night With Seth Meyers. "You're used to getting love from one child, but when you get this incredible love from two kids and they're twins, it's truly a blessing and may God bless him and Beyoncé and the family and everybody out there that has kids—period."
They Have Proud Grandparents: Both Tina Lawson and Mathew Knowles took to Instagram and Twitter to share the news of the twins. Though Mathew's post angered some of the Beyhive, he shared a birthday image with the note, "Happy Birthday to the Twins! Love, Granddad." He captioned the post, "They're here! #beyonce #jayz #twins #birthday #happybirthday."
Bey's mom, Tina, also took to Instagram to express her excitement over her grandchildren, writing, "Wow I don't have the keep the secret anymore. I am sooo happy God is so good twin blessings."
They're Already Influential: E! News confirmed Bey and Jay trademarked the twins' names on June 26, which they said will be used for various merchandise, including baby teething rings, baby carriages and strollers. 
Not to mention, Jay-Z already included them on his 4:44 album in the song "4:44." He raps, "I apologize, often womanize / Took for my child to be born / See through a woman's eyes / Took for these natural twins to believe in miracles / Took me too long for this song / I don't deserve you / So I apologize / I've seen the innocence / Leave your eyes / I still mourn this death," he rapped. "I apologize for all the stillborns / 'Cuz I wasn't pressing / Your body wouldn't accept it."
Needless to say, in just one month, Rumi and Sir Carter have already starting winning at life.