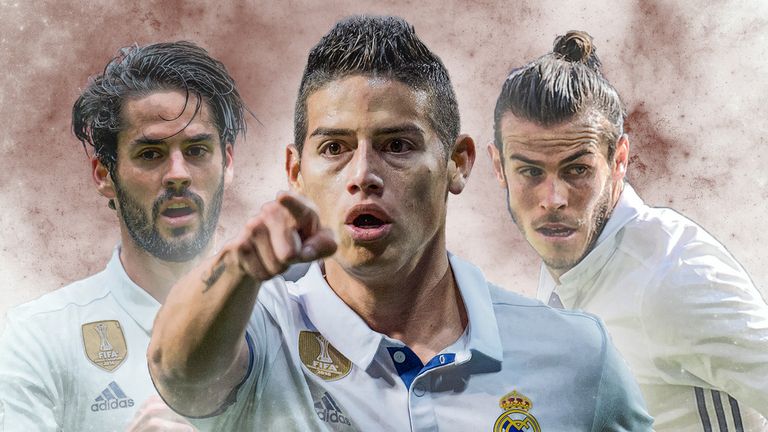 Real Madrid's James Rodriguez, Isco and Gareth Bale are all linked with Premier League clubs – but how do the three compare?
Manchester United emerged earlier in the summer as a possible destination for Rodriguez, who has fallen out of favour at the Bernabeu under Zinedine Zidane.
Real signed the Colombia international from Monaco for £63m three years ago after helping his national side reach the 2014 World Cup quarter-finals with six goals, before losing to host nation Brazil.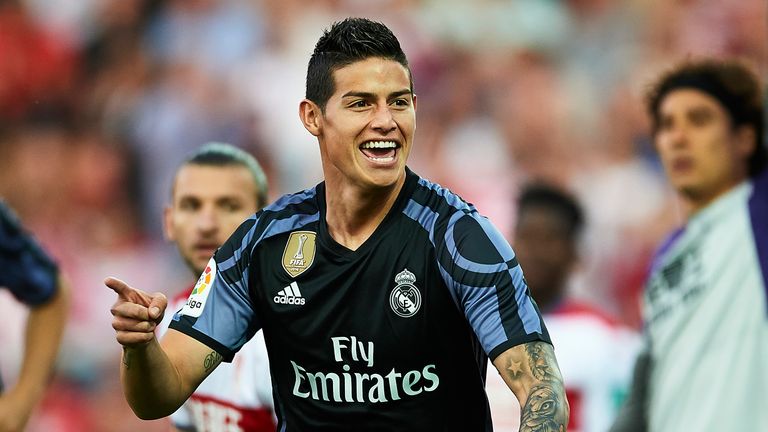 That fee made him the fourth most expensive player in the world, but, fast forward three years and the 25-year-old only started 13 league games during the latest campaign.
He also appeared to bid farewell to fans while leaving the field to be replaced by Casemiro during Real's last home game against Sevilla.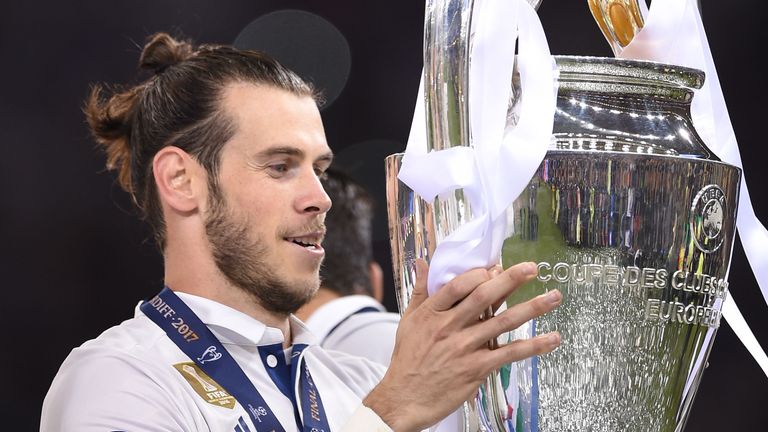 Meanwhile, Bale eclipsed Cristiano Ronaldo's world record £80m transfer from Manchester United with a £85.3m move from Tottenham in September 2013 – but Bale has also fallen out of favour in Madrid.
The Wales winger missed 16 league games with ankle and calf injuries in 2016/17 and missed another two games through suspension after uncharacteristically lashing out during a 3-3 draw with Las Palmas.
Zidane started Isco ahead of Bale for the Champions League final victory against Juventus this month – with Bale replacing Karim Benzema for a cameo appearance in his hometown Cardiff.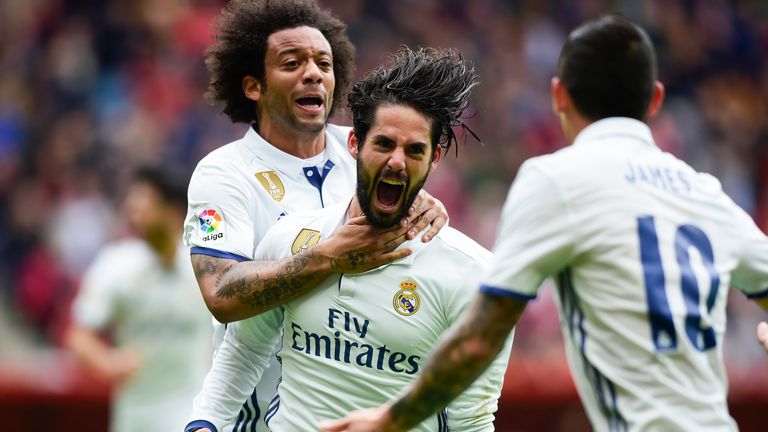 But Isco also had limited game time, only starting 18 league games, being substituted on 12 occasions, starting on the bench five times and being injured for three fixtures.
But how do the three, exciting forward-thinking players compare – and what could they offer potential suitors in the Premier League?
THE STATS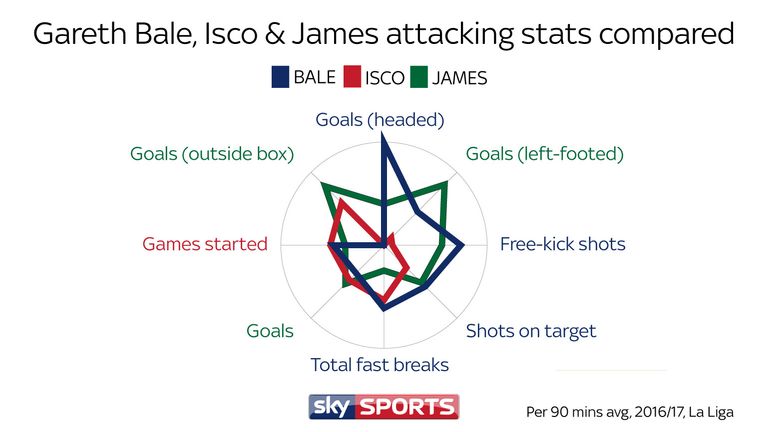 Per 90 minutes, Rodriguez actually scores more goals than his two team-mates, primarily with his favoured left foot, scoring eight goals in 1,180 minutes – one of which was a long-range cracker against Espanyol in September.
The Colombian almost matches Bale for shots on target per game, but falls short of the Welshman for aerial threat – heading one compared to Bale's three.
Despite frequently sharing the field with Ronaldo, Rodriguez and Bale also offer a fairly equal threat with shots from free-kicks.
Meanwhile, at just 5'8″, Isco has understandably failed to score one headed goal in La Liga and, in addition, does not strike from set plays.
However, despite taking fewer shots on target than his two team-mates, Isco averages a similar goal ratio and edges Bale per 90 minutes.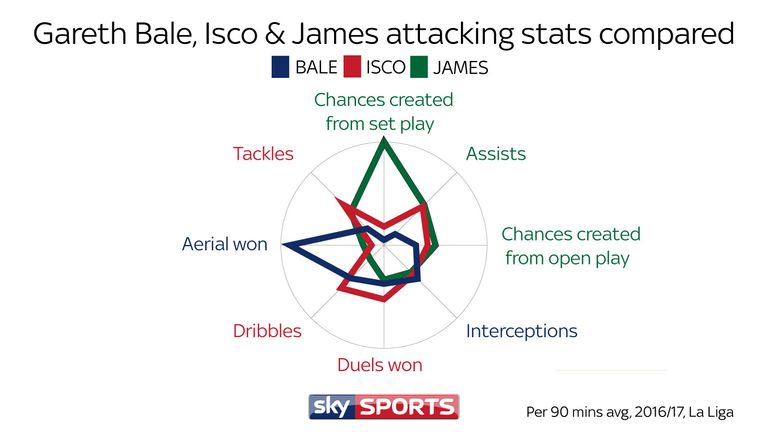 Rodriguez excels at creating chances from set plays having created 16 openings during his limited time on the pitch, in addition to registering the highest average for assists and chances created from open play.
In total, the 2014 World Cup Golden Boot winner racked up six assists – he provides goals in equal measure to netting them.
However, the Colombian is less effective at defensive duties, with Isco averaging highest for duels won and tackles.
The Spain international surpasses Rodriguez for dribbles per game, while, surprisingly, Bale attempts fewer than either of them on average.
But Bale's height advantage and aerial prowess means he also wins headers across the pitch, winning two per game, while Rodriguez averages one per two games and Isco one every four games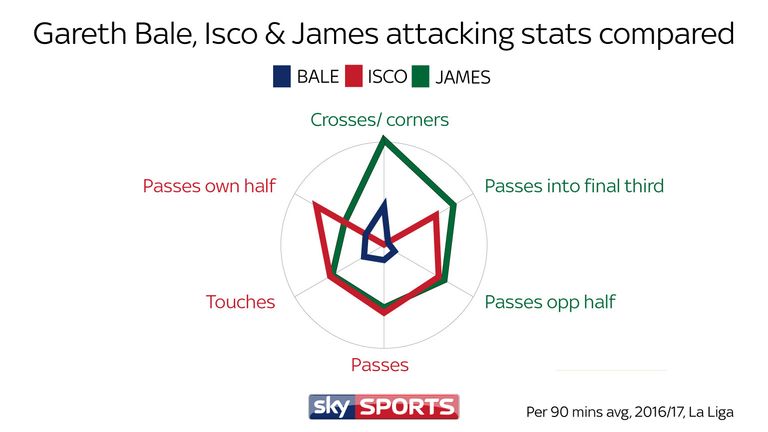 In terms of passing, Rodriguez outperforms in crosses and corners, passes into the final third and passes in the opposition half.
In contrast, Isco's stats suggest a deeper role with the highest average for touches and passes in Real's defensive half – he and Rodriguez attempt around 65 passes per game while Bale averages just 35 a game.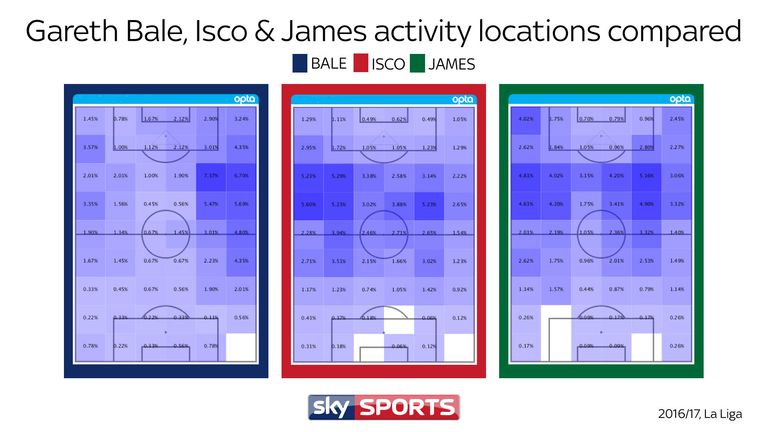 Those stats are translated in the players' activity locations in the graphic above.
All three players played in central and wide positions last season – but Bale played predominantly on the right, with Isco and Rodriguez filling central positions most frequently.
Bale typically hogged the right-hand touchline, mid-way in opposition territory, while Isco favoured the left flank and occupied the breadth of deep, central midfield.
Rodriguez hugged the left flank or inside right channel and played in a far more advanced position than Isco – with a large proportion of his activity in central locations on the edge of the opposition's box.
None of the players appear to have stand-out weaknesses, with the exception of Isco's aerial inferiority and a tendency to commit reckless challenges.
Bale and Rodriguez are caught offside more frequently and miss more big chances – but these stats are to be expected from more offensive players.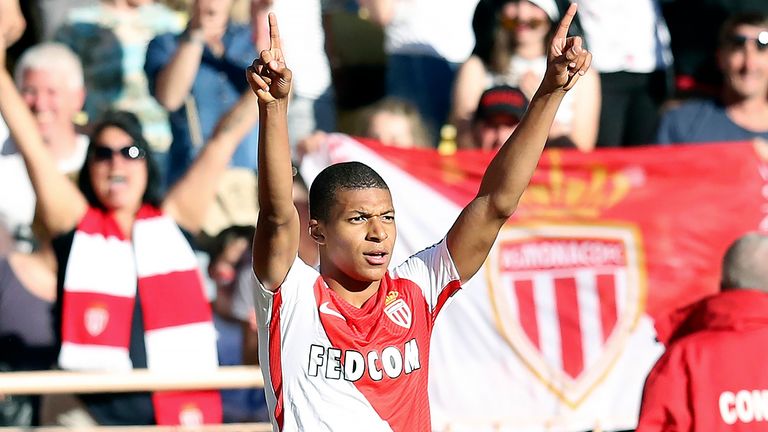 So all three players have plenty to offer and, in the current transfer market, want-away Galacticos could offer the best bargains.
Rodriguez will almost certainly leave Real amid Madrid's reported interest in Monaco's 18-year-old Kylian Mbappe and the emergence of winger Marco Asensio. Bale or Isco, or both, could also leave the La Liga champions.
Undoubtedly, a host of Premier League clubs will be tracking transfer dealings in Madrid.