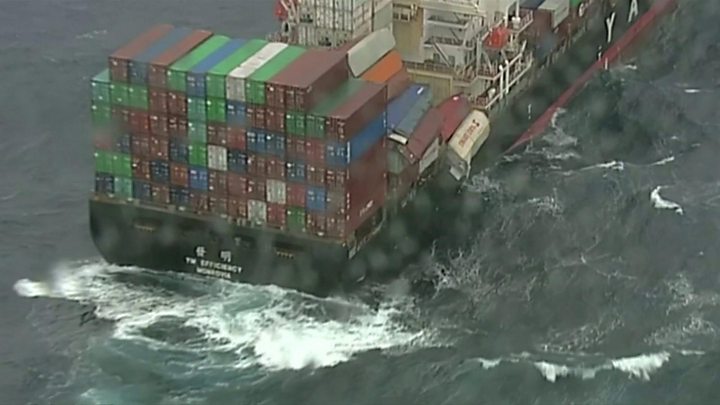 Maritime authorities in Australia have issued an alert after 83 shipping containers fell from a vessel off the coast of New South Wales.
Sanitary products, surgical masks and nappies have begun washing up on beaches north of Sydney.
There are concerns the items could prove dangerous to whales and other animals if they swallow them.
The containers tumbled off a Taiwanese-owned ship in a heavy swell in the Tasman Sea on Thursday.
Video showed some containers split open and hanging from the ship. Thirty were damaged.
Some partly submerged containers pose a threat to leisure boats and commercial shipping.
"They're 40-ft containers, they sit about a foot or two off the water. Even in the best of conditions they're difficult to spot, but at night and in a swell, almost impossible," Roads and Maritime Services executive director Angus Mitchell said.
The vessel, Liberia-registered YM Efficiency, was en route from Taiwan to Port Botany when it encountered the five-metre swell.