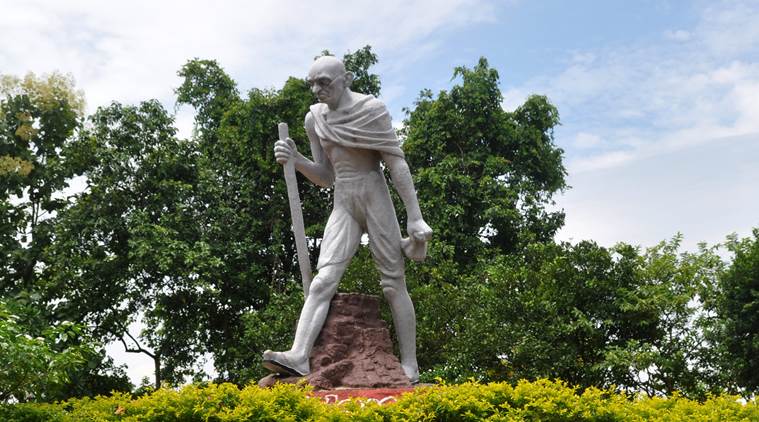 Statute of Mahatma Gandhi at Gandhi Mandap in Guwahati. (Source: Express photo by Dasarath Deka)
Assam is all set to wipe out one of the finest creations of Ram Kinkar Baij, undoubtedly the greatest Indian sculptor of modern times. A decision to this effect was taken in a meeting in Guwahati on Monday, which will lead to demolition of a Mahatma Gandhi statue that Baij had designed and sculpted on the occasion of his birth centenary and installed in the heart of the Assam capital in 1970. The decision comes one week short of Independence Day.
"The statue of Mahatma Gandhi, which was sculpted long back gives a distorted image of Mahatma Gandhi. Therefore (this) meeting has decided to sculpt another statue and replace the old one," one of the resolutions taken in a meeting said. Chaired by the Kamrup (Metropolitan) deputy commissioner M Angamuthu, it was attended among others by Assam's minister for culture Naba Kumar Doley, Guwahati (East) MLA Siddhartha Bhattacharyya, Guwahati city mayor Mrigen Sarania and former union minister Renuka Devi Borkataki.
"Look at the statue. Look at the disproportionate hands and feet. They do not resemble those of the Mahatma in any manner. His face too is distorted, as also the pair of glasses. That is why we have decided to dismantle it and place a new statue there," MLA Bhattacharyya said. When asked who the sculptor was, Bhattacharyya said, "Some people claim it was made by Ram Kinkar Baij. I don't know."
Ram Kinkar had started making the statue of Mahatma Gandhi with concrete in 1968 for the government of Assam, but left the work to be completed by his assistants. Unveiled by then Assam chief minister Bishnu Ram Medhi (who later became Madras governor) on October 2, 1970, it stands in the garden of the Gandhi Mandap atop the 200-metre Sarania Hill in the heart of Guwahati. Numerous leaders including several prime ministers and other dignitaries had placed wreaths and offered flowers at the statue in the past 47 years.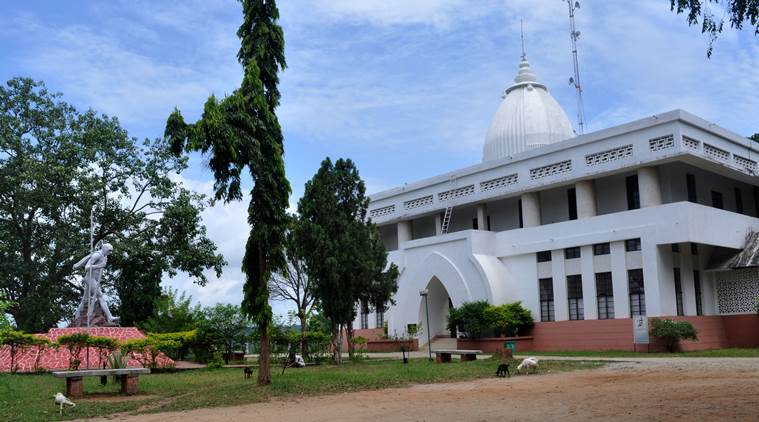 (Source: Express photo by Dasarath Deka)
Kamrup (Metro) deputy commissioner M Angamuthu admitted he was not aware of the fact that it was a work of Baij. When pointed out that it was made by one of the greatest sculptors of contemporary world, he said, "Let me check." The meeting on Monday has asked the PWD to order for a new statue.
Renuka Devi Borkakati, who was present in the meeting as a member of the Mahatma Gandhi & Martyrs Memorial Trust and Gandhi Mandap Trust, too said she was not aware who had made the statue. "As far as I know it was brought from Kolkata," she said. Borkataki was minister of state in the Morarji Desai government.
Krishna Nath Sarma, one of the few surviving freedom fighters in Assam today, said he wants to draw the attention of the President of India to this "criminal and anti-national" act. "This is too much. It is an insult not just to the great sculptor, but also to the Mahatma. I will write to the President of India," Sarma (95), a tamra-patra winner, said. He said some people have been trying to do this for quite a long time.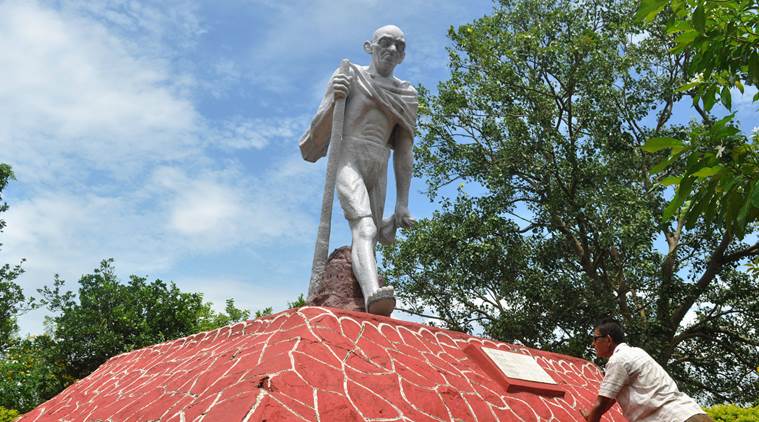 A man trying to read the detail of the statute of Mahatma Gandhi. (Source: Express photo by Dasarath Deka)
"It is shocking and disgusting. What are they trying to do? It is a priceless work of art that we have in Guwahati designed by Ram Kinkar Baij," said veteran artist and sculptor Noni Barpujari. "As far as I know they have already placed the order for a new statue," the internationally renowned Guwahati-based artist said.
"If there has been any distortion, it is because of the government. Succesive governments used to whitewash the statue with lime in the early years. Later they started applying a coat of plastic paint four times a year, on Independence Day, Republic Day, Gandhi Jayanti and Martyr's Day," Barpujari added with disgust.
Well-known art critic and film-maker Manik Bora said, "It is a pity that these people do not know who had made this Gandhi statue. Very few states would have such a treasure made by Ram Kinkar, a modern Indian sculpture and a father figure of contextual modernism. Yet people at the helm of affairs are simply ignorant. I consider it a criminal act," Bora, who heads the Heritage Conservation Society of Assam said.
For all the latest India News, download Indian Express App