By:
PTI
| Agra |
Published:July 31, 2017 8:40 am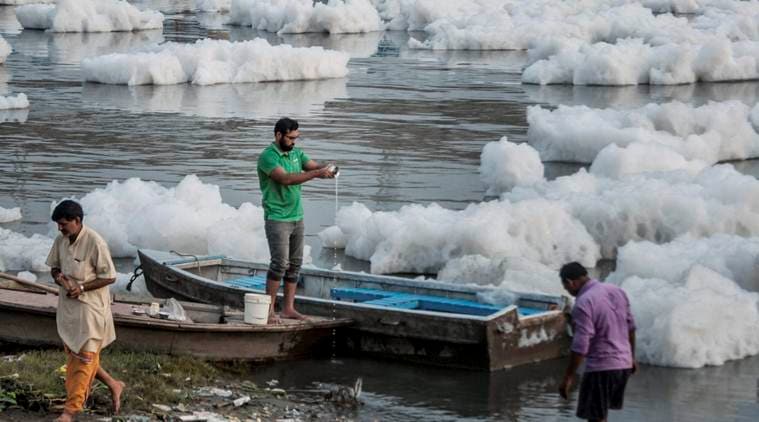 New Delhi: A man offers prayers as a priest walks past at a ghat of the polluted Yamuna river in New Delhi on Monday. PTI Photo (PTI7_17_2017_000173B)
River activists on Sunday evening floated paper and thermocol models of boats and ships as a mark of protest to remind Union Minister Nitin Gadkari of his "forgotten" promise made two years ago that Yamuna would be dredged and cleaned up for launching a ferry service between Delhi and Agra. Tourists, he had said, would be able to visit the Taj Mahal in a steamer boat.
The protest by the 'River Connect Campaign' saw the fragile boats float some distance towards the Taj Mahal before they collapsed one by one, as a huge crowd cheered and raised slogans. The gathering demanded uninterrupted flow of water in Yamuna, cleaning of the river and effective check on people who defecate and litter on the banks. They also demanded a National Rivers policy with a central rivers authority.
Activist Padmini Iyer of the River Connect Campaign told reporters that their movement has been going on for more than two years with a daily Yamuna arti and sabha to connect local people with the "dying" river. The group was trying hard to sensitise locals about cleanliness, she said.
For all the latest India News, download Indian Express App