From favorite foods to first celeb crushes and vacation hot spots, 47 Meters Down co-stars Claire Holt and Mandy Moore dish the dish and get to know each other just a little bit better during a rapid-fire question and answer sesh with E! News.
At beginning of the fun-filled sit-down, Moore asks the Australian, "If a shark bit you, what would you taste like?"
"I would taste like tequila," said Holt. The Originals actress fires back, "If a shark bit you what would you taste like?"
Moore laughs: "Tacos." The two then erupt with laughter and continued to giggle throughout.
The actresses' bond and is pretty clear, which makes sense as the two just played sisters on-screen and are currently doing a promo tour for their upcoming underwater thriller.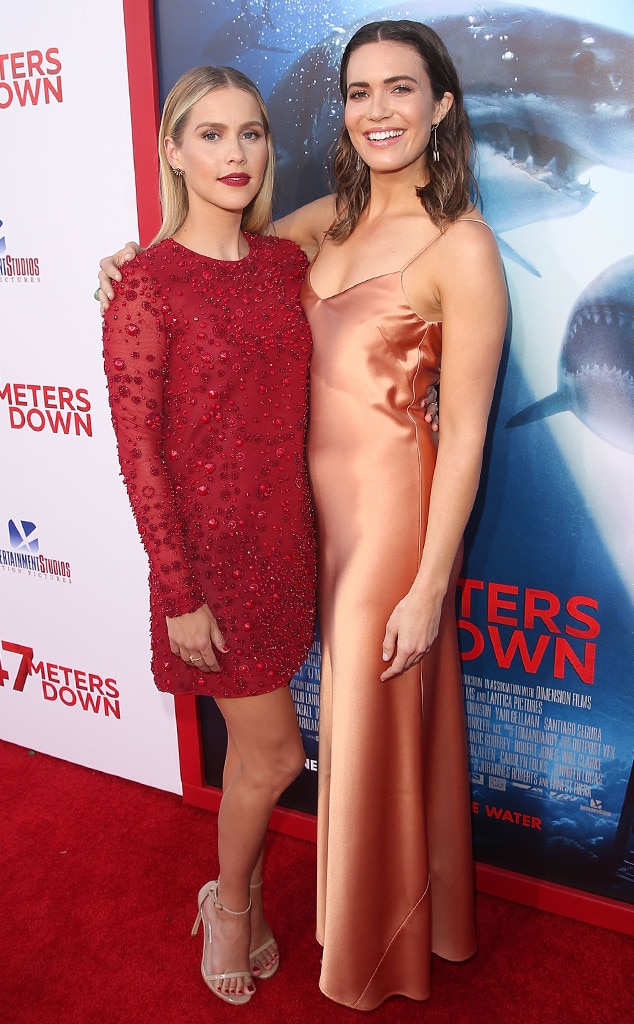 Jesse Grant/Getty Images
Of course, the rapid-fire questions didn't stop with taco talk…
In the segment, Holt asked the former teen star, "Which one of your This Is Us co-stars would be most capable of saving you from a shark attack?"
"I am going to say Milo [Ventmiglia]. Milo—just for the win always. He's always so prepared. He's just a guy…He's such a manly man," joked the actress. 
The two couldn't stop giggling through the Q&A and appear to be thick as thieves after filming their action-packed flick. Last night the duo even took the red carpet together, rocking some fabulous ensembles for the movie's red carpet premiere in Los Angeles.
In 47 Meters Down, Moore and Holt play sisters Lisa and Kate, who travel down to Mexico for a sun-soaked vacation filled with adventure. But the thrill-seeking sisters get more than they bargained for when they decide to go scuba diving in shark-infested waters. When their safety cage breaks, the sisters, whose supply of oxygen is dwindling, come face to face with a group of majestic and deadly great whites.
47 Meters Down takes a bite out of theaters on June 16.