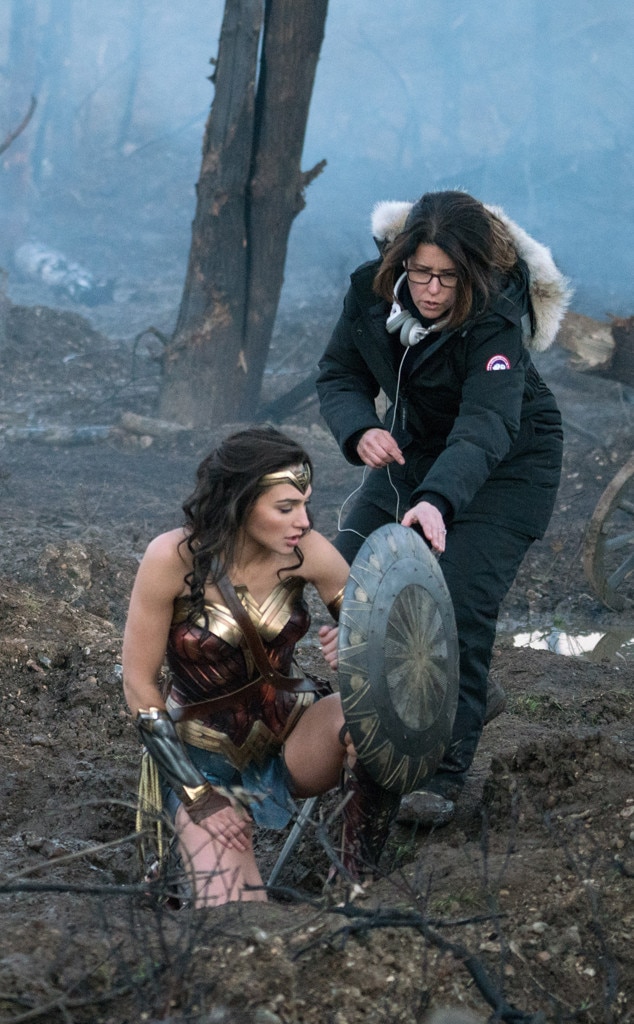 Clay Enos/ TM & © DC Comics
Wonder Woman can't be stopped.
The movie ushered in a new age of hero. It gave a role model to girls and boys of all ages and defied expectations, in the process it added to an existing legacy while launching one of its own. Every week it seems the movie crushes another milestone. That's not lost on director Patty Jenkins.
"It's stunning all the time. Again, I feel sort of like I always thought the Wonder Woman movie could be more successful than anybody was realizing…but still, the fact that our movie, that we became super passionate about as a real passion project for all of us, has not only succeeded the way that it did, but has actually succeeded on its own terms where you all want to come to talk to us about what we really cared about," Jenkins told a small group of press.
"The conversations we have are not superficial and that's wonderful. We've had wonderful commune with the masses, including the press, about the movie that we made, which has made it so rewarding," she continued.
Lucy Davis, Etta Candy in the movie, said the conversations she's had with Jenkins and the rest of the cast about the success has been mind-boggling.
"When I first saw you after the premiere I just looked at her and said, 'What just happened? I don't know!' What a journey it's been for everyone involved. It really has been a joy to be on and sometimes as an actor I think we're maybe meant to say, 'Yeah, it's great. It's another job,'" Davis said. "It's not another job. It's a job…that we all love to have. It was joyous from start to finish and it keeps going. And to not be thankful for that would be churlish. I've loved all of it."
It took 75 years, but the character finally made her big screen debut in Jenkins' movie starring Gal Gadot as the titular character, Davis, Chris Pine as Steve Trevor and Connie Nielsen as Queen Hippolyta. The 2017 movie is the first live-action depiction (meant to be seen by the masses, Adrianne Palicki's NBC pilot never aired) of the character since Lynda Carter's 1970s TV series.
Jenkins has spoken to Carter on a regular basis about the legacy involved with the character before the movie, during filming and to this day.
"I was just talking to her two days ago and on the phone I was saying, it's pretty incredible that it's only now dawning on me as I see Wonder Woman will go on into the future…and it's interesting to realize that there will forever be kids that were touched by Wonder Woman…about my version of Wonder Woman and there's a version of Wonder Woman that I think is important to carry on," she said. "And Lynda was saying it's lovely that she doesn't feel so lonely anymore. That it's like there are others of us who are trying to protect the gates of Wonder Woman, not belonging to any of us, but being something we will forever want represented in a beautiful way. That's where I'm sort of like, 'Wow, it's a wonderful character that I love and I'm so honored'…you would think a movie would come out and it would be as successful as it was and 'The end.' Now I'm like, no this conversation will have different resonance going forward that will continue so it's never going to stop. It's kind of cool."
Like Carter for her Wonder Woman TV show, Gadot, Jenkins and Davis will be forever tied to the hero and everything she embodies.
"I'm starting to realize this is a lifelong commitment in a way that I'm great with because I love it and believe in it too," Jenkins said. "I'll never get tired of people liking something that I participated in."
Wonder Woman arrives on Blu-Ray and DVD September 19 and is available digitally on August 29.