After an offseason full of big moves and All-Stars changing teams, which additions are most and least likely to work out?
We asked the ESPN Forecast panel to rank its top three choices for 2018-19's best and worst newcomers, featuring LeBron James, Kawhi Leonard, Jabari Parker, Carmelo Anthony and Dwight Howard.
Here are the results: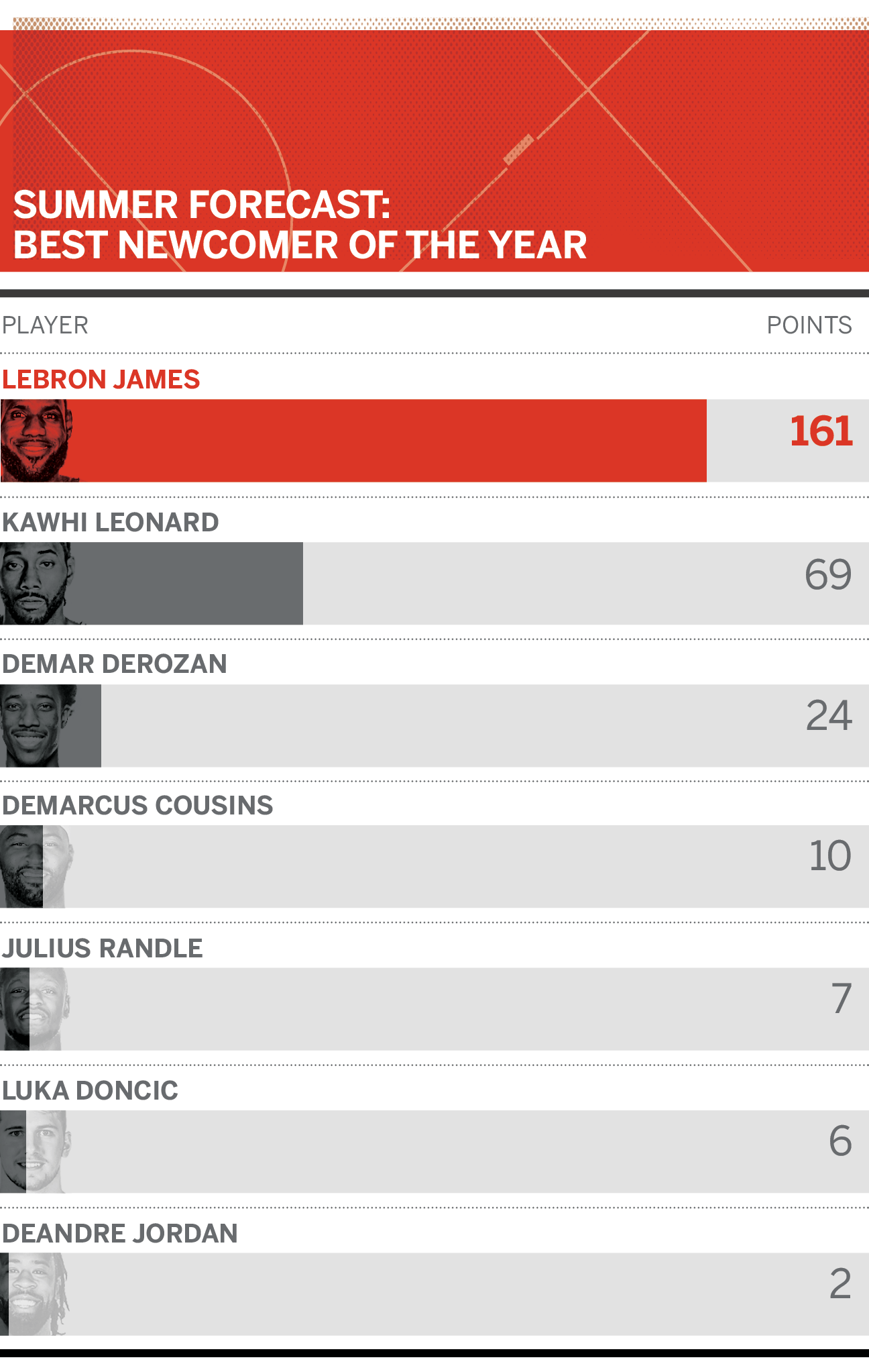 1. LeBron James
Total points: 161
First-place votes: 93.9 percent
L.A. received a three-year commitment from the best player in the NBA to turn around a marquee franchise that has missed the playoffs in five straight seasons. While some might point out his age (he turns 34 in December), James is coming off one of his finest seasons — appearing in 82 games for the first time and coming close to averaging a triple-double.
With the flexibility to improve in the future, consider James' signing Step 1 in the Lakers' plan to not just compete for a playoff spot, but challenge Golden State and Houston for the foreseeable future. — Bobby Marks
---
2. Kawhi Leonard
Total points: 69
First-place votes: 3 percent
The opportunity to acquire a top-five player does not come along often. If Leonard returns to his 2016-17 form, Toronto will likely leap to the top of the East with a real opportunity to reach the NBA Finals.
While there are certainly risks involved — including the possibility that Leonard does not re-sign next July — Toronto will have a full year of in-house recruiting. — Marks
---
Total points: 24
First-place votes: 3 percent
DeRozan gives the Spurs an All-Star in the prime of his career who is under a long-term contract and keeps them in the playoff race.
That looked unrealistic when the offseason began, considering that San Antonio had lost leverage with Leonard. His expiring contract and his desire to play in L.A. kept teams such as Boston and Philadelphia from making compelling trade packages. — Marks
---
Total points: 10
On a discounted one-year, $5.3 million contract, Cousins is on the list even with uncertainty about when he will step on the court following an Achilles injury.
When Cousins does return, consider the addition comparable to Golden State adding an All-Star-level player at the trade deadline without having to give up a draft pick or good player. — Marks
Also receiving votes: Julius Randle (7 points), Luka Doncic (6), DeAndre Jordan (2), Carmelo Anthony (1), Tony Parker (1), Dwight Howard (1), Trevor Ariza (1), Isaiah Thomas (1)
---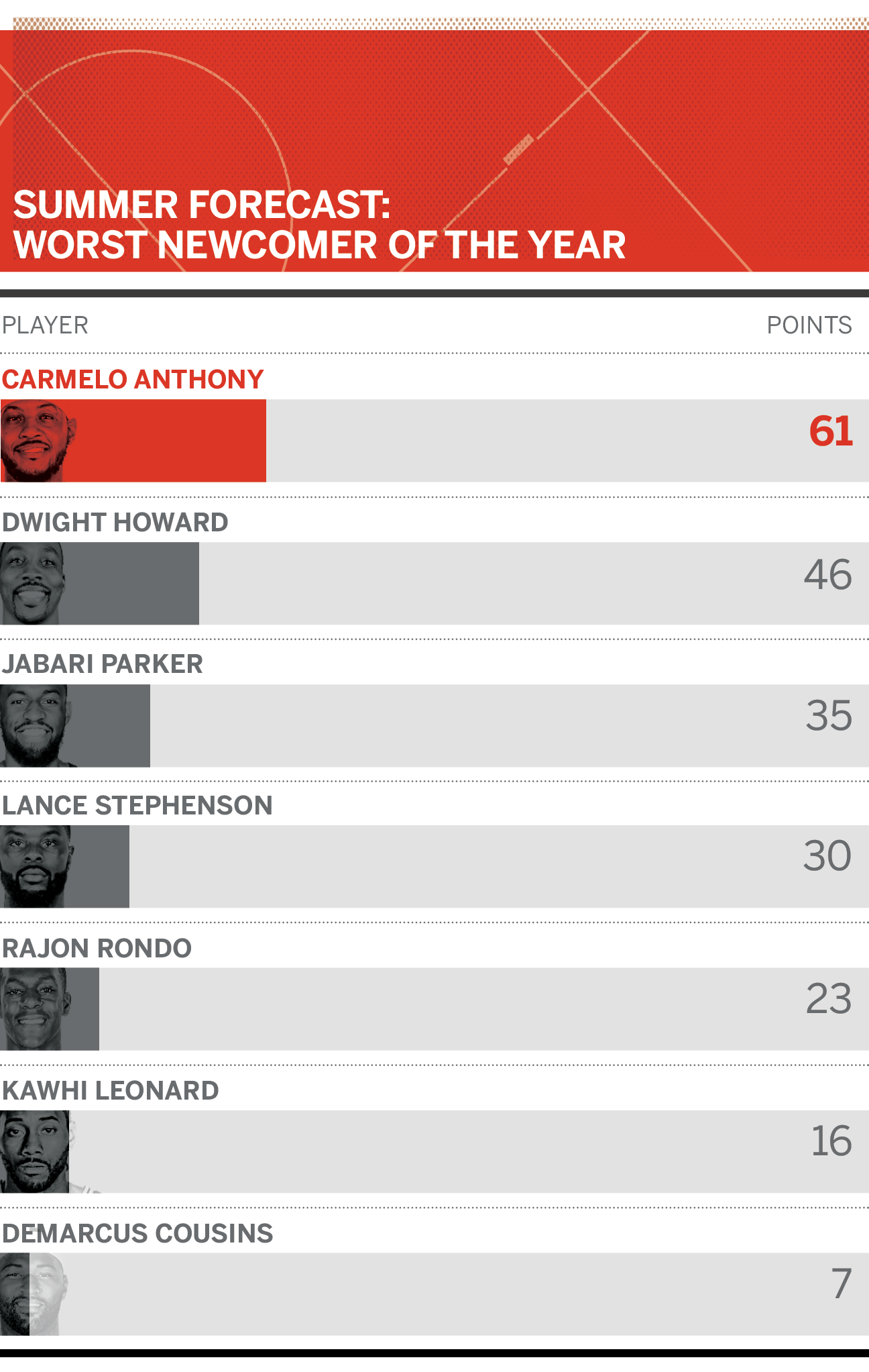 1. Carmelo Anthony
Total points: 61
First-place votes: 27.2 percent
Can the 34-year-old Anthony accept the role of being a complementary player? With his lowest usage rate in his career (23.2 percent), Anthony was ineffective when he did not have the ball in his hands in Oklahoma City.
Although the forward has seen a decline in his play, all eyes will also be focused on the relationship between him and head coach Mike D'Antoni after a rocky ending in New York. However, Anthony and D'Antoni built a relationship through Team USA during the 2016 Olympics when D'Antoni was an assistant coach. If both sides can coexist, then Anthony on the $2.4 million minimum exception is a bargain. — Marks
---
2. Dwight Howard
Total points: 46
First-place votes: 18.1 percent
A year removed from earning the top spot as worst newcomer, Howard brings stats that actually don't signal trouble. After all, how could a player who averaged 16.6 points and 12.5 rebounds per game with Charlotte and is now on a modest two-year, $10.9 million contract fall on the worst newcomer list?
The answer lies more with the perception that Howard is a one-man wrecking ball of team chemistry, both in the locker room and on the court. It's a distinction the future Hall of Famer now is labeled with for the rest of his career. — Marks
---
3. Jabari Parker
Total points: 35
First-place votes: 15.2 percent
Parker is here more for fit than financials.
With Lauri Markkanen entrenched at power forward, Chicago will be asking Parker to play out of position at small forward, something the defensively challenged former No. 2 pick will struggle to do. One thing head coach Fred Hoiberg cannot do is play Markkanen out of position at the expense of Parker playing the 4. — Marks
---
Total points: 30
First-place votes: 9 percent
The last time he left Indiana, Stephenson looked more like a G League player than a key playoff contributor. Now in L.A., Stephenson could struggle adjusting to a role playing off the ball, especially with Lonzo Ball, Rajon Rondo and LeBron James running the show.
The good news is Stephenson is on just a one-year contract. — Marks
---
5. Rajon Rondo
Total points: 23
First-place votes: 9 percent
Will the Lakers get 82 games of the Rondo we saw in the playoffs, or of a player who continues to be a regular-season liability, as evident by his career-worst 109.7 defensive rating in 2017-18?
Like Stephenson, Rondo is best with the ball in his hands — a key reason why New Orleans shifted Jrue Holiday to shooting guard last year. How will that work on the Lakers? — Marks
---
6. Kawhi Leonard
Total points: 16
First-place votes: 9 percent
Uncertainty about Leonard's health and long-term status in Toronto places him here. While the risk was warranted, the Raptors will be in a full-scale rebuild if the forward does not return next offseason.
However, had the Raptors run it back and disappointed in the playoffs again, management would likely be looking to rebuild with DeRozan's contract still on the books. — Marks
Also receiving votes: DeMarcus Cousins (7 points), Michael Beasley (6), DeAndre Jordan (6), Mario Hezonja (5), Kyle Anderson (4), DeMar DeRozan (4), Marco Belinelli (3), Noah Vonleh (3), Doug McDermott (2), Jeremy Lin (1), Trae Young (1)