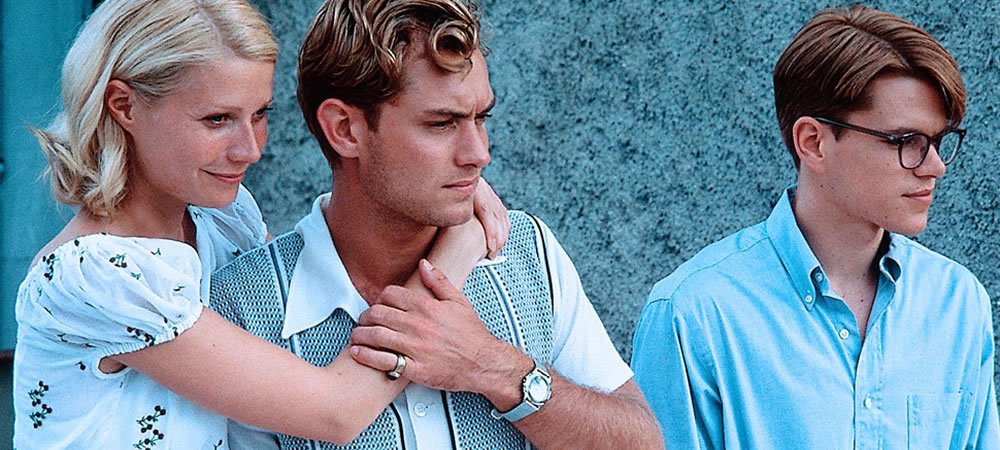 Anyone projected onto a huge screen, with professional lighting and someone to dress them, is going to look better than your average guy on the street. However, not all movie characters are created equal. Some attain iconic stature and it's often down to what they're wearing and how they wear it. Brando made his image with a white T-shirt. Bond is synonymous with dinner suits. And where would Ryan Gosling be without that jacket?
So FashionBeans has broken out the popcorn to present the most stylish movie characters in cinema history. These are the gold-standard looks from the silver screen with style rules you should incorporate into your own wardrobe department.
(Related: The Most Stylish Films From Last Year)
Dickie Greenleaf – The Talented Mr Ripley
Jude Law's playboy cad from Anthony Minguella's sleek thriller is how we'd all like to think we look in hotter weather. You don't see him sweating a Rorschach test onto his shirt within three minutes of leaving the house. Notice he doesn't overdo summer colour, either. He keeps his look muted, with just small hits of bright hues.
Style to steal: Dickie does the beach-to-bar look brilliantly, pairing patterned, tailored swim shorts with plain shirts (note: not T-shirts). It looks relaxed but smart.
Jim Stark – Rebel Without A Cause
When you think of James Dean, this is the character that comes to mind. As an angry and frustrated teenager looking for something to rail against, Dean wears the iconic outfit of turned up blue jeans, a white T-shirt and red Harrington jacket. It's the archetypal American look.
Style to steal: Don't copy the exact same look because you'll look like you're off to a fancy dress party. Instead, take the tip of pairing white tee and jeans with a more interesting jacket. Chuck on a bomber in a striking colour or pattern and an anonymous outfit becomes a statement.
James Bond
An obvious entry, perhaps, but he's near the top of everyone's list for a reason. Bond is sharp. Everything the spy wears is considered. And the thing with 007 is he isn't actually a timeless dresser. If you look at the suits worn by each actor as Ian Fleming's most famous character, they're very much of their era. Sean Connery's 1960s suits are loosely tailored, even oversized by modern standards. Daniel Craig's Tom Ford numbers, on the other hand, are second-skin tight. Black tie is classic, but that doesn't mean it can't be modern.
Style to steal: When dealing with something as simple as a dinner suit, enjoy the details. If you worry too much about finding a suit that won't look dated in ten years, you risk looking dull.
(Related: The Brands That Make James Bond)
Detective Murakami – Stray Dog
The truly stylish man is the one who can wear a hat without looking a complete berk. In Akira Kurosawa's sweaty cop movie, set in a Tokyo heatwave, Detective Murakami responds to the boiling temperature with a linen suit and tie, plus an enormous cap, which somehow makes him look chic as hell instead of like Norman Wisdom on holiday.
Style to steal: Murakami's suit has more creases than a geriatric shar-pei, but it still looks great. When wearing linen, don't try to keep it smooth. You won't win. Embrace the rumpled casualness.
Julian – American Gigolo
A young Richard Gere was mostly outfitted by Giorgio Armani for this 1980s classic about a male prostitute. The mix of Italian tailoring and American flash make for a look that's extremely of the era, in that every piece of clothing is making some kind of statement, but Gere wears it all with such confidence and swagger that even though he is sporting a lot of look, nothing is overshadowing him.
Style to steal: Keep the palette muted and you can get away with a lot more. Julian rarely strays into colour, so his bold choice of shapes doesn't look brash.
(Related: The Best Suits On Film)
Marcello Rubini – La Dolce Vita
Journalists, on the whole, do not look like Marcello Rubini, who saunters about in black suits and shades, a cigarette dangling nonchalantly from his lip. There's nothing unusual about what this man is wearing, but he wears clothes with the ease we all aim for.
Style to steal: It's basic stuff, but make sure to buy even your formalwear in a cut that's comfortable enough that you can go wherever a night takes you, even dancing in a fountain.
John Robie – To Catch A Thief
Cary Grant always wore a suit well, but Alfred Hitchcock's sexy thriller shows him nailing his more casual attire too. Sometimes that's relaxed suiting, with a structured jacket team with looser trousers, or long-sleeved T-shirts teamed with tailored slacks. He's got the 'on holiday, but I still have standards' style bang on.
Style to steal: Are you confident enough for statement neckwear? Robie wears scarves under T-shirts and cravats under shirts. It's advanced difficulty dressing, but if you succeed, it looks incredible.
Rusty Ryan – Ocean's 11
You'd probably need to make like Brad Pitt's con-artist character and start robbing some casinos if you want to rival his suit selection. The man has many, so much that he never wears one twice. He enjoys the hell of out them, wearing (very bold) shirts with big 1970s collars under suits in all manner of cuts and fabrics. He is swaggering proof that suits don't have to look remotely businesslike.
Style to steal: Some of Rusty Ryan's looks are verging on porn star, so you shouldn't steal too much, but you can pair a linen suit with a shirt that shows some attitude. Steal that for summer weddings.
Thomas Crown – The Thomas Crown Affair
With no disrespect to Pierce Brosnan in the remake, who looks fine in a not very memorable way, but he's no Steve McQueen. The King of Cool's playboy thief is a cocky suit-wearer. All his tailoring is designed to get him noticed, which is all the more arrogant considering he's a criminal. Windowpane checks. Waistcoats with everything. Gold accessories. He's not shy. The most important accessory is unshakeable confidence.
Style to steal: Though the colours or fabrics are bold, the palettes are limited, with never more than three colours involved and more often just tone-on-tone. This lets you make a big statement without shouting too loudly.
George Falconer – A Single Man
Obviously, this was going to be stylish with Tom Ford in the director's seat. His story of a man (Colin Firth) mourning the loss of his lover in the 1960s mostly has Firth in a black suit, white shirt and skinny tie. But they're all exactly the right black suit, white shirt and skinny tie.
Style to steal: It's all about detail: the tie clip. The glasses. The pocket square. They make the outfit. If you wear glasses, the right frames speak volumes.
The Driver – Drive
If we're going to take a single lesson from Ryan Gosling in Drive it is this: fit. Aside from that satin jacket with the embroidered scorpion, everything he wears is something we all have a version of in our wardrobes. Jeans, T-shirts, but all supremely fitted. The statement jacket is something you can only pull off with a solid rotation of menswear basics to anchor it with. And a hefty dose of charisma.
Style to steal: A white Henley is more interesting than a white T-shirt. Don't undo all the buttons or you may as well be wearing the dreaded deep-V, but keep one or two open.
Radio Raheem – Do The Right Thing
Everyone in Spike Lee's era-defining Do The Right Thing is dressed to grab attention. Radio Raheem is just the best dressed one. The man matches his orange socks to the pattern on his T-shirt and the detail on his sneakers. He's just hanging out on the street, but he is seriously put together. Style isn't about always looking smart but about making all your clothes sing the same tune.
Style to steal: Pick a colour from your trainers and repeat it in small hints through the rest of your outfit.
Joe Turner – Three Days of the Condor
No actor, with the possible exception of Warren Beatty, wore the 1970s better than Robert Redford. A shaggy mop and big sideburns just suit him. As a CIA agent on the run, he pretty much wears the same thing throughout, but the style is in how he does so much with a get-up that is, in its constituent parts, quite dull. Adding variously a blazer, jumper, tie, scarf and a really great peacoat makes jeans and a blue shirt look like many different outfits.
Style to steal: Spend money on the best navy or black peacoat you can afford. You will never regret it.
Chow Mo-wan – In The Mood for Love
Wong Kar-wai's 2000 romance is ravishing to look at, but Chow Mo-wan is not the main attraction. The journalist is dressed very much to support Maggie Cheung and her parade of bold dresses. He's not dressed to pull focus but to fit anywhere in perfectly cut suits in muted colours. He adds some interest with ties – not busy ones, but notable colours like bronze – but his simplicity is what makes him look chic.
Style to steal: Not every suit that Mo-wan wears is a winner, but his hair is impeccably slicked back throughout. Remember that the next time your first-choice tailoring is at the dry-cleaners: the right hairstyle can lift any outfit.
Michel – Breathless
Jean-Paul Belmondo's Michel dresses a bit like a dad, in blazer, shirt, tie and fedora, but the style is in the attitude. They're all worn in the same casual way you might wear jeans and a T-shirt. His jacket is too big, his shirt and tie don't match and the tie is far too short, but his entire demeanour says, 'I'm happy and I think I look great', and so he does.
Style to steal: The self-consciousness of stealing the look destroys the loucheness that makes it work, but embrace the casual tie. Don't just wear one for formal times but try a knitted or cotton tie when there's no reason for it. It makes you look intriguing. Keep your top button undone.