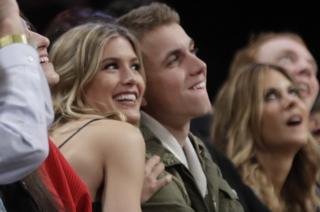 Canadian tennis star Eugenie Bouchard has honoured her promise to join a 20-year-old student for a date, after he won their Twitter wager over the US Super Bowl.
While the Atlanta Falcons were 21-0 ahead, Ms Bouchard predicted their victory online.
But when New England Patriots fan John Goehrke bet her a date that his team would triumph, she gamely accepted.
The Patriots duly mounted a nail-biting comeback in the game's dying minutes.
Ms Bouchard, 22, clearly a woman of her word, tweeted a picture of herself and Mr Goehrke en route to a New York basketball game.
"Just met my 'Super Bowl Twitter Date' John. On our way to the @BrooklynNets game!" she wrote.
The Montreal native had secured prime courtside seats for the encounter, where the Brooklyn Nets took on the Milwaukee Bucks.
Ms Bouchard is a one-time Wimbledon finalist who is currently 44th in the world tennis rankings.
She joked about her poor gambling form on the night of the Grammy's, tweeting: "Not making any bets tonight!" with a laughing emoji.
Quarterback Tom Brady, who led the Patriots to a 34-28 win, described the Super Bowl clash as a "hell of a football game".
Whether it sparked a historic love match too, fans will have to wait and see.
You might also like
Kenya's $1 couple given white wedding
Love Actually cast reunite for charity
Marrying the man who saved my life
---
Want a famous date? Try asking!
Eugenie Bouchard is not the first famous face to prove a good sport in the dating stakes.
In 2011, actress Mila Kunis accompanied a US serviceman, Sgt Scott Moore, to a Marine Corps Ball in North Carolina after he asked her to be his date via a YouTube video.
The same trick worked on Justin Timberlake, who joined Cpl Kelsey de Santis at a Marine Corps ball in Virginia – and called it "one of the most moving evenings" of his life.
And singers Rihanna and Taylor Swift both made teenage dreams come true via the MTV show Once Upon a Prom – showing up as glamorous prom dates for two high school boys.