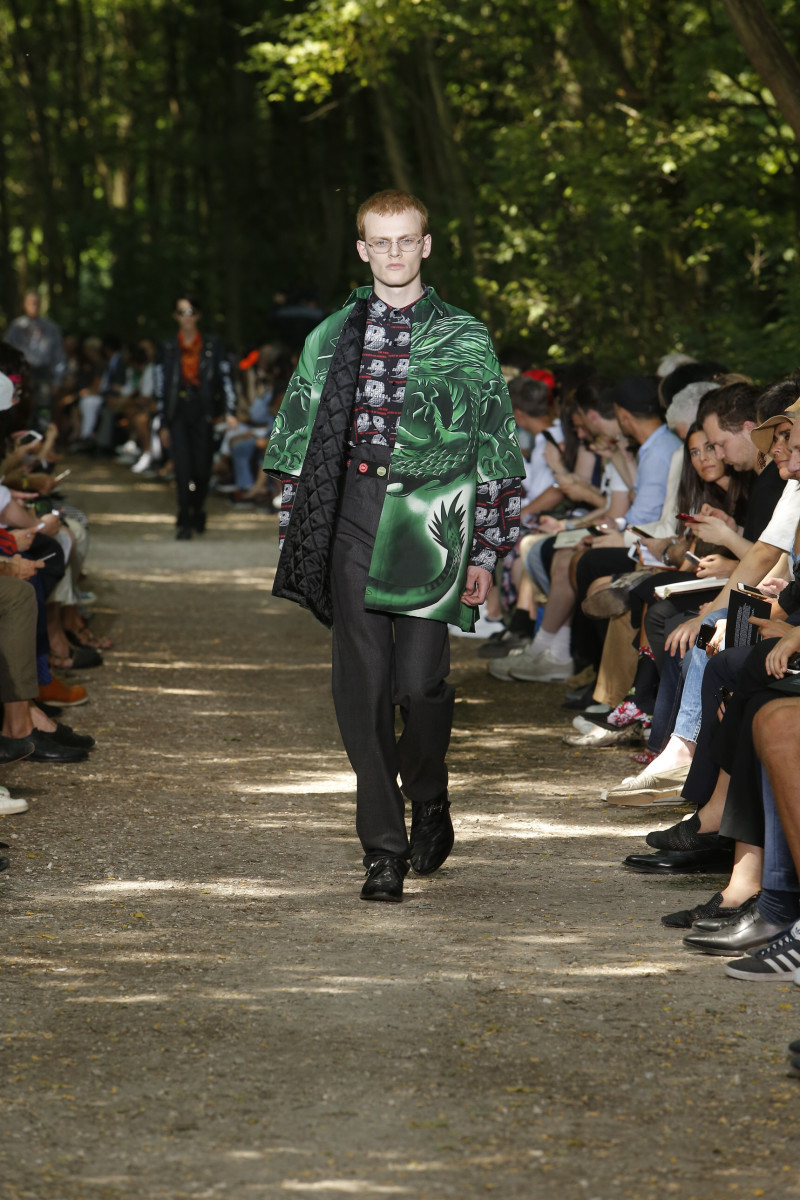 Are we keeping count this week? Another day, another major brand is under fire for allegedly copying an original design. The latest parties involved: Balenciaga and Ruff Ryders, by way of Swizz Beatz. The producer who is also the brains behind DMX's "Ruff Ryders' Anthem" and whose uncle founded the hip-hop record label group in the late '80s, took to Instagram to call out Balenciaga's Spring 2018 collection, which debuted during Men's Fashion Week in Paris on Wednesday.
"@balenciaga we must have a talk about this Ruff Ryder shirt ASAP 樂 Dapper Dan with Gucci now this 樂 thoughts ?????? Blessings," wrote Swizz on Instagram on Thursday with a photo of a look from the French fashion house's latest runway show. The model is seen wearing a long-sleeve button-down patterned with red type and a "B" motif that's nearly a carbon copy of the Ruff Ryders' single "R" logo.
Swizz continued to show that Demna Gvasalia's design was a blatant rip-off on Instagram with another photo that features the original Ruff Ryders button-down. And we have to admit, it's hard to miss the obvious similarities between the two. "This is the Ruff Ryders original version from 2000 @balenciaga @vetements_official 樂 what are we doing??? Call me back blessings," he wrote in the caption. "I Might just want you to open up a fashion school in the bronx or harlem 樂Just so you can give back to the culture ! thoughts ????"
On Balenciaga's own Instagram, which showcases the entire collection in single posts, the called-out look is inevitably getting plenty of angry comments from followers. "CUT THE CHECK TO RUFF RYDERS;" "Give props when its due, this is not ur design, not even a little bit! lol smh #CultureVulture #CoutureEdition  #RuffRyders;" and "Pay Your Dues & Pay Homage To The Culture That Inspired This Piece, Ruff Ryder's Are Hip Hop Royalty! And That Logo Is More Than A Shirt Its ICONIC!" We reached out to Balenciaga for comment on the matter.
As Swizz mentioned earlier, this isn't the first time a major fashion house has copied the designs of another major member of the hip-hop community. At the end of May, Gucci was criticized for designing a jacket for its Cruise 2018 collection that was eerily similar to an original look by Harlem-based tailor Dapper Dan. The Italian fashion house was also called out by two independent artists for copying their logos for the same collection. 
On the fast fashion front, Topshop was recently accused by young designer Wesley Berryman for copying his signature lace-up jacket and trousers. "I am not surprised that this has happened because we live in a world where so many corporate establishments steal from minority communities to make a profit," said Berryman in an official statement for Fashionista. It's a sad truth but there has to be a way to make it stop. Here's an idea: Stop stealing in the first place.
Want more Fashionista? Sign up for our daily newsletter and get us directly in your inbox.