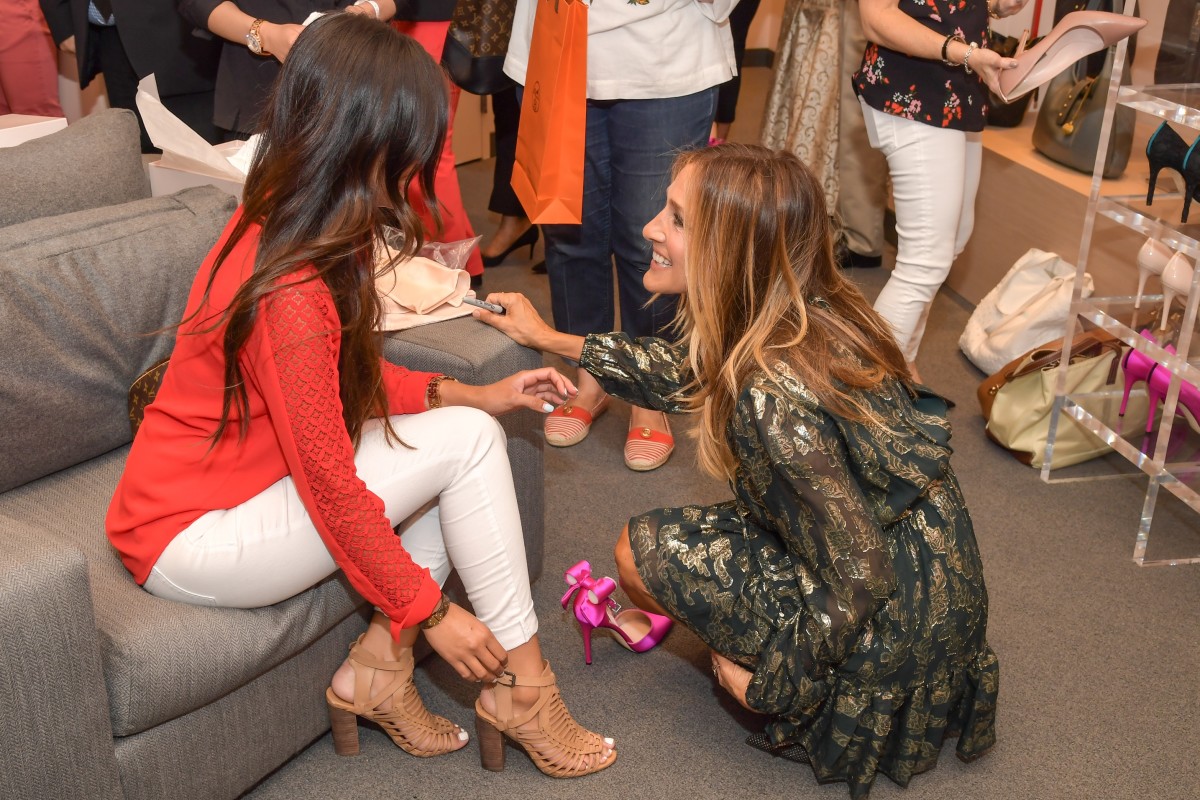 "You have very pretty feet," is the first thing Sarah Jessica Parker says to me as we sit down to chat at her new SJP shoe store inside the Bellagio Hotel in Las Vegas — me in a chair, her on one of those wheeled benches sales associates use to fit shoes on customers. It might've been a lie (though everything she says sounds 100 percent genuine and heartfelt) and wasn't creepy; rather, the compliment made me feel a little less overwhelmed by the fact that I was interviewing Sarah Jessica Parker.
At the risk of sounding basic, it was a bit of a full-circle moment for me. Like many, I (perhaps naively) idolized her "Sex and the City" character, and I'm not saying that show is why I moved to New York and became a writer but… I did. As a sophomore at NYU one night, some friends and I walked to a nearby corner in Soho where we found out the first "Sex and the City" movie was being filmed. We literally waited for hours for Parker to come out of her trailer and take a photo with us and fell even more in love when she overruled her handler and agreed to do so against his assertion that she didn't have time. Ironically, it took moving to Los Angeles (and flying to Vegas), but now, 10 years later — in a hotel that I used to stay at with my family as a kid — I was properly interviewing her.
She hasn't changed (or, at least, her personal brand hasn't). After our interview, wearing a full-skirted, lace-y dress with a giant flower on her lapel, she invited a trio of women staying at the hotel for a conference, whom she saw waving at her through the store window, to come in and take a picture. She'd also hosted two personal appearances over the weekend, where we're told she actually put shoes on people. Unsurprisingly, there were lines well outside the door.
Parker comes across not only as kind and authentic, but also as a smart businesswoman. While many find it odd that she would open her first two brick-and-mortar stores in Washington, D.C., and Vegas rather than the city to which she's basically an unofficial ambassador, New York, it's actually a wise move in this fickle retail landscape. Both locations were born out of a partnership with global hospitality company MGM. "It's given us an opportunity that as a new business we would not have had for many, many years," says the "Divorce" star. "Two standalone stores at this point, in our young toddler years, is kind of exceptional."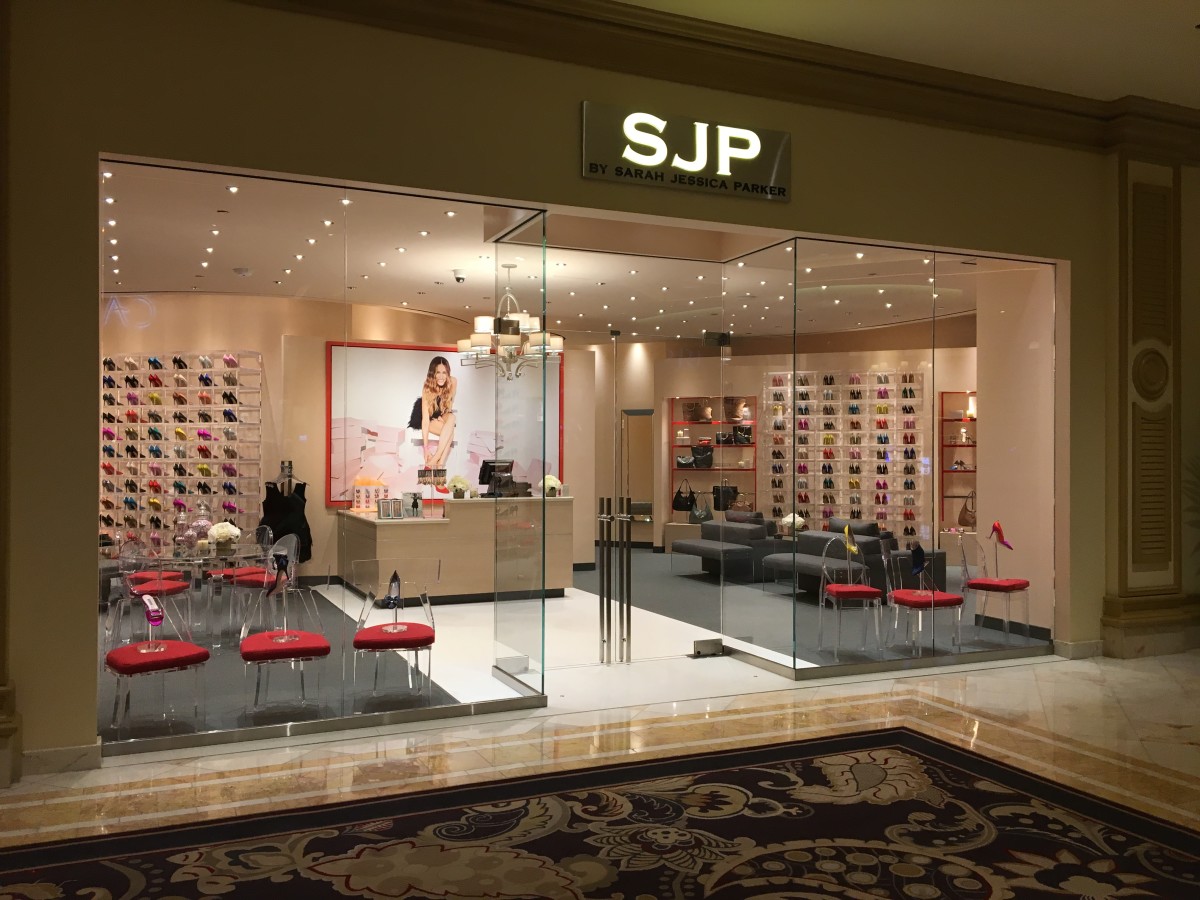 Parker has taken MGM's lead when it comes to deciding where to open next, and it's proven a successful strategy. "When they came to us and suggested having this door here [at the Bellagio] and had such enormous confidence and belief [in it], it's hard to say no to that," she adds.
It's clear that Parker doesn't see SJP as a vanity project, but truly wants it to succeed. She looks at numbers (alongside her partner George Malkemus III), and knows that retail is changing right now. When it comes to brick-and-mortar, the environment and experience are key, and we've already seen examples of hotel-resort retail thriving while traditional retail isn't. "I think when people come to a hotel and a property this size and have sort of decided in their heads where their dollars are going to go and what their budget is… it's a clear victory for retail," says Parker.
The partnership has been mutually beneficial. According to Farid Matraki, MGM's SVP of global retail leasing and development, the Bellagio SJP opening "broke every record."
"People ran inside like they were getting free bread," he adds. He's not that surprised, though. He and other MGM executives fell in love with her (and the rabid fanbase she inspires) after hosting an early SJP pop-up at another property. "People didn't know about the brand, but they loved her," he explains. Putting her at the Bellagio was a no-brainer. He explains that Vegas retail "is very different from any other city in the world" in that people come with the intention to shop. "You think, I'm going to see a great show, I'm going to eat at a great restaurant, I'm going to shop. It's one of the things you do," he says. "Retail in Las Vegas will always do better than anywhere else because it's part of what you do here."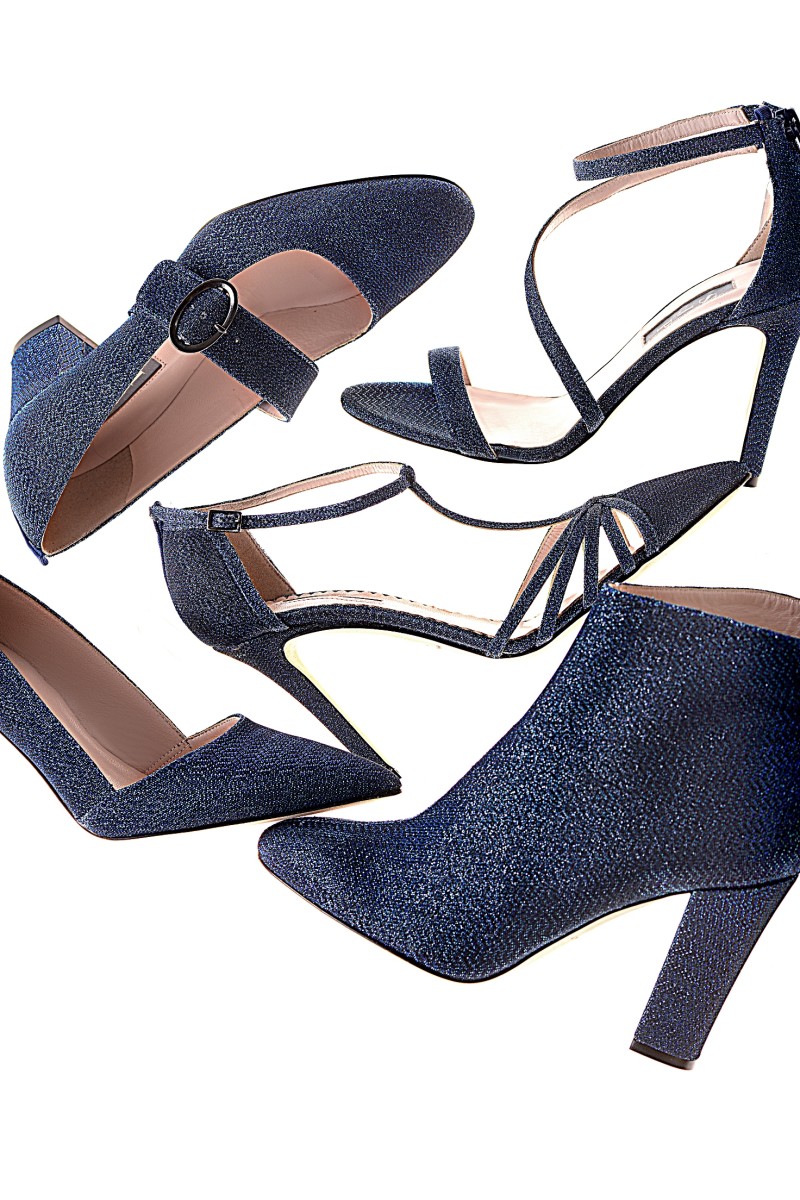 He gave SJP a plum spot (feet away from the guest elevators, en route to the pool and visible from the casino) in his most successful hotel for a reason. It's not difficult to imagine guests impulsively entering the bright, millennial-pink store to pick up a sparkly pair of heels to go out in that night. This is what many shoppers actually did the night before, according to Parker, and, yes, the store was merchandised with Vegas in mind. "You really want to walk in and feel a party for your foot; you want to feel glitter and color," she says.
One imagines there will be a bit more black if she ever opens a store in New York, where her biggest door is currently Bloomingdale's. It will happen eventually. "Property owners and real-estate developers have been very kindly chasing us," she says. "The question is when: What's good for this business? What's smart financially?" Parker also knows that her presence is critical to the success of the brand, and she has a film and television career to balance. "For me to be a part of my business, I have to be there," she adds. She and Malkumus have also been discussing direct e-commerce, which the brand surprisingly hasn't launched yet. She says they've been "discouraged from doing so" because of existing partnerships with Amazon and Zappos, but she feels that "eventually, we have to put it all in one place, between fragrance, and even books that I'm publishing soon."
That will likely be a prudent business move, but still, it will be impossible to replicate the exhilaration of being face-to-face in a store with SJP.
Want the latest fashion industry news first? Sign up for our daily newsletter.