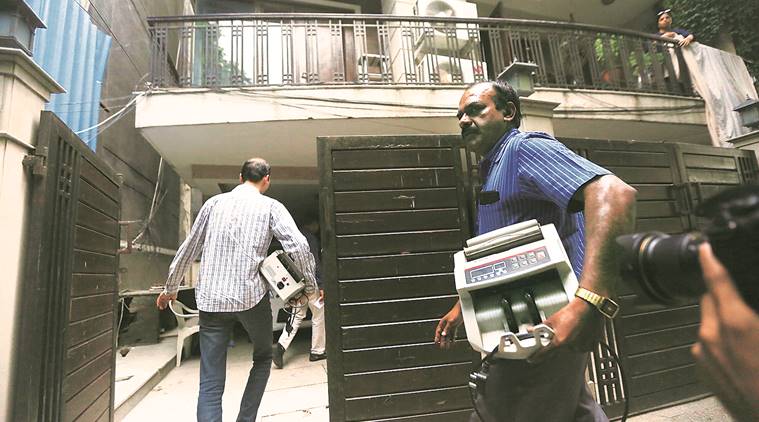 Income Tax officials arrive with currency counting machines at Karnataka Minister D K Shivkumar's Delhi residence on Wednesday. (Source: Tashi Tobgyal)
The Supreme Court will hear on Wednesday a petition filed by the Gujarat Congress challenging the Assembly secretary's decision to allow the None Of The Above (NOTA) option in the Rajya Sabha polls scheduled for August 8. The petition, filed by Shailesh Manubhai Parmar, the chief whip of the party in the Gujarat Assembly, requested the court to quash the August 1 circular issued by the secretary. The circular said the NOTA option would be made applicable in the elections to the Upper House.
The stage is set for a high-voltage Rajya Sabha election this time for three seats in Gujarat with the BJP fielding party all-India president Amit Shah, Union Minister Smriti Irani and ex-Congress MLA Balwantsinh Rajput and the Congress trying its luck with senior leader Ahmed Patel.
Senior counsel Kapil Sibal mentioned it before a three-judge bench of Justices Dipak Misra, Amitav Roy and A M Khanwilkar and sought an urgent hearing, saying there was no statutory provision for NOTA in the ballot paper for the polls and that use of the option would violate the provisions of the Representation of the People Act, 1951, and Conduct of Election Rules, 1961. The court agreed to take it up on Thursday.
"Without a corresponding amendment in the Act and the Rules, any purported administrative action of the Election Commission of India to introduce NOTA is ex-facie illegal, arbitrary and in fact tainted with malafide," said the plea.
It alleged that the Election Commission "has become a tool in the hands of the ruling dispensation to facilitate violation of the provisions of the Constitution, the Act and the Rules". The NOTA option was first enforced in January 2014 after a 2013 Supreme Court order made it mandatory to have the option in EVMs. Parmar pleaded with the court to quash and declare as "void" the Election Commission circulars of January 2014 and November 2015.
For all the latest India News, download Indian Express App