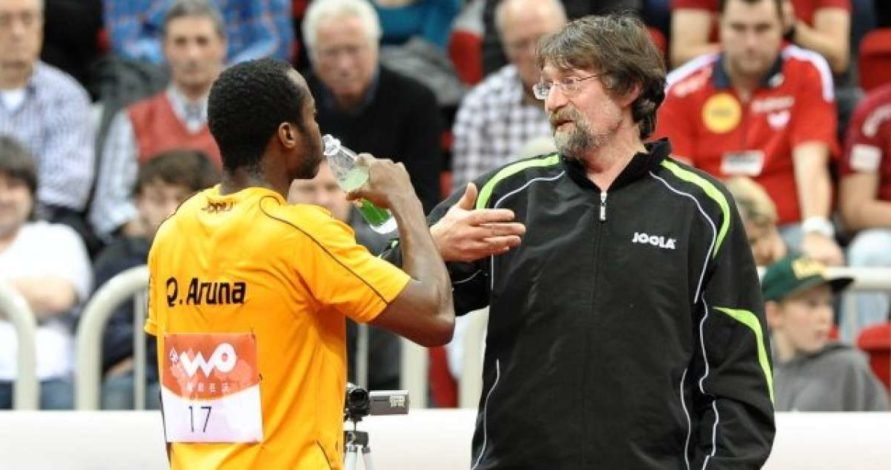 After cornering Aruna Quadri to the main draw of the 2017 ITTF World Cup, Coach Martin Adomeit believes with the quality of the Nigerian, he now commands respect among the top players in the world.
He however, charged the 2014 ITTF Star Player not to be complacent but continue to work harder in order to be among the top 10 players in the world.
The former German national coach told NationSport in Liege, Belgium that he was always willing to handle Quadri as he makes coaching smooth with his style of play.
"I believe Quadri has the potential to be among the top 10 in the world because he is now being respected globally by top players. His style of play is unique to him particularly his ferocious backhand which most players find difficult to control. From the last time i coached him, i noticed he has improved in his backhand but he still lacks confidence in using it. He must trust his backhand for him to use it well. I think in the main draw match against Japan's Jun Mizutani, he played better than the group matches. But he still needs to know how to return service and work more on his own service. All these matter at big stage and these are areas he still needs to improve upon," he said.
The erstwhile Belgium technical adviser added: "I just admit that Quadri did not enjoy himself because he was not having fun. I could remember his performance at the 2014 edition of the competition, he played with fun and this matters to him. He must play with positive emotion and this is his strength on table. He is very fast player on table and this is another advantage that he has over other players. I think for him to have gotten to the quarterfinal stage of the Olympic Games, he has the quality to make it to the medal zone but he must work harder and forget about his win at the Polish Open and remain focus."
Victor Moses Chelsea wing-back player ruled out for 4 weeks with hamstring injury After a scan, Chelsea initial diagnosis put the recovery time of the wing-back at a minimum of four weeks.