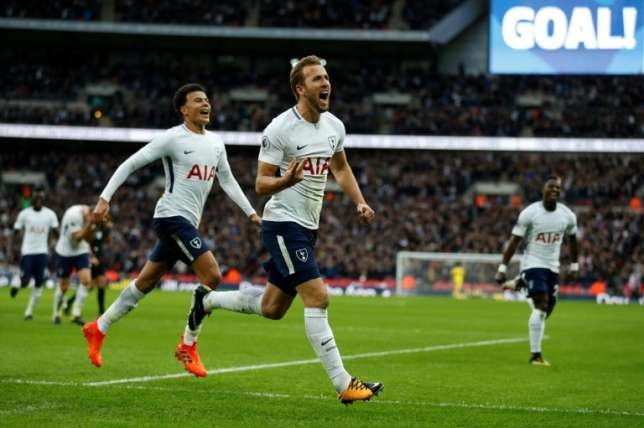 It was a case of 'North London nine, Merseyside three' as Tottenham Hotspur and Arsenal inflicted thumping defeats on both Liverpool and Everton respectively in the Premier League on Sunday.
Hopes that this might be the season where Liverpool ended their wait for a maiden Premier League looked flimsy following a 4-1 loss away to Spurs at Wembley while Arsenal sent an expensively-assembled Everton side into the relegation zone with a 5-2 win at Goodison Park.
Defeat left Liverpool 12 points behind leaders Manchester City just nine games into the league season, with the likes of unfancied Watford, Newcastle and Burnley all above Jurgen Klopp's men in the table.
Defensive frailty has long been a problem for Liverpool and they found themselves 2-0 down inside 12 minutes as Spurs, now level on points with second-placed Manchester United, struck early on thanks to goals from Harry Kane and Son Heung-Min.
Liverpool did pull one back through Mohamed Saleh in the 24th minute but Spurs were 3-1 up before half-time courtesy of Dele Alli's strike following a half-cleared corner.
'All our fault'
Kane put the result beyond doubt in the 56th minute after Liverpool keeper Simon Mignolet punched Kieran Trippier's free-kick to Jan Vertonghen, whose blocked shot was forced home by the England star.
"The whole game, the whole result was all our fault," Klopp told Sky Sports.
"The first goal was a little throw in and we are not really there. It was just really bad, bad, bad defending."
Spurs manager Mauricio Pochettino was elated by a convincing win that took place in front of a record Premier League crowd of 80,827 that included football great Diego Maradona and basketball star Kobe Bryant.
"It was fantastic, a fantastic performance," said Pochettino. "I am so happy for our fans, in front of Diego Maradona, Kobe Bryant."
Turning to Kane, he added: "It's difficult to find words to describe him — he's unbelievable, so professional, the effort when we don't have the ball, everything is fantastic."
Tottenham are playing their home games at Wembley while they wait for a successor ground to their White Hart Lane base to be built and some poor early season results led to talk of a Spurs "hoodoo" at the national stadium.
But following this result, Pochetttino said: "Wembley starts to feel home, that we can win here."
Earlier Arsenal condemned Everton to a defeat that piled the pressure on Toffees manager Ronald Koeman, with the Dutchman's side having now won just twice in their last 13 games in all competitions.
Wayne Rooney recreated his famous first league goal for Everton against Arsenal as the hosts took a 12th-minute lead against the run of play.
But that was as good as it got for Everton, as Nacho Monreal equalised prior to half-time before goals from Mesut Ozil and Alexandre Lacazette took Arsenal into the lead.
Hopes of a home comeback were damaged when Everton were reduced to 10 men in the 69th minute after midfielder Idrissa Gueye was shown a second yellow card.
Lacazette and Aaron Ramsey made it 4-1 ahead of stoppage-time goals from Everton substitute Oumar Niasse and Arsenal's Alexis Sanchez.
Asked whether Sunday's loss would spell the end of his time with Everton, who spent some £150 million ($198 million, 168 million euros) on new players during the transfer window, Koeman told Sky Sports: "I don't know… All these kinds of decisions are not in my hands."
Victory gave fifth-placed Arsenal their first away win in the Premier League this season.
"After Wayne Rooney's goal, I thought 17 years later we are here again," Arsenal manager Arsene Wenger told the BBC.
"It was about how we responded to that — could we keep calm? We did that in a convincing way. Our passing and movement was excellent."
https://wowplus.net/victor-moses-chelsea-wing-back-player-ruled-out-for-4-weeks-with-hamstring-injury-after-a-scan-chelsea-initial-diagnosis-put-the-recovery-time-of-the-wing-back-at-a-minimum-of-four-weeks/
https://wowplus.net/aguero-becomes-joint-top-scorer-man-city-history/
https://wowplus.net/mourinho-says-no-idea-pogba-will-fit/
https://wowplus.net/rescue-mission-overmars-set-arsenal-return/
https://wowplus.net/everton-club-ban-fan-attacked-lyon-player-holding-child-everton-friday-banned-fan-appeared-try-strike-lyon-player-holding-child-europa-league-tie-ue/