Who will win the East now that LeBron James has changed conferences? Who is most likely to dethrone the Warriors in the West? And who will ultimately be crowned NBA champs in 2018-19?
Our Summer Forecast continues with a look at the title contenders for the upcoming season.
We asked the ESPN Forecast panel to rank its top choices for the Eastern Conference champs, Western Conference champs and NBA champs.
Here are the results: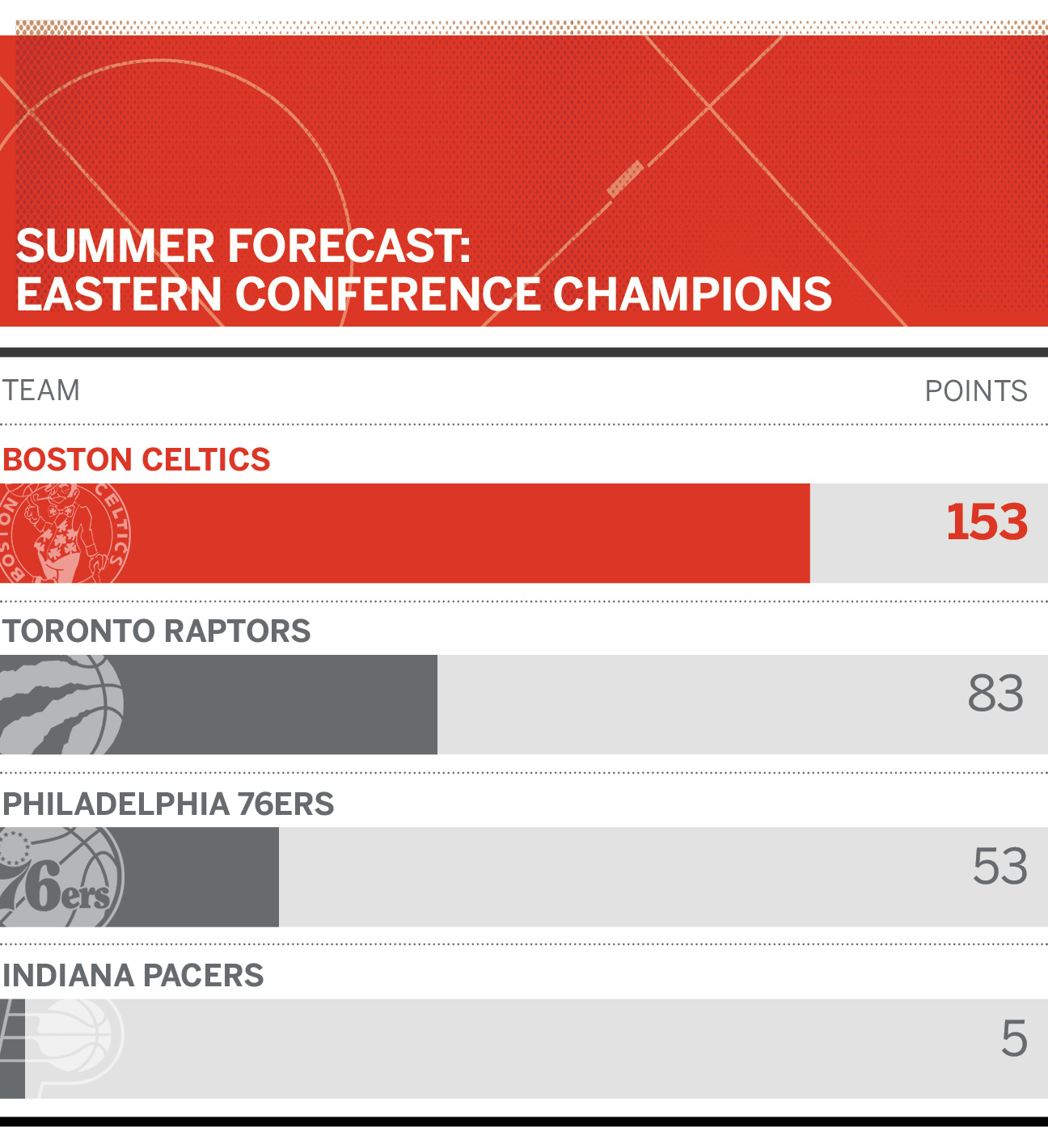 Total points: 153
First-place votes: 84.9 percent
With LeBron leaving the East, the Celtics are officially the presumptive kings of the conference. They've had as good of an offseason as anyone else in the league without making any major moves, because they'll add back a healthy Kyrie Irving and Gordon Hayward to a blossoming roster that was good enough to play in the conference finals last season.
Their biggest question is one of those good-problem kinds of things: How do all the pieces fit together? But they already have a quality solution in place: Brad Stevens. — Royce Young
---
Total points: 83
First-place votes: 15.1 percent
The most successful season in franchise history crashed and burned to such an embarrassing level that the Raptors fired the Coach of the Year and traded their homegrown cornerstone for a possible one-year rental. But even with the jarring turnover, the Raptors are positioned to be really, really good.
Assuming good health and total buy-in, Kawhi Leonard is a superstar. Toronto can feature terrifyingly long, versatile and defensive lineups built to play switchy or straight up. And on top of it all: LeBron can rip out their hearts only twice a year. (Unless they meet in the Finals, to which at that point, who cares!) — Young
---
Total points: 53
First-place votes: None
There's the obvious expectation of a linear progression as Philly's immense young talent develops, but to take the next steps, someone needs to be on the verge of a leap.
The Sixers have tantalizing ability, and if Markelle Fultz can be the player that made him the consensus No. 1 overall pick last year, there's potential for a dramatic step forward. They weren't far off last season but showed signs of youth and inexperience in the postseason as the Celtics out-executed them in closing moments of the Eastern Conference semifinals. A year in the fire with playoff burns to show for it, and Philly should be right back in the mix. — Young
Also receiving votes: Indiana Pacers (5 points), Miami Heat (1), Milwaukee Bucks (1), Washington Wizards (1).
---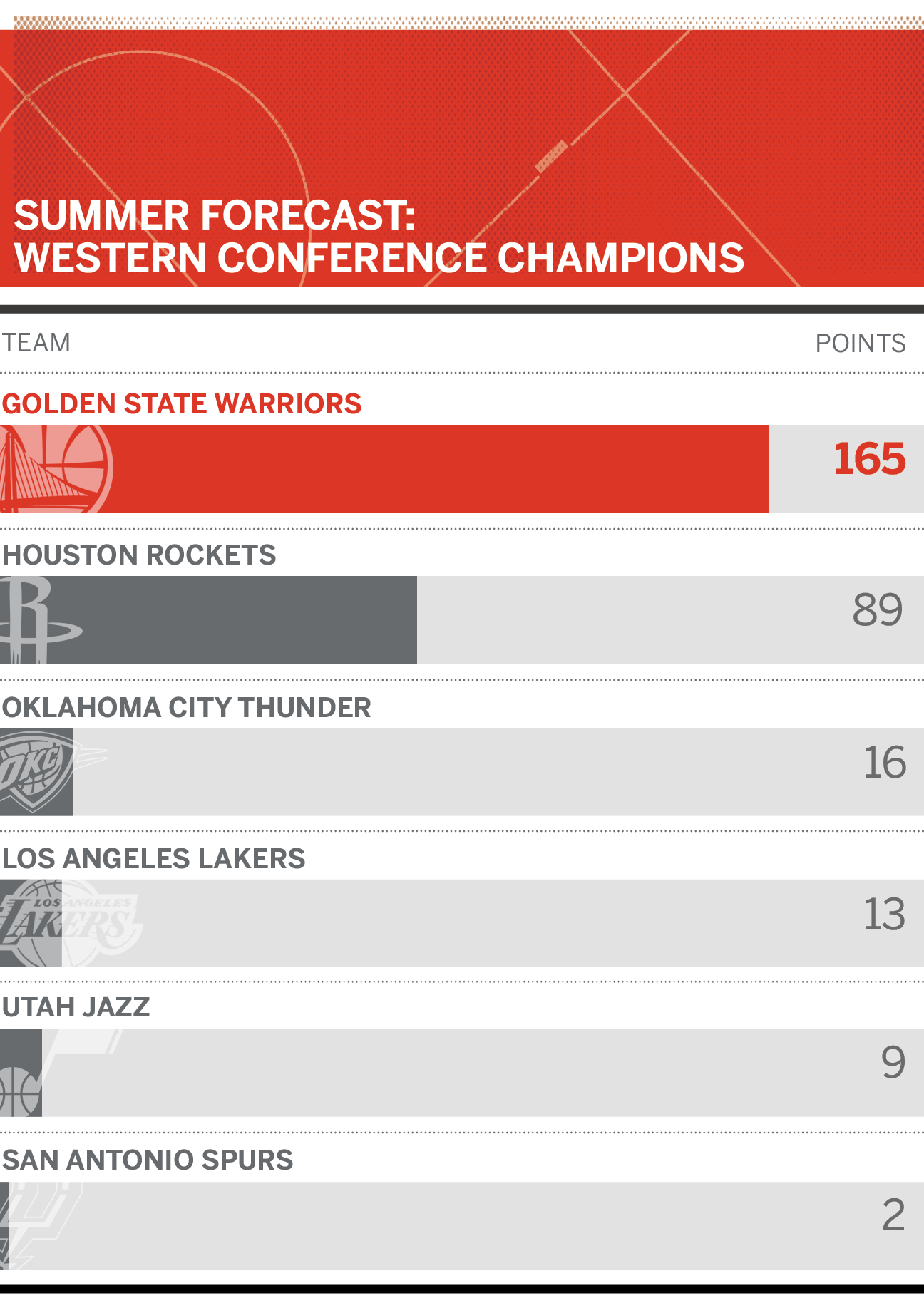 Total points: 165
First-place votes: 100 percent
Coming off a second consecutive NBA title and three out of the past four, the Warriors will face an even bigger battle with their arch-nemesis: complacency. The West is deeper and meaner than ever, and maybe LeBron joining the mix will be the kind of inspiration to inject focus and reject boredom. But the Warriors understand that the first 82 games are a formality.
Working DeMarcus Cousins in could be a challenge, and there are other questions, such as Andre Iguodala slowing down a bit and their spotty depth until Cousins is fully back. But assuming good health for the Warriors, there's just no other team that can match their raw power. — Young
---
Total points: 89
It was a strange offseason for last season's top seed, but the core of what made the Rockets so special is back. Houston will spend some of the season tweaking things and adjusting to the expected addition of Carmelo Anthony, who might fit better than some think with the Rockets playing a more comfortable pace than OKC does. And staggered lineups around Chris Paul and James Harden won't leave opponents much air to breathe.
But the Rockets will certainly miss the rugged toughness of Trevor Ariza and Luc Mbah a Moute. What makes Houston still feel dangerous, though, is Daryl Morey probably has another lever to pull somewhere. — Young
---
Total points: 16
Moving Anthony could be a significant circumstance of addition by subtraction, allowing the Thunder to play more to their identity — fast, athletic, energetic and defensive. Bringing in Dennis Schroder — assuming appropriate attitude adjustments — fills a glaring hole in the second unit.
The Thunder had a disappointing season last season but still won 48 games and finished as the 4-seed. Although the Jazz exposed a lot of flaws in the playoffs, Billy Donovan finally has continuity with a core of Russell Westbrook, Paul George and Steven Adams. And if Andre Roberson can return to full health, the Thunder might be the best defensive team in the league. — Young
---
4. Los Angeles Lakers
Total points: 13
LeBron's streak of Finals appearances is in serious question, but his presence alone is enough to give the Lakers a chance. They have a solid mix of youth and experience, and Luke Walton will have to manage what works and what doesn't. Magic Johnson and Rob Pelinka also will likely spend the first couple of months evaluating and make changes accordingly.
Last season, the Lakers were working to develop young talent with a timeline of a few years out from even being in the playoffs. With James, there are now immediate expectations and pressure cast on the roster. The playoffs aren't assured, but anytime you have the best player in the world, no matter who else is around him, you can be a threat. — Young
Also receiving votes: Utah Jazz (9 points), San Antonio Spurs (2), Portland Trail Blazers (1).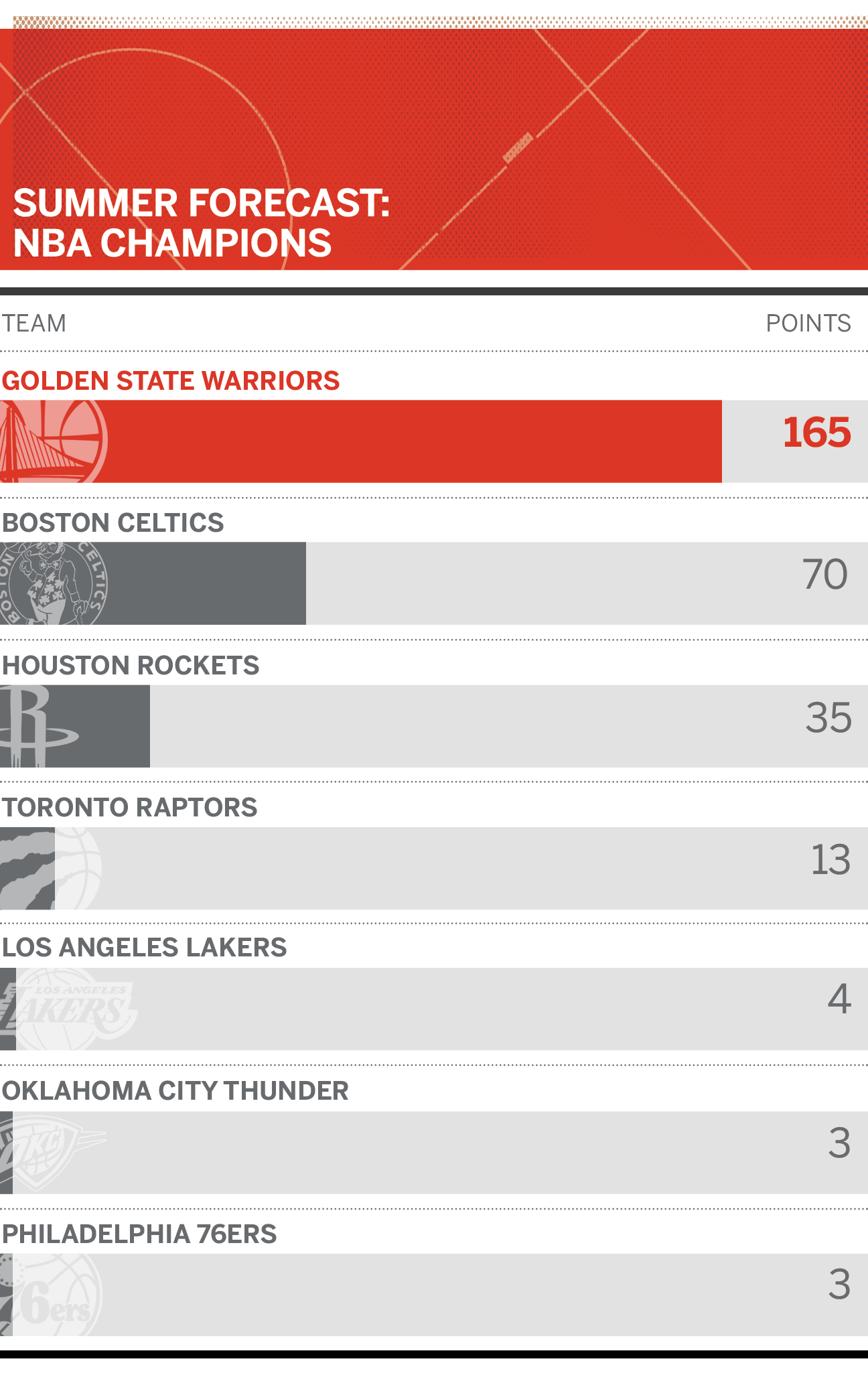 1. Golden State Warriors
Total points: 165
First-place votes: 100 percent
There were cries of a ruined NBA when the Warriors swept the Cavs in the 2018 Finals, and if these projections hold, the noise will only get louder. With 100 percent of the first-place votes, our panel expects the Warriors to have a straightforward march to a third straight championship.
It might seem obvious, but the objective for the rest of the NBA has been laid out plainly: Build a team good enough to beat the Warriors four times, or join the chorus of complainers while watching them lift another trophy. — Young
---
2. Boston Celtics
Total points: 70
If the Celtics' young players can continue to progress while fitting in with their returning All-Star talent, Boston has a roster that is as close to the Warriors' as anyone in the league. A trio of Al Horford, Irving and Hayward is eyebrow-raising on its own. But with Jayson Tatum, Jaylen Brown and Terry Rozier, it's extra intriguing.
Nobody is calling the Celtics a superteam yet, but after 82 games, they might start sneaking into the category. They're heavy favorites in the East, but they also carry the torch as the team with the apparent best chance to dethrone the Warriors in a seven-game series. — Young
---
3. Houston Rockets
Total points: 35
They were possibly a hamstring away from being the defending champions with the reigning MVP, but alas, the Rockets fell victim to perpetual fortune of the Warriors like everyone else left in their wake. On the surface, the Rockets don't appear better than they were a season ago, which is a little scary considering everyone around them has gotten better. Still, they were the top seed in the West. And while Ariza and Mbah a Moute were quality role players, what made the Rockets so good is still there.
This is about title chances, though, and while sitting with the third-most points, there's a dramatic drop-off from the top two. — Young
---
4. Toronto Raptors
Total points: 13
They're on the championship short list earning their own blurb, which is pretty good after the way last season ended, right? If all goes right in Toronto, the Raptors can be an actual threat to win the East. It can't be understated what a big deal that would be. It could be enough to persuade Kawhi Leonard to give the Raptors a good, long look in free agency next summer.
Can they actually beat the Warriors? They're still quite a ways off from the top of our list. Still, that's a better question than, "Can they actually get out of the second round?" — Young
Also receiving votes: Los Angeles Lakers (4 points), Oklahoma City Thunder (3), Philadelphia 76ers (3).