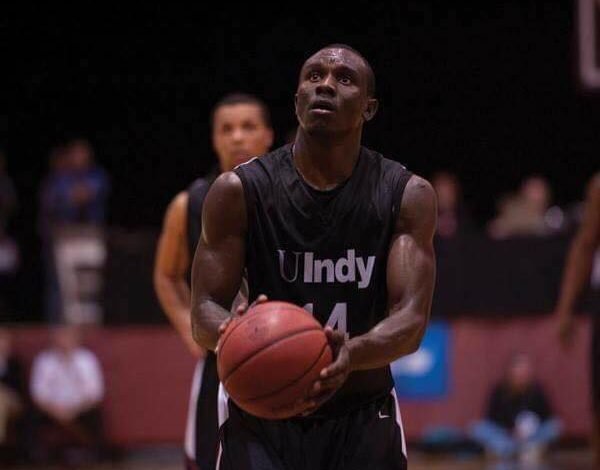 The leadership of the Nigeria Basketball Federation led by Engineer Musa Kida has expressed deep shock over the death of Daniel Daudu which occurred on Friday October 27, 2017.
The former Nigerian junior international who was part of the junior D'Tigers to the 2007 World U20 Championship in Serbia was reportedly killed in an accident when a truck carrying two trailers rolled over on I-65 near I-465 on Indy's south side.
One of the trailers rolled into the southbound lanes, hitting the car which the late Daniel was driving in the opposite direction and was pronounced dead at the scene by the Indiana State Police trooper.
Reacting on behalf of the Nigeria basketball family, Kida described the circumstance leading to the death of the 28 year old who grew up at the Police College in Ikeja as shocking.
According to the president, the sudden death of the 2015 graduate of the University of Indianapolis has left the NBBF distraught.
"It's a sad feeling to lose somebody so close no matter the age. Losing Daniel at the age of 28 and the circumstance which it happened is something that has left us all in shock.
"We just have to take solace in him and also rally round his family at this trying period to provide the needed emotional support to weather the storm."
In an emotion laden voice, the international representative on the board of the NBBF, Col. Samuel Ahmedu (rtd) described the demise of the former Dodan Warriors player in an accident as a very sad one.
"Life is full of surprises, pleasant and cruel ones. The demise of Daniel Daudu in an accident in Indianapolis, Indiana, USA is a cruel one. There are many good basketball players but only a few Daniel Daudus."
He said the late Daniel who was a member of the Dodan Warriors team at the 2006 African Club Championship was a people's person and a kind hearted man who was ready to help everybody around him.
The founder of Dodan Warriors Basketball Programme enjoined friends and family members of the Daudus and the entire basketball family to remain strong despite the cruelty and brevity of life.
Life has shown its cruel hand but we must remain strong so that his legacies will not go unsung. The world will miss you Daniel, but we take solace that you are with the Lord. Rest in peace and catch you on the rebound," Ahmedu concluded.
Meanwhile, the Players Representative on the NBBF board, Ejike Ugboaja alongside some US based national team players and basketball fans will be visiting the family of the deceased in Indiana.
https://wowplus.net/quadri-commands-respect-among-top-players-adomeit/
https://wowplus.net/kevin-smith-set-donate-future-harvey-weinstein-residuals-women-film/
https://wowplus.net/harry-kane-miss-old-trafford-clash/
https://wowplus.net/victor-moses-chelsea-wing-back-player-ruled-out-for-4-weeks-with-hamstring-injury-after-a-scan-chelsea-initial-diagnosis-put-the-recovery-time-of-the-wing-back-at-a-minimum-of-four-weeks/
https://wowplus.net/kenya-second-protester-shot-dead-fractious-vote-second-protester-killed-kenya-friday-anger-raged-day-divisive-election-boycotted-opposition-taking-death-t/