Jose Mourinho admits Manchester City are uncatchable in the Premier League title race but remains desperate to finish ahead of the chasing pack.
United's lacklustre 2-0 defeat at Tottenham on Wednesday left them 15 points behind their fierce rivals with only 13 games left.
Mourinho will hope his players can pick themselves up on Saturday when they welcome Huddersfield on what will be an emotional occasion at Old Trafford marking the 60th anniversary of the 1958 Munich air disaster.
Asked if it was the perfect opportunity for the players to bounce back, Mourinho said: "Not because of Munich that the game becomes important for us.
"It' important for us because we need points to be the first of the last. We need to try to finish second – we have been in this position all season. First for a few weeks, but we have been second for the rest.
"It has been better than last season in every aspect – points, position, number of goals, goals conceded – everything.
"We have to try to stay there and it is not easy because there are some very good teams. Chelsea are the champions, Arsenal did well in the market, Liverpool are a great team and Tottenham are fantastic.
"We are doing well with some negative moments. it's very important for us to do better than last season and win something and try to be stronger for next season."
It promises to be a thrilling finale to the Premier League campaign in the battle for the top four Champions League spots with only five points separating second-placed United and Tottenham in fifth.
United still have to play at the Etihad on April 7 with City boss Pep Guardiola insisting on Friday the title race was not won, saying "There is 13 games, 39 points to play, we are 15 ahead, It's not over. We have tough games left to play."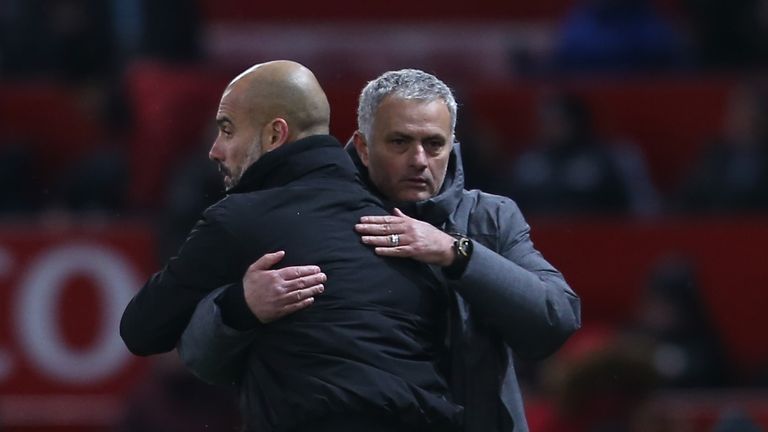 Mourinho added: "City are doing so well. Not letting the others come close. With the number of points we have in normal conditions that would leave the fight open. It is open for second, third, fourth but practically closed for the first.
"City started strongly. Managed to win matches even when they didn't deserve. I give credit. Last minute in extra time.
"If you tell me all the six want to be champion so the other five have failed. I don't think that is correct."
Also See:
Petr Cech admits Arsenal have not been up to standard this season