Kris Jenner is a branding and business wizard. Simple fact.

Throw anything at her and she'll take it straight to the bank, where it will sit alongside her millions.

"WOW wrong again!!!!! Their house is $60 MIL," the unflappable Kardashian-Jenner family matriarch tweeted last week in response to a headline in which daughter Kim Kardashian and son-in-law Kanye West's cavernous abode was referred to as a mere $20 million home.

It was her third tweet in 24 hours smacking down headlines that were attempting to explain Kanye and his latest round of crowd-amusing-and-paining tweets, some of which were praising Donald Trumpwhile in others he insisted he wasn't a Trump policy wonk but rather a great appreciator of free thought and shaking up the system. (And, he noted in one tweet, Kim wanted him to make that distinction clear.)

"Lies,lies,lies," Kris responded to a headline that claimed she and Kim had been having "explosive" fights with Kanye and couldn't "control" him. "This just isn't true, LOL," she also told E! News.

And a big ha-ha to anyone who thinks that Kris is so easily thrown off-kilter. Have you seen what she's had to deal with over the years?

The twice-divorced mother of six—and the most sleekly attired and immaculately made-up grandmother of nine that we know—has a vested interest in every single member of her sprawling family's story, blood relation or not, and she'll be damned if she's going to let any news cycle get out of hand on her watch.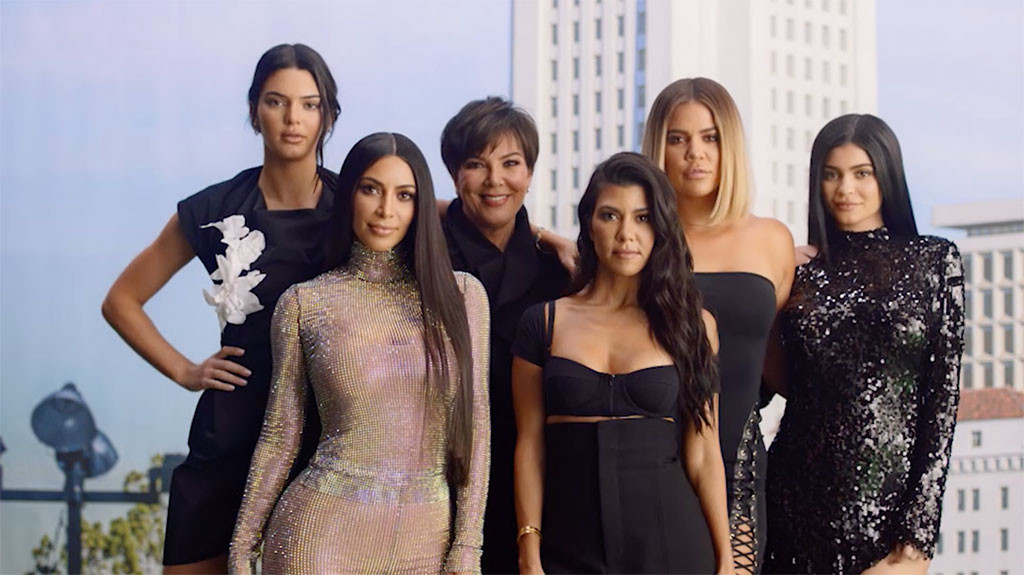 E!
"Like, there's the little girls, and there's the older girls, and then there's my son," Kris explained to the New York Times Magazine what she was thinking when she pitched the idea for Keeping Up With the Kardashians to Ryan Seacrest in 2007. "Everybody thinks that they could create a bunch of drama in their lives, but it's something that I felt I didn't even have to think about. It would be natural."

The understatement of the decade, perhaps. But luckily Seacrest shared her vision and, with both serving as executive producers along with Bunim/Murray, the show got underway at E! in October 2007.

As Kim and sisters Khloe and Kourtney Kardashian have said, they mainly agreed to do a reality show as a means of promoting their then-fledgling DASH boutique in Calabasas, Calif., as well as the children's clothing store Smooch that Kourtney owned with Kris. The audience grew from less than 900,000 for the premiere to 1.9 million for the season finale—hence a phenomenon was born.

A decade later and they're all worth millions. Kylie Jenner isn't even 21 yet. Kim put out a book of selfies called Selfish and has been on the cover of Forbes. Kendall Jenner is a supermodel. The family name describes an entire genre of doing business, a business that starts with self-promotion, which the Kardashian and Jenner ladies are shamelessly fabulous at. Their willingness to have their name attached to various goods and services over the years, from TrimSpa to waist trainers to Poise panty liners, has gone hand in hand with the growth of their own signature brands, which are only growing in value.

KKW Beauty. KylieCosmetics, which in November 2015 introduced a Lip Kit that sold out within minutes. Kourtney was just nominated for a Webby. The apps. The mobile game.

"It doesn't mean that we're always looking for more or that we're greedy," Kris told NYTM back in 2015. "There's a lot of people that have great ideas and dreams and whatnot, but unless you're willing to work really, really hard, and work for what you want, it's never going to happen. And that's what's so great about the girls. It's all about their work ethic."

And at the root of it all—the show.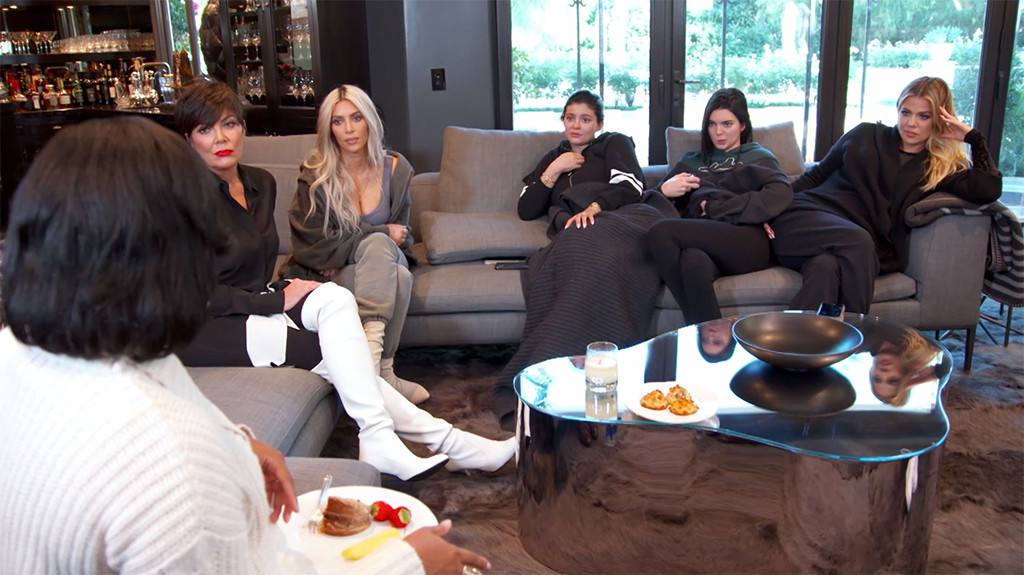 E!
"It really is a great foundation for all the other things we do, so it kind of like one helps the other and we recognize that," Kris told Ellen DeGeneres on Ellen in November, having just signed a deal for five more seasons. "We really appreciate the fact that we've been so blessed to be able to do this for so long. It's really an honor."

Keeping Up With the Kardashians recently concluded its 14th season and has spawned seven spin-offs over the years, though none as successful as the mother ship.

Once upon a time, life was a little more quaint—as evidenced by the folksy whistling music that denoted a scene change—albeit still a life that started with Kim scoring six-figure appearance fees at nightclubs and would go on to benefit everyone in her orbit.
Gregg DeGuire/FilmMagic
Khloe toasted Kim during a ski trip to Montana in 2015, saying, "I'm so thankful for Kim Kardashian West because without her this family vacay wouldn't have happened"—to which Scott Disick interjected, "Or our careers!"

But despite Kim's star hovering above them all, the empire never would have come together—and stayed together—if not for Kris.

Her near-constant involvement in her adult children's lives, as seen on the show and social media, could've been mistaken for intrusiveness if she hadn't also been the person behind the curtain pulling all the strings—endorsements, media relations, etc.—just so as the Kardashian brand got off the ground. We've been privy to plenty of emotional moments over the years, from weddings and births to explosive fights and the aftermath of Kim's terrifying 2016 robbery. Yet aside from the televised rawness of her own divorce from Bruce Jennerand her reaction to her ex's transition into being Caitlyn Jenner, Kris is usually the calm in the storm, even when circumstances seem especially fraught.

After all, at the end of the day, including the bad ones, she's simply a mom.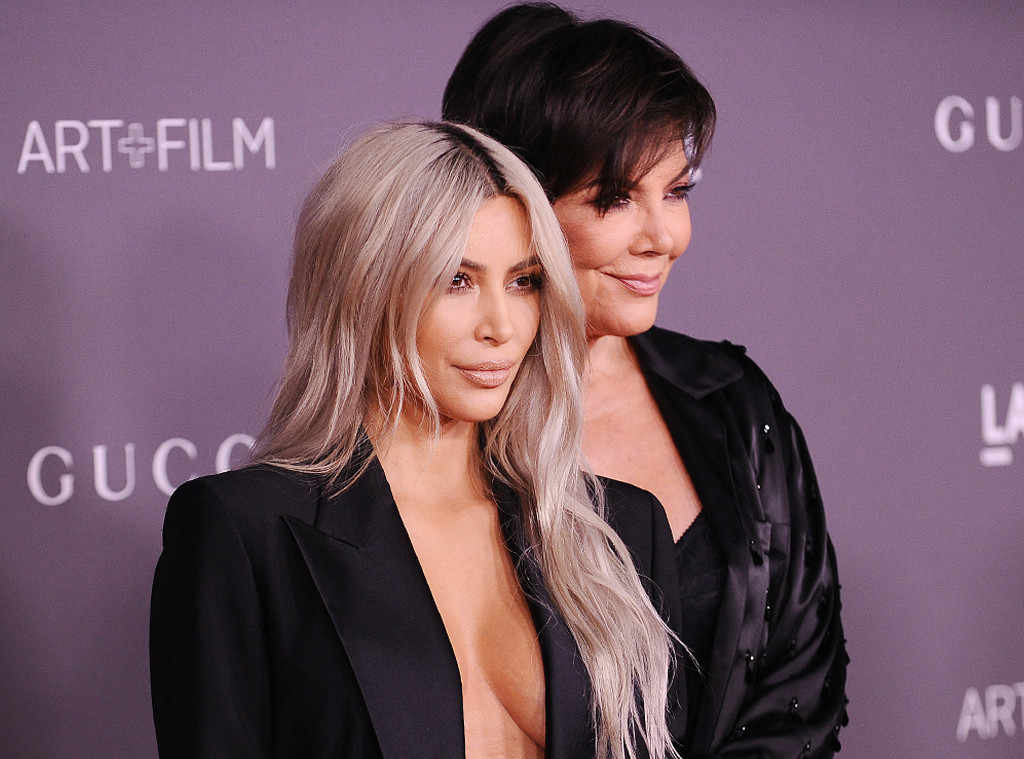 Jason LaVeris/FilmMagic
A few weeks after Kim was robbed, Kris told E! News, when asked how her daughter was doing, that "it's just a process, what can I say?…You do what a mom does and you gather round and you make sure that she feels loved and safe. She's home and that's all that matters…it's just family first."

She admitted that Kim's experience had shaken all of them. "You start looking at the world a little bit differently because when you have a daughters at home who's struggling because of something horrific and tragic that happened, you start looking around a little bit differently. I think that this is a wake-up call not only for our family, but just for anybody in a similar position, and you just have to make sure that you do what you're supposed to do. Keep it tight."

The two months that Kim was absent from social media indeed seemed like an eternity in Kardashian years, leaving a hole in the heart of Instagram, but Kim has long since reestablished herself at the center of the family business—her resilience very much a sign that she's her mother's daughter.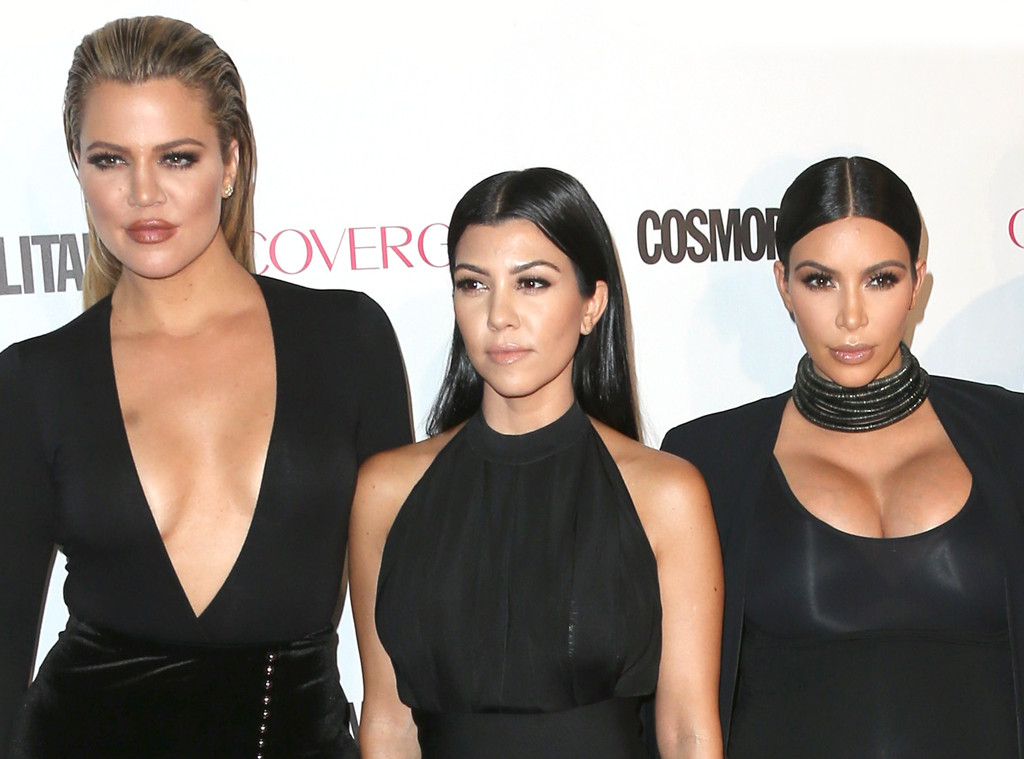 Frederick M. Brown/Getty Images
Her ambition, toughness and family-first attitude are very much inherited, as is Kim's taste in design—lots of black and white, clean lines, everything in its place. She and her sisters also have a matrilineally recognizable obsession with organization and neatness.

"I looked up what the Internet recommends and found out that maybe I'm just a little bit more fanatical about being clean than I thought," Khloe joked on her website a couple years ago.

"I guess if I get a little weird about something that isn't the way I want it, and I complain, then it's called controlling," Kris told the NY Times in 2015, referring to her reputation among her nearest and dearest as a control freak. "I like everything a certain way. I'm not somebody who can just lay back and let it happen. That's never going to happen for me. And I think that's what's gotten me to where I am in life, at the same time. I can't turn it on and off."

Life has prove that the chaos is going to come regardless… but at least the pantry will be in order when it gets here. "Clear plastic bins are my new best friend," Kris said.
She has, in turn, adopted and maybe even surpassed her daughters' joie de vivre, the preternaturally youthful 62-year-old never one to shy away from trying a platinum pixie wig, using millennial slang, playing with Snapchat filters or partying just as hard as her kids (luckily, no one is that big of a partyer, so it works out well for Kards of all ages).

She's borrowed Jaden Smith's shoes, professed her adoration for Drake and Justin Bieber and, just last week, congratulated "my beautiful girl" Paris Hiltonon her short film The American Meme, a reminder of the days when Paris and Kim were inseparable.

In January 2012 Kris described her favorite part of doing the show to Forbes as "the opportunity to work with my family and just knowing that we got to get up every day and be together and have some fun. We're having a really good time and we're passionate about it. What meant the most to me was that I got to be with the kids."

Now the kids have kids (Kourtney was mom to son Mason and pregnant with daughter Penelope in January 2012, but that was it)—and the Kardashian baby boom has been amazing for business. As much as audiences love drama, they seem to love baby showers and fancy nurseries, adorable photos, quirky baby names and truly happy story lines even more.

Sometimes it's hard to fathom why Kris remains so close, let alone tolerates, the likes of Scott Disick, who just could not get it right in his never-ending quest to keep Kourtney's trust—but the matriarch has simply said that, not only is he the father of three of her grandbabies, he's like one of her own children at this point. The same went for Lamar Odom, till he irreversibly drifted away from the fold—and the same seems to be holding now for Kanye West, the father of Kim's three children.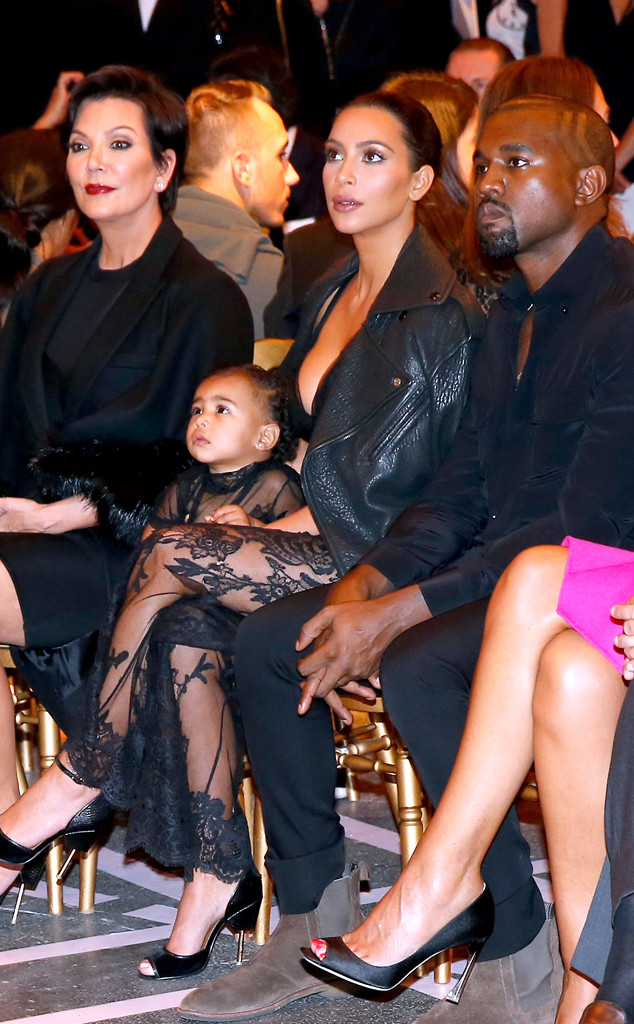 Bertrand Rindoff Petroff/French Select/Getty Images
We've been told that Kris would naturally prefer it if Kanye refrained from ranting on Twitter (or anywhere else), and there's been some tension between them, but they're not "fighting."

Kanye himself tweeted that he no longer has a manager—"I can't be managed"—and Kris isn't volunteering for duty. No one is sure what his next move will be, Kanye usually being one to veer right just when you think he'll go left (no political puns intended).

"Kris tries to let Kanye be and wants to be supportive," a source told E! News last week. "It's a stressful situation and they're walking a fine line between leaving him alone and seeing him melt down."

And when it was her own son who was behaving badly, such as when he posted nude photos of his ex Blac Chynaon Instagram last summer, Kris basically told him to grow up and think about his daughter. She "really put him in his place," an insider told us at the time. Kris "told him that this was going to affect Dream in many ways if he didn't get his act together."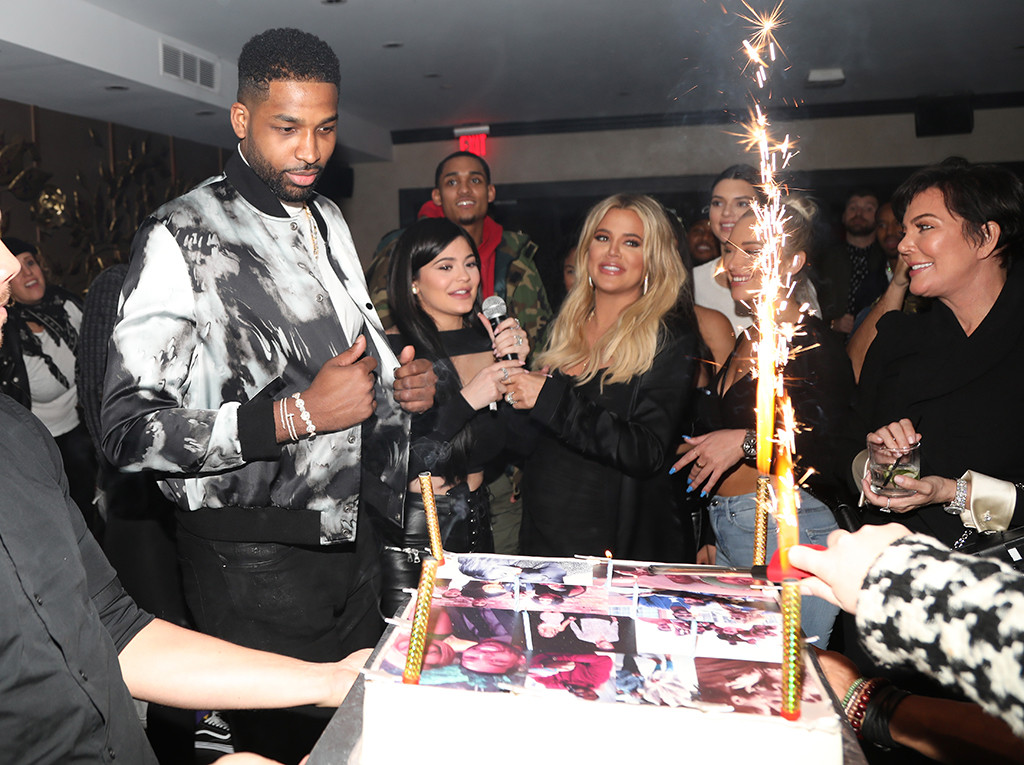 Jerritt Clark
Not feeling the usual Kardashian benevolence at this time is Tristan Thompson, the allegedly unfaithful father of Khloe's 3-week-old daughter, True Thompson.

Kris was going back and forth to Cleveland to help Khloe with the nursery and otherwise get ready to be a mom. She was there when the Daily Mail, the Shade Room and TMZ seemingly exposed Thompson as a cad in the course of a few hours. And she was there when Khloe gave birth on April 12.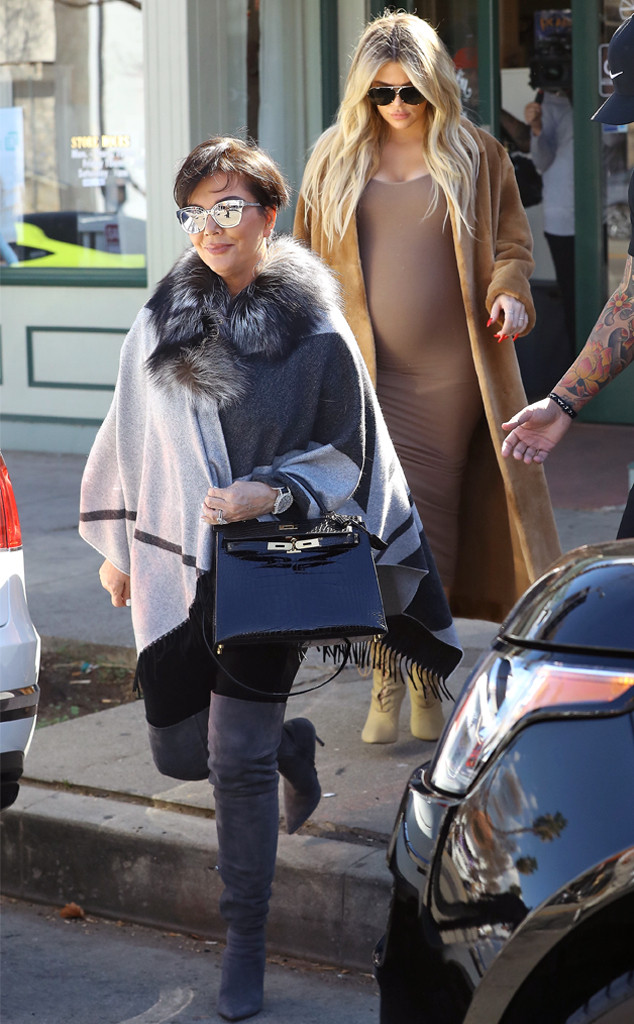 Pap Nation / Splash News
And now, a source tells E! News, Kris "thinks it's time for her to come home" and start over with True.

Incidentally, Kris also was happy to explain the origin of True's name, lest anyone read too much into it for shade-casting purposes.

"I'm so excited to welcome my precious little granddaughter True!!!" she tweeted after Khloe had revealed the name. "FUN FACT… my Grandfather's name on my Dad's side was True Otis Houghton….my real Dad's name was Robert True Houghton…so i am so excited Khloe named her daughter True!!! #lovebug #familytradition #family."

At the end of the day, however, it will be up to Khloe to decide whether she tries to make it work with Thompson after cheating rumors or not and, while she has her own opinions on the matter, Kris will support her either way.

Even when the headlines go awry, something else Kris also never wavers from is promoting every single business endeavor her family is behind, from Khloe's Good American denim brand to Rob Kardashian's Arthur George sock line to all of her kids' appearances and magazine covers. Kris' Instagram is a one-stop shop to see what the whole family—and friends of the family—are doing. Kylie, for instance, was just interviewed by Kim for ES Magazine. Share!

Kris herself was No. 5 on Forbes' list of top-earning reality stars in 2016 with $11.5 million, but you can bet Mom was even prouder of her baby girl becoming the youngest member of Forbes' list of the 100 highest-paid celebrities in the world ast summer after Kylie Cosmetics did $420 million in business in 18 months while online-only. Kim was No. 47 and then-19-year-old Kylie made her debut on the list at No. 59, besting the likes of Jennifer Lopez, Amy Schumerand Katy Perry.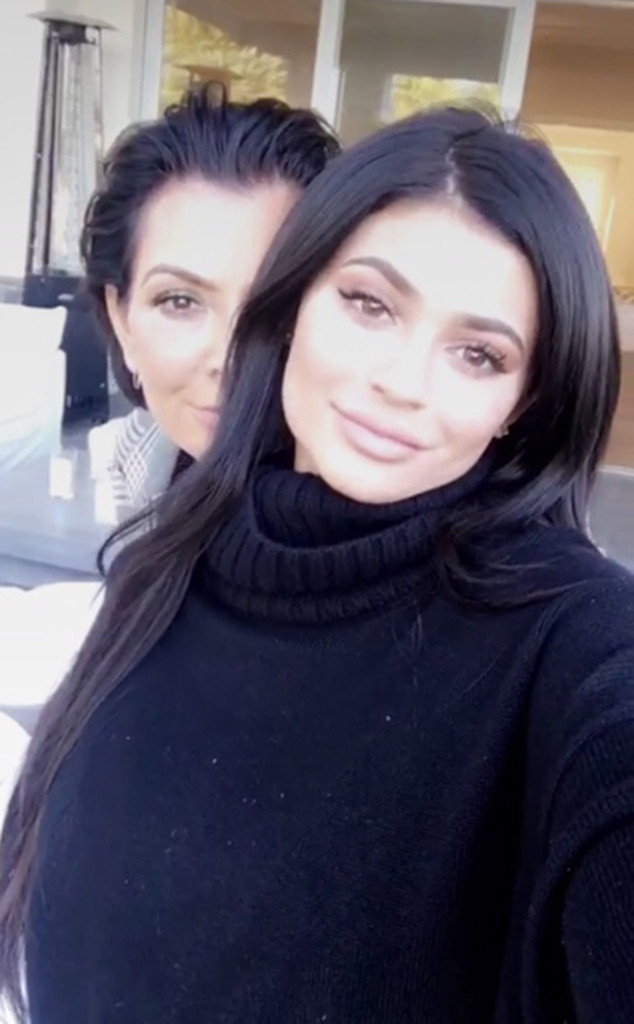 Snapchat
"She's just scratched the surface, and there's so much to do with the brand," Kris told CNBC's Courtney Reagan in October, noting how her daughter's brand—owned 100-percent by Kylie—still had a long way to go before offering a truly full line of cosmetics. "She's got so many ideas, and so many ways to, you know, explode in another line of her kits—just so much to look forward to."

An ever-bigger bang being what they're always looking for.

"It's so authentic to who she is because she's wanted to do this since she was a little girl. To see her be able to have this kind of success," Kris said, her own mommy glow starting to show, "in something that she really loves is really great."

With Kim and Kylie each having her own beauty line, Kris was asked whether the sisters' ventures were complementing or cannibalizing one another.

"As a total family unit we have almost 800 million followers on social media platforms combined," Kris said, "and Kylie has 200 million of those and Kim, for example, has close to that. I think because of that, it's almost two different generations…and it's a different audience, it's a different demographic almost—and then they overlap. So that's what makes it so cool, when Kim came out with her contours…She was able to launch with that product in a range of colors and make it something that was so accessible to so many. But it's the same thing [as Kylie Cosmetics], it's trying to get that distribution around the world. We ship internationally but it's still a bit of a challenge when you don't have a distribution center, in the Middle East for example, where it would be one of their greatest markets."

Asked if she thought President Trump was good for business, citing what was then a record-high stock market, Kris handily replied, "I'm not someone who really speaks out politically one way or another because I have my own views that I keep to myself.

"But I think at the same time, what I see happening in business today is smaller business owners, the opportunity to be able to have the freedom to go out and do your thing and have immediate feedback on whether something works or not… I have five very strong women who I've raised as daughters and I have a son who loves what he does, and they all have their own businesses that are driven by e-commerce. And I think that because what we do is in our own neighborhood in Calabasas…We do everything, so it's just a small little window of an office that we can get immediate feedback that doesn't really concern anybody else.

"I'm just concerned with exactly what's going on with each different company," she continued, "and I don't really think about what someone else is doing to affect our business because we get that instant gratification. And we're not always right, I don't always win every time. You dust yourself off and you pick yourself up, and that's the great thing about our country, is we have the freedom to do and try different things, and it's an amazing opportunity."

Asked if she pictured herself going into the grandmomager business in the future, Kris laughed.

"I think everybody has to do in their life what they love," she said. "And that's what I have found to be the most successful thing for my girls, my son, my family, is we all do what we really love and that makes, for me, their success."