Mohamed Salah was born in Egypt and has become a star at Liverpool but he was made in Basel. Adam Bate speaks to those involved to find out why Salah got his big chance in Europe, how he seized it, and the reason why he is just like tennis legend Roger Federer…
The date was March 16, 2012. Bernhard Heusler will not forget it. Basel's president and his sporting director Georg Heitz had set up a friendly against Egypt's U23 side. Ostensibly, it was a chance for Egypt to prepare for that year's Olympics following the cancellation of their league due to the Port Said stadium disaster. In truth, it was all about one man.
"The only reason we wanted this match was because of the chance to see Mohamed Salah play live," Heusler tells Sky Sports six years on. "I will never forget what I saw that day on that pitch. We were so impressed. It was freezing cold but he was amazing. He only played the second half but I had never seen a player with so much speed in my entire life."
Former Liverpool player Philipp Degen was in the Basel line-up that day. He too remembers the game well. "It was the first time that I saw him," he tells Sky Sports. "I was immediately struck by his speed. In football today, quickness is the most valuable asset that you can have as a player. High speed is the only thing that nobody can defend against and he had it."
For Salah, it was the start of an amazing journey. He signed for Basel the following month. There have been challenges since that first foray into European football but at the age of 25 he is now regarded as one of the game's most gifted players. With 29 goals in 35 appearances for Liverpool this season, Salah even finds himself being likened to Lionel Messi. It has been some rise since his days in Switzerland.
Degen's memories of those early adventures are of a player with plenty to learn. "He was very fast but he was not the best with his feet in the very beginning," he explains. "Even so, we knew that if we passed it into the space ahead of him, he would get every single ball. Once he adapted and developed that left foot, he was always going to have a big career."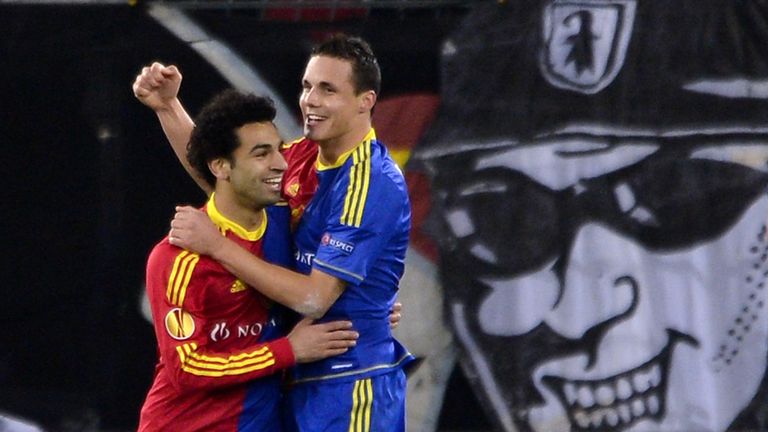 Salah was eased into things, often being used an impact substitute. Of his 29 appearances in the Swiss Super League in that first year at Basel only 10 of them lasted longer than an hour. The team's manager Murat Yakin was careful to manage his development and it was in his second season at the club that Salah's progress really became apparent.
"At first, he was a sub but he was soon making a difference in the big matches," says Degen. "I remember he had two great games against Chelsea in the Champions League. That was the start for him." Salah scored the equaliser in a 2-1 win at Stamford Bridge in September 2013 and then got a late winner in the return game at St. Jakob-Park in November.
For Jurgen Klopp and many of Salah's Liverpool team-mates, the city's stadium is perhaps most associated with the club's 2016 Europa League final defeat to Sevilla. But for the man himself, it was the place where he developed the confidence to kick on in his career. By his own admission, that was only achieved thanks to the support network in place at Basel.
"I remember that winner against Chelsea," says Heusler. "We tried to congratulate him in the locker room but he would not accept it. He said that he'd had seven shots and the first six had gone into the stands. He only attempted the seventh because he'd been shown such trust by his coach, colleagues and everyone at the club. It was a great thing to say."
Perhaps that explains why Salah had, in Degen's words, "a very tough time at Chelsea" following his move there in 2014. Basel had been a supportive environment designed to get the best from him but life under Jose Mourinho was less forgiving. It is only in this second spell in the Premier League under Jurgen Klopp that Salah is showing what he can do.
Degen was at Borussia Dortmund briefly under the German and is convinced Salah is now working with the right coach to fulfil his potential. "In my opinion, Klopp is the key to Mo's form," he says. "He is a motivator who wants to play attacking football at speed. That is exactly the type of football that Mo needs. I think he's taken him to another level."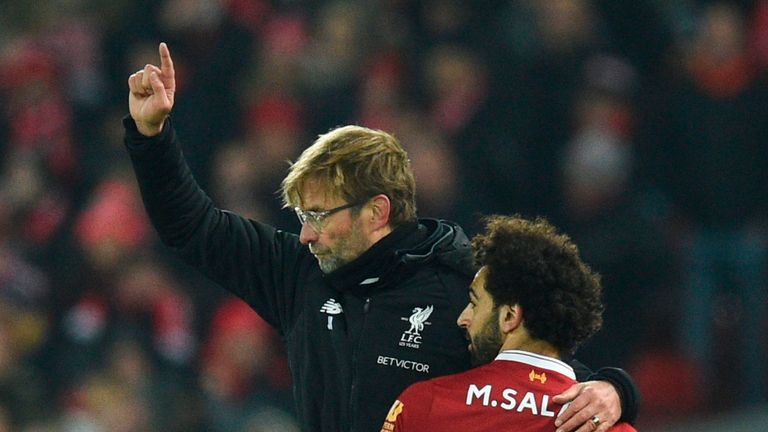 For those who knew Salah at the start of his European journey, there is only happiness at what he has achieved. "It has been fantastic to see how he has grown because he is a very good person," adds Degen. "He is always funny, smiling and open. You can make jokes with him. He is not in it for himself. He is part of the team and everyone liked him."
Heusler agrees. Salah is still in touch with both him and his old sporting director Heitz. They exchange WhatsApp messages "after almost every game" and there are plans afoot to take a trip to Anfield. For Heusler, it is a testament to Salah's character that he continues to find time for the two men who were prepared to take a punt on that ambitious kid from Egypt.
"There are a few sportsmen like this," says Heusler. "Roger Federer is another. They never forget where they are from. They are humble and respect the people who were involved in their pathway even when they have gone on to bigger things. Maybe it is no coincidence that it is the most successful people who are like that. I am so impressed with him."
Just like that freezing day in Basel back in March 2012, Heusler is not alone.
Also See:
Jurgen Klopp Apologises After Altercation With Fan In Liverpools Defeat
Aubameyang fee nearly agreed between Arsenal and Borussia Dortmund
Toby Alderweireld 'ready' to face Arsenal after injury lay-off