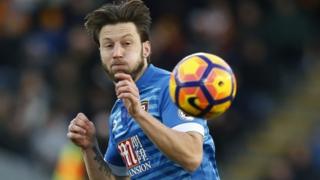 Bournemouth's Harry Arter has thanked well-wishers for their kind messages following the birth of his daughter.
The midfielder has been inundated with messages of congratulations on social media following the birth of Raine on Friday night.
Chairman of AFC Bournemouth Jeff Mostyn was among the first to congratulate the couple tweeting: "Thrilled with the incredible news."
He and partner Rachel's daughter, Renee, was stillborn in December 2015.
AFC Bournemouth also congratulated Arter on becoming a dad tweeting: "From one family to another, congratulations."
Messages have also been sent to the couple from numerous other clubs and fans.
Leeds United's Liam Cooper tweeted: "Congrats mate", while the club's fan's tweeted: "Lovely to see the football world come together to congratulate you – congrats Harry."
Elsewhere, Stourbridge Wolves tweeted: "Fantastic news, congratulations from all Stourbridge FC fans."