By PA Sport
Last Updated: 25/05/17 11:23pm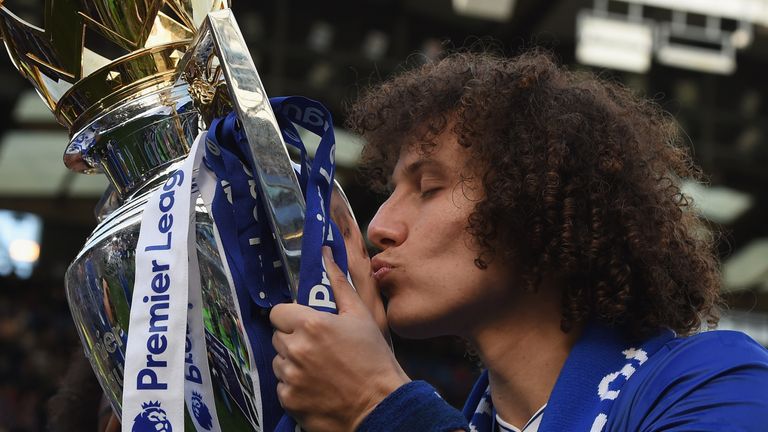 David Luiz says he took a pay cut to return to Chelsea, but the defender believes his decision has been vindicated as the Blues chase a Premier League and FA Cup double on Saturday.
The 30-year-old left Stamford Bridge in June 2014 in a £50million move to Paris St Germain, after winning the Champions League and FA Cup in 2012 and the Europa League a year later with Chelsea.
Luiz, who claimed two domestic trebles with PSG, returned in last summer's transfer window in a surprise move which has seen him prove his detractors wrong.
The Brazilian has played a key role in Chelsea reclaiming the Premier League title – his first English championship – after a 10th-placed finish last term.
David Luiz declared his love for Chelsea and says his return has been a dream come true
And now the Blues are seeking to win Saturday's FA Cup final with Arsenal to complete Antonio Conte's first season as head coach with the double.
Luiz said: "I went to Paris for two years and won all the titles in France.
"I had a great life. I had everything in Paris and then I took a risk to come back to one country that was not that happy with me.
"That's why it was a risk. And I love the risk. In your life if you don't take a risk you're not going to taste something new. Not just in your professional life, I think it's every day.
"I cut my salary to come back here. But it's okay. God has given me a lot so I'm very happy with this.
"I don't like to stay always with the easy life so that's why I took the risk, and today I am very happy. It was the right decision."
Luiz has a FA Cup winners' medal, but he missed the 2012 final with a hamstring injury.
He said: "I don't want to miss this one. I want to play, I want to try to give my best for the team."