Kim Kardashian Reveals the Weirdest Thing Kanye West Does
Buckle down and get comfortable Kim Kardashian because one famous superfan is going to go there.

On Thursday's all-new Jimmy Kimmel Live, guest co-host Jennifer Lawrence had the opportunity to sit-down with one of her favorite Keeping Up With the Kardashians stars.

During the wide-ranging interview, the pair shared plenty of laughs such as when they discussed light-hearted topics including farting, stalking exes and late-night drunk dinners with Kris Jenner.

At the same time, fans learned even more about her relationship with husband Kanye West. When asked to name the weirdest thing he does, Kim had an interesting response.

"He falls asleep anywhere," she explained. "We'll be at a meeting or he'll introduce me to people I've never met before, we'll be at a restaurant and he'll be snoring at the table."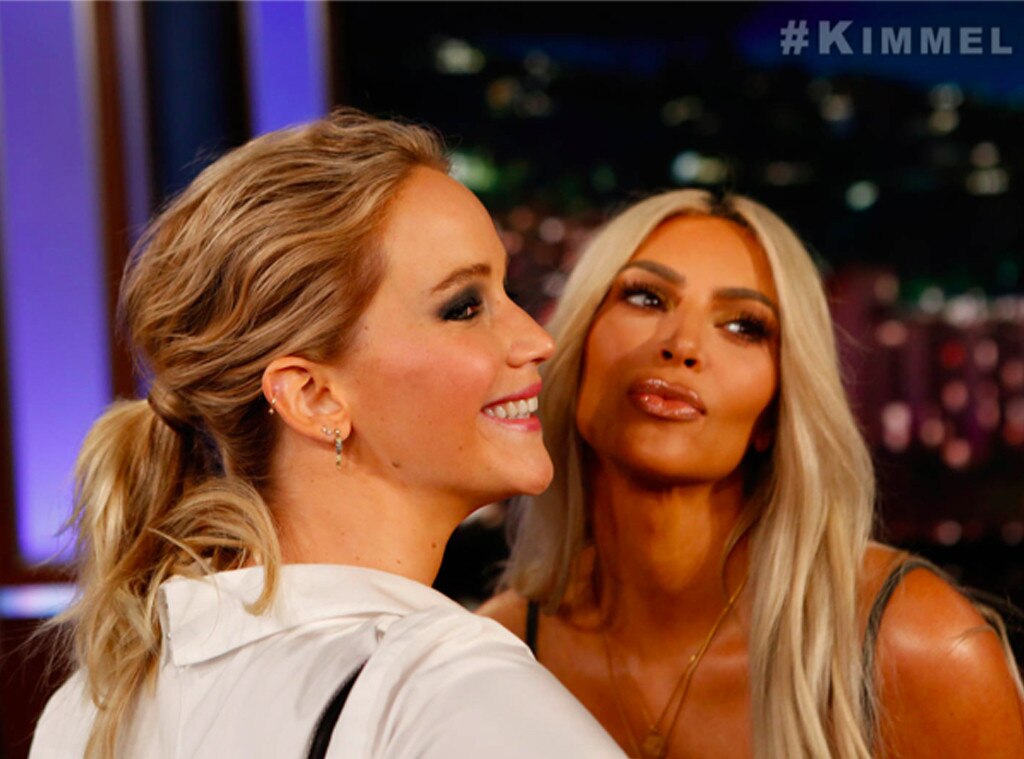 ABC/ Randy Holmes
Kim continued, "We are super normal. We watch Family Feud every night before we fall asleep."

Speaking of family, Kim confirmed that she is hosting the highly anticipated family Christmas card.  "It is making a return," she shared. "You are welcome [to attend]."

When asked about Blac Chyna, North West and Saint West's mom decided to stay away from the topic.

"You know, I was—I always said when someone was going to ask me—you know, Dream is going to see this one day," she explained. "And so I think it's just super respectful to just not say anything about my niece's mom."
Another topic she tries to stay away from is O.J. Simpson. When Jennifer joked to see if she's spoken to the former football player, Kim explained why she never likes to go there.

"I have like so much respect for his children. I feel like my mom and Caitlyn both say a lot about it and they're really vocal," she shared. "And I just feel like, you know, his kids. It must be like really hard. I just try to stay away from it."

One topic she will discuss? The possibility that Justin Bieber and Selena Gomez could be getting back together. As it turns out, the woman behind KKW Beauty admitted she's a fan of the idea.

"I think it's so cute," Kim shared. Who knew she would be team Jelena?

Jimmy Kimmel Live airs weeknights at 11:35 p.m. only on ABC.