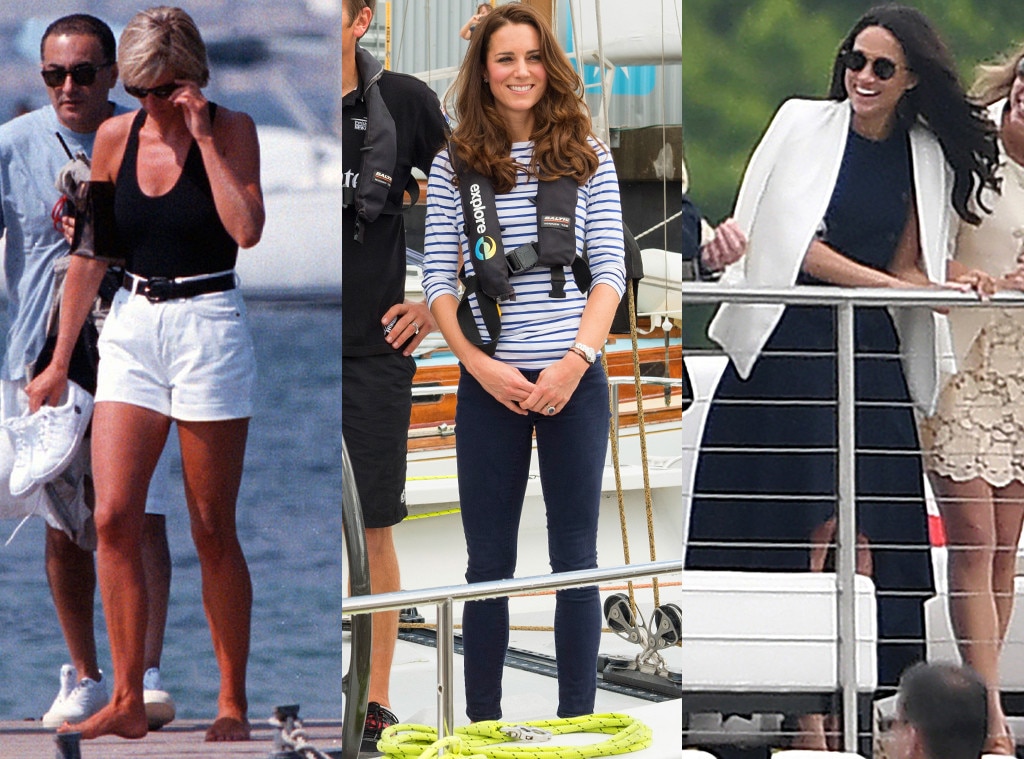 AP; Getty Images; James Whatling / MEGA
There's been many a time when Kate Middleton took style cues from Princess Diana. It makes sense that the 35-year-old royal would be inspired by her late mother-in-law's style evolution. There are also plenty of times when the Duchess of Cambridge and Meghan Markle arrived to separate events in seemingly similar looks—they might be sisters-in-law one day, after all. What we have here is past, current and prospective royals who have worn similar trends—even decades apart.
But, it's how these women wore these styles differently that really matters—it lets us get a sense of how they personally expressed themselves through fashion.
Here, you'll find how Diana, Kate and Meghan's senses of style compare. Sure, we could find instances of them all wearing a midi-length, red dress and awe in the adorable coincidence. Or, we can look at how Diana's neckline differs from Kate's, and infer that Prince William's mom didn't mind breaking etiquette rules. Or how Meghan likes more modern silhouettes, while Kate prefers a traditional-feminine blend. It's not just about their outfits either; we also looked at the occasions in which them they wore them to—because what you wear to Wimbledon says a lot about you.
So what did we learn? The Duchess of Cambridge has contemporary, practical taste executed with the best tailoring and attention to detail. She's adored and constantly in the public eye, so every facet of her wardrobe—even if it looks so simple—is planned.
As a Hollywood actress, Meghan is a little trendier than her royal counterparts but also surprisingly conservative given her industry. There's a sophistication and modesty to her ensembles, but they also show high-fashion styling techniques, like texture mixing and proportion balancing. However, you can still catch her in leggings and a baseball cap in public—she still has that freedom.
Finally, there's Princess Diana, who was already considered a fashion icon. Even when abiding by strict wardrobe etiquette, Diana found ways to push the boundaries of high-society fashion and put a forward-thinking spin on any ensemble. She was a risk-taker when it came to fashion…and life.
But, of course, we already knew that.