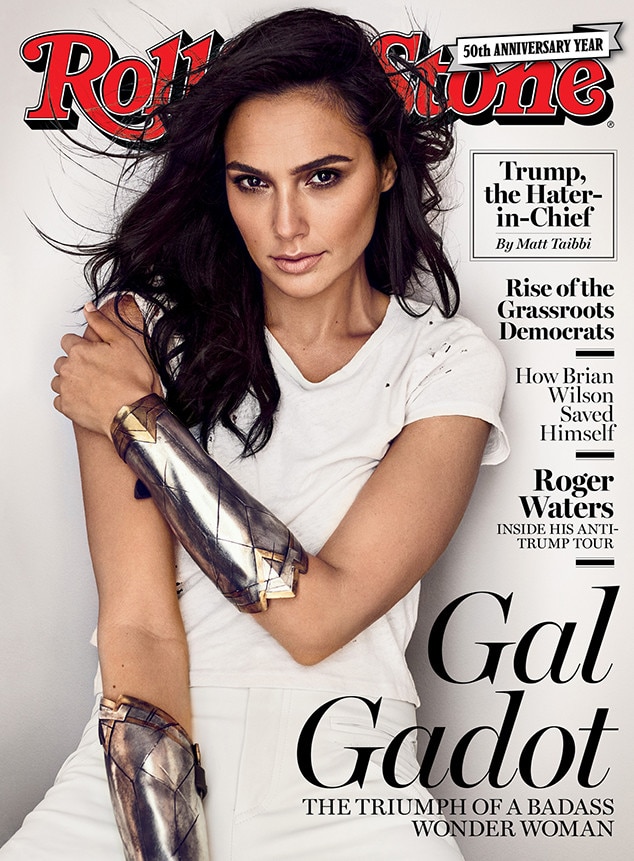 Peggy Sirota/Rolling Stone
It's a wonder that Gal Gadot was cast as Wonder Woman.
In the Aug. 25 issue of Rolling Stone, the actress reveals why she didn't buy into the hype surrounding a role that took 75 years to bring to the big screen. "When you're a beginner, you get excited about having a job," Gadot, 32, explains. "That's where I was."
Batman v Superman: Dawn of Justice director Zack Snyder had seen Gadot's work in Fast & Furious and Fast Five, so he asked her to come in for an audition. "Zack called me and was like, 'So do you know what you're testing for?' I said, 'No,'" she recalls. "He said, 'Well, I'm not sure if you have her in Israel, but did you hear about Wonder Woman?'"
After making her debut as Wonder Woman in Batman v Superman: Dawn of Justice, she got to work on director Patty Jenkins' origin story. Released two month ago, the movie has earned $800 million worldwide, making it the fifth highest-grossing film of 2017. Says Gadot, "It just shows that the world was ready for a female-driven action movie."
From the beginning, though, there was backlash.
One of the complaints was that an Israeli was playing Wonder Woman; the movie was banned in several Arab countries as a result. "Oh, my God, seriously, you guys?" Gadot says. When her body was criticized—the comic book character was notoriously and disproportionally busty—she guffawed. "I told them, 'Listen, if you want to be for real, then the Amazons, they had only one boob. Exactly one boob. So what are you talking about here? Me having small boobs and a small ass? That will make all the difference.'"
Gadot and Jenkins wanted Wonder Woman to be strong but feminine. "I didn't want to play the cold-hearted warrior," the actress says. "We didn't want to fall into the clichés."
The actress will reprise her role as Wonder Woman in Justice League, sharing the screen with actors Ben Affleck (Batman), Ezra Miller (The Flash) and Jason Momoa (Aquaman), among others. And Gadot filmed the superhero movie while pregnant with her second child. "We cut open the costume and had this green screen on my stomach," Gadot says of concealing her growing curves. "It was funny as hell—Wonder Woman with a bump."
Afraid she might possibly be seen as weak, Gadot decided to wait a while before telling her Justice League co-stars that she was pregnant. "I didn't want attention," the actress tells Rolling Stone. "The default should be that women get the job done, but there's a long way to go and a lot of reprogramming that needs to be done to both genders."
Gadot's pregnancy was just one of the complications Justice League's production team faced. After a family tragedy, Snyder stepped down, handing the movie over to Joss Whedon. Despite Affleck's disappointment, Gadot was fine with it. "Look, Joss, to my understanding, was Zack's choice to finish the movie. And the tone can't be completely different because the movie was already shot," she explains. "Joss is just fine-tuning."
Since the release of Wonder Woman, Gadot confesses, "People always ask me, 'Are you a feminist?' And I find the question surprising, because I think, 'Yes, of course. Every woman, every man, everyone should be a feminist. Because whoever is not a feminist is a sexist.'" Gadot and her younger sister were taught "to believe that we're capable, to value ourselves," she adds. "I had a very sheltered kind of life. There was no TV-watching. It was always 'Take a ball and go play.' In general, I was a good girl, a good student, a pleaser and I was a tomboy, always with wounds and scratches on my knees."
Even as a child in Rosh Ha'ayin, a small city in the heart of Israel, she knew men and women were treated differently. "I've had my moments where I've felt like men were misbehaving—nothing sexual, but inappropriate in a sexist way. Dismissive," she tells Rolling Stone. "Life wasn't always rosy and peachy for me as a woman in the world."