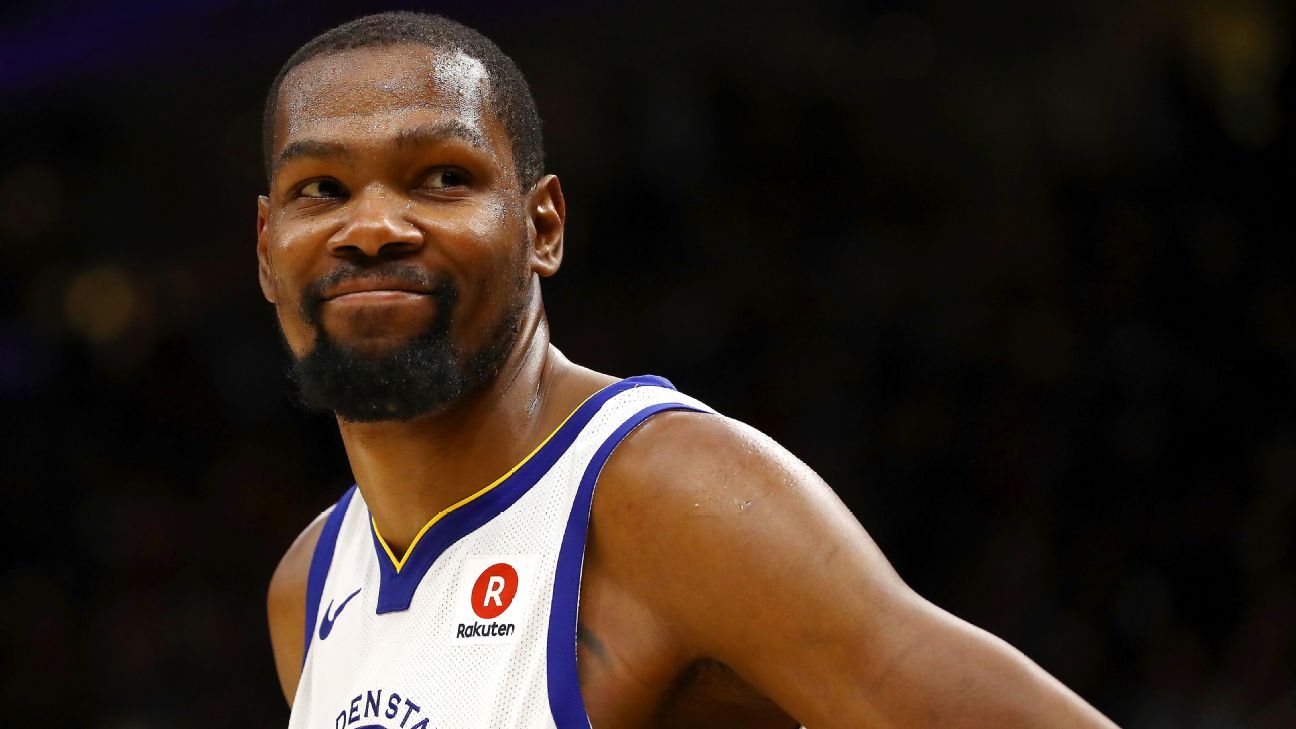 OAKLAND, Calif. — Kevin Durant knows the questions are coming. He knows that wherever he and the Golden State Warriors go this season, he'll be asked about his impending free agency next summer — but he is confident he'll be able to handle whatever comes his way, given his experiences the last time he went through the process.
"Just be honest," Durant told ESPN. "I was honest with my decision, but just like outwardly if people ask me about it, don't be ashamed to talk about why I decided to move teams and switch teams because it's not the end of the world. I didn't do anything against the law, you know what I'm saying? That's what I thought happened the first time."
Durant faced criticism when he opted to sign as a free agent with the Warriors in the summer of 2016 after eight seasons with the Oklahoma City Thunder. One month earlier, Golden State knocked off the Durant-led Thunder in the Western Conference finals.
"I'm like, 'Man, there's so much attention on me because I switched teams,'" Durant said. "I thought I did something wrong, but I knew deep down in my heart that was the perfect decision for me and I know that now I just got to stand on that, outwardly say it, and that will stop the speculation from a lot of people. … When they don't know, when people really don't know the end, the conclusion or why I did something, they're going to always speculate and create stories and clicks and that's only going to make me more upset. So I'd just rather keep it open and transparent with you."
Durant is confident that no matter what happens over the course of the 2018-19 season, he will stay focused on the task at hand as he tries to help the Warriors win their third straight NBA championship.
"I dealt with it before," Durant said. "I just try to be as honest as I can. I'm not going to tell people what I'm thinking. … Some days I think about my free agency, some days I don't. Some days I think about what my future looks like, some days I don't. I'm just human. That's just natural for me. But I can't sit down and talk to people about it because I want to keep playing, I want to focus on the season.
"So I know the questions are going to come. I know a lot of people are going to speculate and print rumors and sources, but nobody's heard from me about anything, so it's just all speculation at this point."
Fresh off winning his second straight NBA Finals MVP award, Durant has found a comfort level with the Warriors organization. When asked how much of an impact the final outcome of this season will have on his decision next summer, Durant referenced the bond he has formed with this team.
"It's just where I want to play ball at, where I'm most comfortable, where I feel most at home, and I feel at home here," Durant said. "I feel like I belong here. I feel like I mix with this team, I mesh with this team well. With that being said, I really don't know what's going to happen this summer. But I really, really feel like a part of this team. We got two banners up there, my picture's around here somewhere so I feel like I'm a part of this thing — but at the end of the day, we're staying in the moment. We're trying to embrace every single moment. I'm not saying we're going to win a championship at all, but we're just focused on having a good practice today, having a good practice tomorrow and then we'll see what happens at the end,"
Entering his 12th season in the league, Durant, 30, reiterated that he is enjoying the process of trying to prolong the Warriors' dynasty.
"I'm here," Durant said. "I'm 100 percent committed to this team this year and going as hard as I can every single day to be the best player that I can be to help this team win. It's going to be a lot of speculation on where I should go play ball, but at the end of the day it's just me playing ball. It doesn't really matter. I'm just playing ball, you know what I mean? I'm not making a huge, huge decision that's going to affect anyone else, but just myself, so I don't even know why everybody cares that much."
Durant and the Warriors open the 2018-19 regular season against the Thunder on Oct. 16.