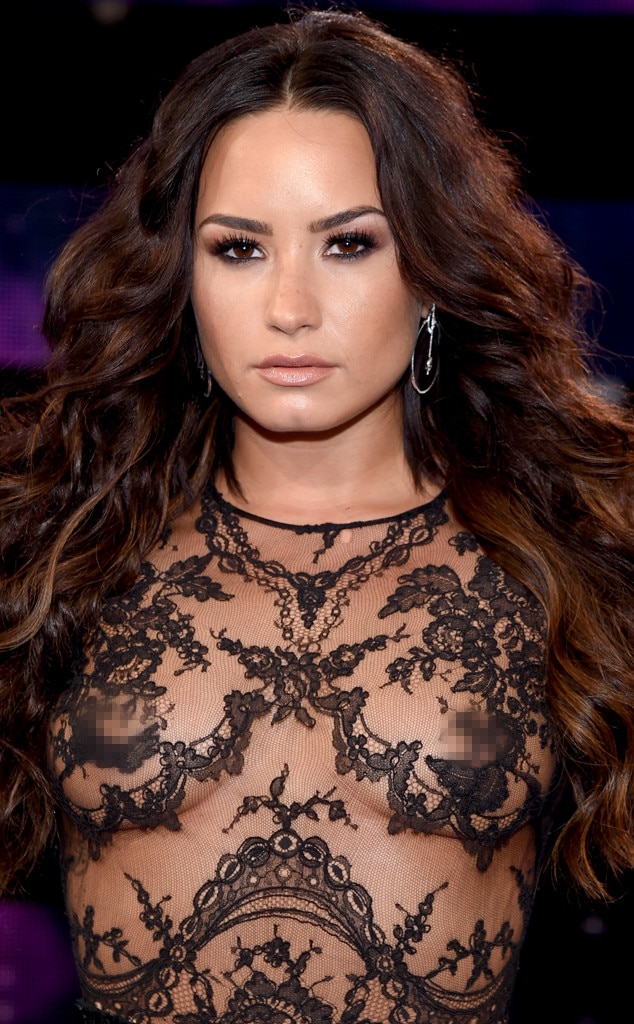 Matt Winkelmeyer/Getty Images
Demi Lovato showed up to the 2017 MTV Video Music Awards with some serious fashion fierceness.
The 25-year-old singer donned a daring, sequin and lace Zuhair Murad ensemble, which turned heads for a couple reasons—especially the fact that it bared her breasts.
Yes, while posing on the red carpet, Lovato took a page out of Jennifer Aniston's book and said f–k it to covering up her chest, freeing her nipples underneath the sexy lace body suit.
She accessorized the look with lots of diamonds, hoop earrings and a sultry stare that certainly raised temperatures on the red carpet.
Lovato's see-through outfit choice should come as no surprise to the fans who know her as she's been dedicated to empowering women and helping teach them to love their bodies—be it through her words, nudity, sexy photo shoots or what have you.
In fact, when she posed nude for a photo shoot in 2015, she explained to E! News, "I wanted to make a statement, and I want that statement to be empowering towards women. And I want to inspire other women. For someone who's had body image issues since they were a child, I went from hating every inch of my body to showing every inch of my body to the entire world and without touching up anything."
Aniston recently made a similar statement in an interview with Vogue earlier this month.
"If you're going to walk out and have your nipples showing, or your belly is a little bloated, or you're not at the weight you want to be—you are perfect no matter what you are and no matter where you are and who cares," she told the publication. "You have to tune out the noise, which is fine by me, because I just know that I'm happy and healthy and doing everything I can to be good in the world and to the people I work with."
Amen!
Watch the Fashion Police 2017 MTV Video Music Awards special Monday, Aug. 28 at 8 p.m., only on E!