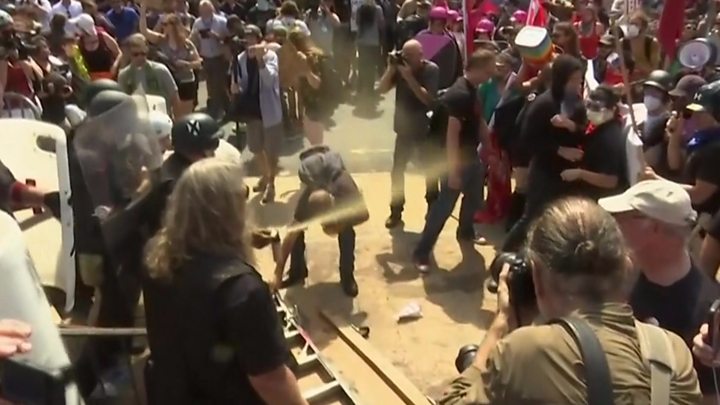 Officials in Charlottesville in the US state of Virginia have declared a state of emergency ahead of a large march by white nationalists.
The move allows local authorities to request additional resources if needed, the police department says.
Thousands of people are expected to join the "Unite the Right" rally against plans to remove a statue of a pro-slavery US Civil War general.
Far-right demonstrators and counter-protesters have clashed.
Two people have been reportedly injured.
Riot police have been deployed and fired tear gas against the white nationalists. Police said arrests were being made after a declaration of unlawful assembly at Emancipation Park.
The far-right protesters are angry about the planned removal of a statue of Gen Robert E Lee from Charlottesville. Lee commanded the Confederate forces in the US Civil War of 1861-65.
The BBC's Joel Gunter in Charlottesville reports that police have not yet interrupted clashes between the rival demonstrators, adding that it had been "extremely violent" so far.
Charlottesville has become a focal point for white nationalists after the city council voted to remove a statue of General Lee.
On Friday, the group waved torches and chanted "White lives matter" as they marched through the University of Virginia in the city. Charlottesville mayor Mike Signer condemned the march as a "parade of hatred".