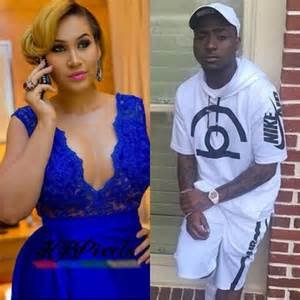 Caroline Danjuma has revealed that Tagbo, the late friend to Davido was her lover until his untimely death.
During an emotional interview with blogger, Stella Dimokorkus, the actress was asked about her relationship with Tagbo. She said she met Tagbo one year ago after she had legally divorced her ex-husband, Musa Danjuma.
" I have woken up t see all sorts of allegations and it is really laughable because the whole idea is to divert the attention from the questions I am asking about what happened to Tagbo. I will address this once and for all. Number one, I met Tagbo when I was legally divorced and out of my ex' house to start a new life…Yes we were dating."
ALSO READ: 
When asked if Tagbo was the father of her three-year-old daughter, Caroline Danjuma said;
"My daughter is three years old and I only met Tagbo last year,so its not possible that Tagbo is the father of Elizabeth. The person who posted that info claims to have Tagbo's phone and claims he went to DNA with Baba,who is Baba?"
Caroline Danjuma also revealed to Stella Dimokorkus, that she has been receiving blackmail threats, in a bid to stop her from further disclosure of what happened to Tagbo.
"Let us leave sentiments aside, trying to blackmail me to keep quiet will not work or change anything. we need justice for Tagbo..
No one is accusing anyone of being a murderer but we need to know what happened and why everyone is quiet…My anger is that he was abandoned by those supposed to be his friends and brothers.Davido and Tagbo were very close and I am angry with Davido for keeping quiet.
Those who drink tequila should come out and confirm if 30 shots of tequila is strong enough to kill..
Stop protecting whoever is guilty, someone is dead, please!"
Caroline Danjuma shocked the Internet when she revealed that Davido had questions to answersurrounding the sudden death of Tagbo who was a friend and was last seen with Davido and his crew.
lover and not the father of her last child.