He liked her so much that he put one fabulous ring on it!
After weeks of dramatic rose ceremonies and tearful breakups, Rachel Lindsay finally received the romantic proposal she was always looking for.
Ladies and gentlemen, this season's Bachelorette is officially engaged to Bryan Abasolo.
Before we discuss that heartfelt proposal, there's a whole lot to share about that ring from jewelry designer Neil Lane.
E! News has learned it's a pear shaped center stone that is more than three carts. The ring includes a pave border and a platinum band.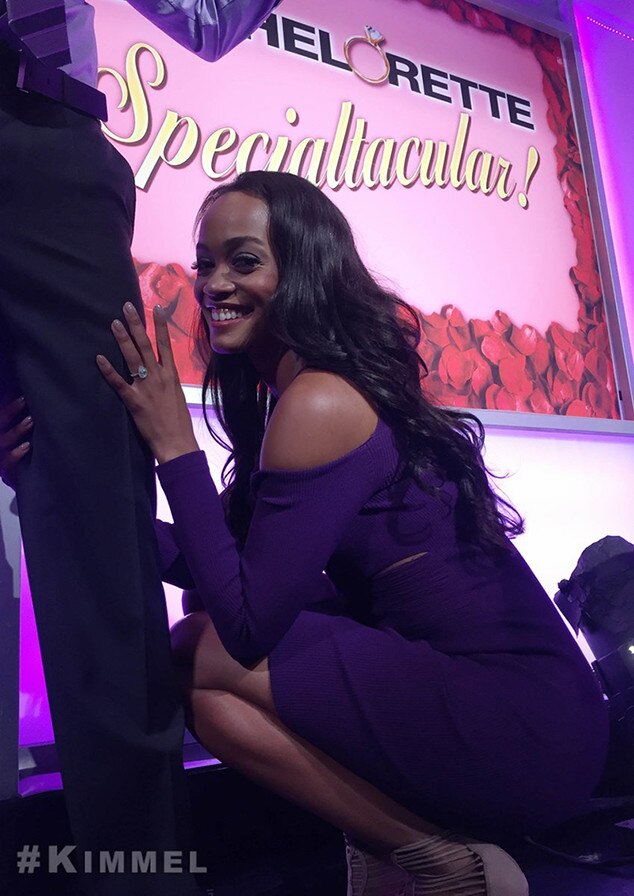 Twitter
As for the price of this piece of bling, our insider says it's "over $100,000."
"The ring is huge and she's in love with it," our source added.
For those who missed Monday night's finale, Rachel received an unforgettable proposal from Bryan. "I am the best version of myself when I'm with you," the chiropractor shared as cameras rolled. "You are so easy and effortless to love. And I just want to love you for the rest of my life."
As for Rachel, she also had more than a few nice things to say about the man she hopes to spend the rest of her life with.
"This love has been so mature. It's tested me in ways that I couldn't have even imagined. And I always said that I would know that the person that I'm supposed to be with is someone that I could never picture my life without," she proclaimed. "So right here in this moment, standing with you, I see my forever and I see my future."
Rachel added, "I just wanna tell you that I love you and I'm in love with you and I can't imagine spending my life with anyone else."
And that friends, is another love story brought to you by Bachelor Nation.
The Bachelorette finale airs Monday night at 8 p.m. only on ABC.
—Reporting by Beth Sobol